Summer 2023
Inclusive Play and Making among Children with and without Disabilities
We are conducting a research study to understand whether and how computational toys (e.g., KIBO robots) can foster inclusive play in preschool classrooms that involve children with and without disabilities (age 3-5 years) and how to develop new accessible solutions to promote a maker mindset and inclusive play among this ability-diverse population.
We are seeking 2 students to work on this project for the Summer 2023 quarter. Depending on progress, students may have the option to continue on this project after the quarter ends.
Activities of this research group will include developing and running play-based study sessions with children and teachers in a preschool classroom and assisting with data analysis.
Ideal qualifications:
Experience with or interest in learning research or co-design activities with children.
Experience with or interest in learning qualitative analysis and/or video-based interaction analysis.
The sessions will take place on weekdays (between 9:00AM- 3:00PM) at a preschool classroom within UW during throughout the month of June. We will have 2-3 sessions per week. Each session may last for 60-90 minutes. Depending on your availability, we expect you to be present in-person during several sessions. For the rest of the Summer, we'll primarily work on video data analysis.
We expect students to spend approximately 6-9 hours per week (equivalent to 2-3 credit hours). Students will be expected to register for a course or independent study credits (e.g., HCDE 496/596, HCDE 499/599, REHAB 600, etc.).
This research group will be led by Dr. Maitraye Das (postdoc) with supervision from Prof. Heather Feldner (Rehabilitation Medicine) and Prof. Julie Kientz (HCDE) in collaboration with the Experimental Educational Unit at the UW Haring Center. If you're interested, please fill out this survey. For any questions, please reach out to Maitraye Das at maitraye@uw.edu.
---
Summer 2023
Participatory Design with Children and Researchers
We are looking for students for the Summer 2023 to help with running KidsTeam UW, an intergenerational co-design team of children (ages 6 – 12) and design researchers. There is rich work around how to interact with adults and children together in the co-design space, the role of design techniques in co-design, and the different stages and phases of co-design. You have the opportunity to help us understand this space.
 
Activities of this research group will include interacting as an adult design partner with children in co-design, working with researchers on multiple projects involving children and design, and running overall logistics to support the intergenerational design team. 
 
This DRG will require you to participate in KidsTeam UW in the summer 2023 for the following dates:
Tuesdays and Thursdays 60 minutes reading seminar: June 29, and July 6, 11, 13, 18, 20
Week of July 24 – 28, 2023: 9 a.m. – 5 p.m. co-design sessions with children
Students who have completed HCDE 318/418/518 and/or HCDE 417/517 or have relevant experience will be given priority.  Alternatively, students who have experience with youth mentorship, learning sciences, education, and child development will also be considered. 
 
Prior experience working with children (ages 0 – 17) is a requirement (e.g., tutoring/teaching/coaching, child-care, summer camps, etc.)
 
This research group will be led by Associate Professor Jason Yip (iSchool), with support from Dr. Julie Kientz (Professor, HCDE), Dr. Jin Ha Lee (Professor, iSchool), and Dr. Alexis Hiniker (Associate Professor, iSchool).
 
To apply for this DRG, please fill out this Google Form by Friday, May 12, 2023.
 
We will schedule meetings to confirm your availability and experience in the end of May 2023, and make final decisions by early June 2022.
 
For any questions, please email Dr. Jason Yip at jcyip@uw.edu.
---
Spring 2023
TB-TST HIV/PrEP Adaptation DRG
Note this DRG is at capacity for Spring and no longer accepting applications.
Oral antiretroviral therapy (ART) is highly effective for people living with HIV to suppress viral replication, and oral pre-exposure prophylaxis (PrEP) reduces the risk of HIV acquisition; however, monitoring and improving drug adherence remains challenging. 
 
The TB-Treatment Support Tools (TB-TST) project, led by Dr. Sarah Iribarren of the UW's School of Nursing, has been actively working to provide TB care providers in Argentina with a mobile web application that helps monitor and support individuals with active TB. The TB-TST has shown promising results for aiding in the treatment of patients. 
 
Prior DRGs conducted user research, created a high fidelity app prototype, and conducted a cycle of usability testing. This DRG will involve analyzing the first cycle's usability tests, synthesizing and implementing design recommendations, and conducting a second round of usability testing. 
 
Requirements:
Passion for designing equitable and innovative healthcare solutions using HCDE principles in a fast-paced environment. 
UI/UX design experience, familiarity with Figma prototyping techniques is a plus.
Usability testing or qualitative research experience, with an emphasis on translating findings into data-supported UX design recommendations.
Registering for 2-3 credits (3 hour commitment per credit)
Ability to attend and present progress reports/deliverables in weekly 90 min. meetings over zoom.  
Willingness to meet outside of the regularly scheduled meeting time to work with fellow collaborators and be flexible for usability testing participants.
---
Spring 2023
Elevating Black Corpus and UX in Speech & Language Systems (ASR/NLP)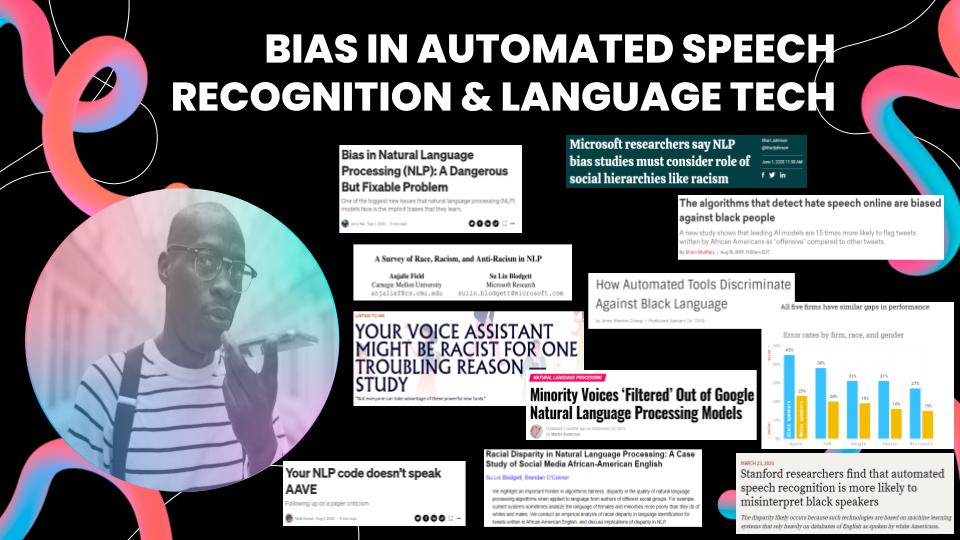 Note this DRG is at capacity for Spring and no longer accepting applications.
Led by HCDE PhD candidate Jay Cunningham, with Professors Julie Kientz and Daniela Rosner, this DRG serves as a working-group for a new research agenda to develop equitable, community-collaborative design methods to mitigate racial disparities and performance in automated speech and language technologies for Black language communities (AAVE/AAL).
Overview:
Automated speech recognition (ASR) systems that rely on natural language processing (NLP) techniques are becoming increasingly prevalent in people's everyday lives. From virtual assistants integrated into mobile devices, smart home assistants, and vehicles; to software tasks such as automatic translation, automatic captioning, automatic subtitling, and even hands-free computing, ASR systems are core components of new devices and applications. However, recent research has shown that with this broadening access comes new fairness-related harms and racial disparities that negatively impact Black speakers of African American Vernacular English (AAVE), leaving AAVE users' speech less accurately represented, recognized, and processed. 
HCDE PhD candidate Jay Cunningham, with Professors Julie Kientz and Daniela Rosner, seeks to address this challenge by developing and validating collaborative methods for developing more inclusive and equitable automated speech and language technologies for Black speakers of AAVE that are culturally competent. 
Through this project, we hope to further inform how academic researchers and industry practitioners can democratically collaborate with communities to create artificial intelligence and machine learning systems, practices, and policies that enable fair, equitable, and sustainable solutions that ultimately liberate and empower historically marginalized groups.
Student Researcher Involvement:
This DRG is seeking 3-5 dedicated students to collaborate and execute on the research studies outlined for this agenda. 
Participation in this research team will entail conducting and assisting with participant interviews and focus groups, thematic analysis of audio transcripts, analyzing co-design workshop artifacts, and conducting data science on AAVE speech data alongside the graduate student project lead. This also includes obtaining consent and assisting with performing all study procedures. Participants will have had coursework in research methods, complete an orientation to human subjects protections given by the UW, and will receive training from graduate student project lead on obtaining consent and debriefing subjects. 
This will be a 2-3 credit DRG. We will meet no more than 3 hours virtually or in-person each week (twice/week, 90-minute), and students should expect to spend no more than 2 hours working outside of that time per week.
Research will explore the following:
What are the strengths and pitfalls of existing ASR/NLP system design processes?
How might design decisions NLP/ML technologists make that shape experiences of fairness and bias among underrepresented language variety users?
How might researchers from academia and industry develop and employ collaborative-participatory approaches with African American community members — involving their voices and perspectives early and often in the product development process — to address many of the challenges African Americans (AAVE speakers) face when using voice technology?
How might community accountability boards serve as means for accountable action and transparency measures toward more culturally competent human centered technologies. 
While we can't accept all applicants, subsequent DRGs on this topic may be available for future quarters (summer, autumn). If you're interested in a future instance, please contact Jay Cunningham (jaylcham@uw.edu). Note this DRG is at capacity for Spring and no longer accepting applications.
---
Spring 2023
CRIBS: Community-Clinician Relationship Impact on Black Birthing Success
Note this DRG is at capacity for Spring and no longer accepting applications.
Black women in the US are 3-4x more likely to die during childbirth, and over 60% of these deaths are preventable. The over medicalization of Black birth and obstetric racism have negatively impacted Black birthing people for centuries, thus causing a growing interest in non-hospital care and support during the pregnancy and postpartum period for Black birthing people. This creates the opportunity to investigate how, or if, community-based organizations (CBOs), initiatives, and resources are being shared as supplemental care and support options by clinicians. 
This 2-credit DRG will serve primarily as a reading group to understand CRIBS, community-clinician relationship impact on Black birthing success. We will also ideate ways to incorporate design and/or technology in creating, facilitating, and/or improving this relationship by developing a research study protocol. No previous knowledge of or background in Black maternal health is needed, only open-minded, eager scholars willing to read and engage in literature around this topic. Considering HCI scholars and literature to date don't provide extensive research and writing on Black maternal health, we will draw from various other disciplines to better understand the historical and contemporary implications of the subject. We will be meeting every Wednesday in Sieg 420 @ 5-6pm starting March 29th.
Objectives
The objectives of this reading group are to:
Gain a brief understanding of the Black maternal mortality crisis from a historical and contemporary lens
Critique the roles medical institutions and CBOs play in Black maternal health as individual entities
Investigate the relationship, or lack thereof, between medical institutions and CBOs and its impact on Black maternal health outcomes
Develop a study protocol to use design and/or tech to create, facilitate, and/or improve relationship between community-based organizations, initiatives and resources and clinicians
Who's a good fit?
Master's or PhD scholars from all disciplines and backgrounds with an interest in the topic are welcome to join! This DRG can accommodate 6-8 scholars. Registration for 2 credits is required to join.
Note this DRG is at capacity for Spring and no longer accepting applications. If you have any additional questions, feel free to reach out to me at lesconey@uw.edu.
This DRG will be run by HCDE PhD student Leslie Coney with guidance from Professor Julie Kientz.
---