Autumn 2023
Capstone Formations
DRG opportunity for HCDE master's students
Capstone is a culminating experience for MS HCDE students. It offers students the opportunity to synthesize learnings from their studies to address real-world issues using human-centered design and engineering. The projects are student-run, large-scale developments that encompass two quarters of student work. In this scope and complexity, capstone differs from most HCDE courses. Students learn to work across peers, instructors, staff, and very often external partners to conduct in-depth research, planning and design that encompass multiple focused cycles of inquiry and intervention. 
This new offering of Capstone Formations is designed to help HCDE master's students navigate these developments. We organize Capstone Formations as a four-part event series, with each event dedicated to a capstone-specific concern: 
Introduction to Capstone | 10/11/23 11:45-1:15 PM

What is capstone? How do I plan ahead? What kind of work has come out of capstone? 
Led by: Daniela Rosner, HCDE Associate Professor and MS Program Co-Director; Guest: Former Capstone Instructor, TBD
 

Team Formation | 10/18/23 11:45-1:15 PM

How do teams get formed? Who should I aim to work with? 
Led by: Daniela Rosner; Guest: Members of GSA
 

Project Focus | 11/08/23 11:45-1:15 PM

How do I decide on a project? What "sponsored projects" are available to work with? 
Led by: Daniela Rosner; Melissa Ewing, HCDE Outreach and Strategic Partnerships Manager
 

Applications + Milestones | 12/06/23 11:45-1:15 PM

What are the main applications and milestones I should know about? How (to work with external partners, to receive funds)
Led by: Daniela Rosner
This event series is exploratory in character; each week will be organized as a lecture and discussion, offering time for students to form teams, learn about and discuss sponsored projects, and anticipate upcoming milestones. 
We offer this opportunity in line with other HCDE lecture events such as dub—giving course credit to those who sign up for credit (as a DRG), but also giving students the option to attend without credit. Given gaps in the dub schedule this year, we have also aligned this opportunity with the dub lecture series so that capstone students signing up for dub can take this course during the "down" days of the quarter. 
If you have questions or seek course credit (1-2 units), contact Daniela Rosner at dkrosner@uw.edu.
---
Summer 2023
Elevating Black Corpus and UX in Speech & Language Systems (ASR/NLP)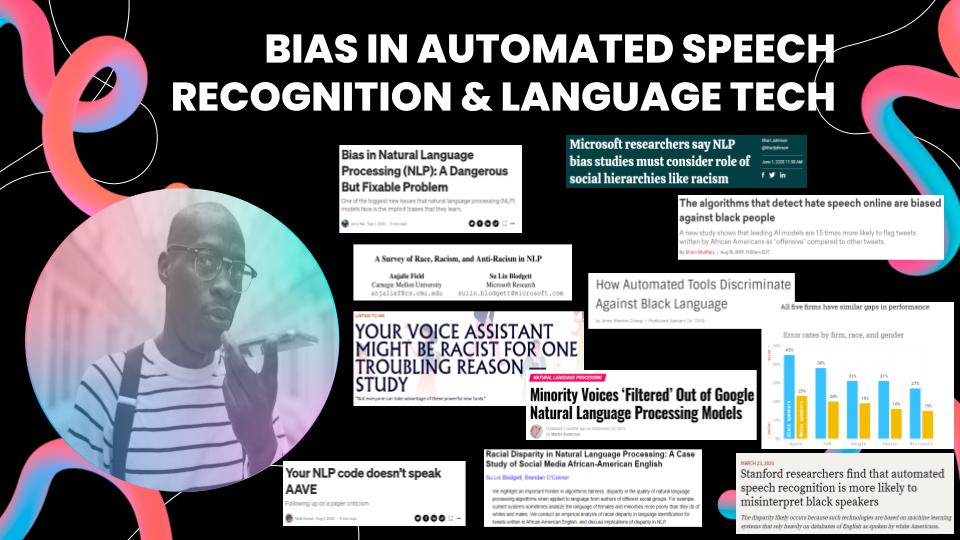 Note this DRG is at capacity for Summer and no longer accepting applications.
Led by HCDE PhD candidate Jay Cunningham, with Professors Julie Kientz and Daniela Rosner, this DRG serves as a working-group for a new research agenda to develop equitable, community-collaborative design methods to mitigate racial disparities and performance in automated speech and language technologies for Black language communities (AAVE/AAL).
Overview:
Automated speech recognition (ASR) systems that rely on natural language processing (NLP) techniques are becoming increasingly prevalent in people's everyday lives. From virtual assistants integrated into mobile devices, smart home assistants, and vehicles; to software tasks such as automatic translation, automatic captioning, automatic subtitling, and even hands-free computing, ASR systems are core components of new devices and applications. However, recent research has shown that with this broadening access comes new fairness-related harms and racial disparities that negatively impact Black speakers of African American Vernacular English (AAVE), leaving AAVE users' speech less accurately represented, recognized, and processed. 
HCDE PhD candidate Jay Cunningham, with Professors Julie Kientz and Daniela Rosner, seeks to address this challenge by developing and validating collaborative methods for developing more inclusive and equitable automated speech and language technologies for Black speakers of AAVE that are culturally competent. 
Through this project, we hope to further inform how academic researchers and industry practitioners can democratically collaborate with communities to create artificial intelligence and machine learning systems, practices, and policies that enable fair, equitable, and sustainable solutions that ultimately liberate and empower historically marginalized groups.
Student Researcher Involvement:
This DRG is seeking 3-5 dedicated students to collaborate and execute on the research studies outlined for this agenda. 
Participation in this research team will entail conducting and assisting with participant interviews and focus groups, thematic analysis of audio transcripts, analyzing co-design workshop artifacts, and conducting data science on AAVE speech data alongside the graduate student project lead. This also includes obtaining consent and assisting with performing all study procedures. Participants will have had coursework in research methods, complete an orientation to human subjects protections given by the UW, and will receive training from graduate student project lead on obtaining consent and debriefing subjects. 
This will be a 2-3 credit DRG. We will meet no more than 3 hours virtually or in-person each week (twice/week, 90-minute), and students should expect to spend no more than 2 hours working outside of that time per week.
Research will explore the following:
What are the strengths and pitfalls of existing ASR/NLP system design processes?
How might design decisions NLP/ML technologists make that shape experiences of fairness and bias among underrepresented language variety users?
How might researchers from academia and industry develop and employ collaborative-participatory approaches with African American community members — involving their voices and perspectives early and often in the product development process — to address many of the challenges African Americans (AAVE speakers) face when using voice technology?
How might community accountability boards serve as means for accountable action and transparency measures toward more culturally competent human centered technologies. 
Note this DRG is at capacity for Summer and no longer accepting applications.
---
Summer 2023
Exploring Technopolitical Imaginaries: An Epistemological Cartography Workshop
This Term-A DRG will focus on mapping out technopolitical imaginaries through an activity of epistemological cartography, based on Joseph Dumit's Writing the Implosion exercise. Through a series of prompts, we will develop Knowledge and Ignorance Maps to make visible the contested and occupied zones of personal and collective imaginaries of technological systems.
This short DRG also aims at developing an upcoming workshop at the ACM conference on Designing Interactive Systems (DIS). The workshop,  "The Politics of Imaginaries: Probing Humanistic Inquiry in HCI" brings together scholars, practitioners, and makers working across human-computer interaction (HCI), the social sciences, and the humanities to explore the politics of imaginaries in computing development. It emphasizes the necessity of critical and imaginative encounters and recognizes the systemic inequities baked into the practices, policies, and governance structures associated with computing worlds. The workshop aims to develop a concern for technopolitical imaginaries: the images, affects, and sensory connections that shape technological development. The discussions and hands-on activities seek to lay the foundation for a broader conversation on the stakes of a humanistic imagination in HCI.
In this DRG, we have four primary goals for developing the upcoming DIS workshop:
Workshop: In weeks 1 and 2, we will run a condensed pilot of the workshop (epistemological cartography activity).
Iteration: In week 3, we will discuss the experiences and outcomes of the workshop. 
Physicalization (no meeting): In week 4, DRG participants are encouraged to explore creative ways to engage with their maps, either through visualizations, sketches, design prototypes, speculative artifacts or performance pieces.
Analysis: In week 5, we will conclude the DRG by presenting the outputs of week 4 in class, as well as the outputs from the DIS workshop, and identify key findings and opportunities for future work. 
We invite 2-4 dedicated undergraduate or graduate students to participate in this DRG. You should expect to read through materials before each week's meeting to fully engage in DRG activities. No prior experience in these areas is needed. Sessions will be held on Wednesdays from 10am-12pm, with additional time allocated for readings, designs, analysis, and other aspects of the project. 
The DRG will be co-facilitated by PhD candidates Michael Beach and Gabrielle Benabdallah advised by Associate Professor Daniela Rosner. If you have any questions, reach out to Michael at mwb8@uw.edu or on the HCDE Slack.
When: 10am-12pm on Wednesdays
Credits: 2 credits (recommended)
Apply here: tinyurl.com/politicsofimaginaries-drg  
Applications will be reviewed starting Friday, June 9th with a hard deadline of Monday, June 12th. Decisions will be made by Tuesday, June 13th, and our first meeting will be held on Wednesday, June 21st. Meetings will be in-person in SIEG (room TBD).
---