Autumn 2021
Project EMAR DRG: Integration of Hardware and Software for a Social Robot for Teen Mental Health
Led by
Elin Björling, UW HCDE
Maya Cakmak, UW CSE
Note: This DRG is full for autumn and no longer accepting applications.
Background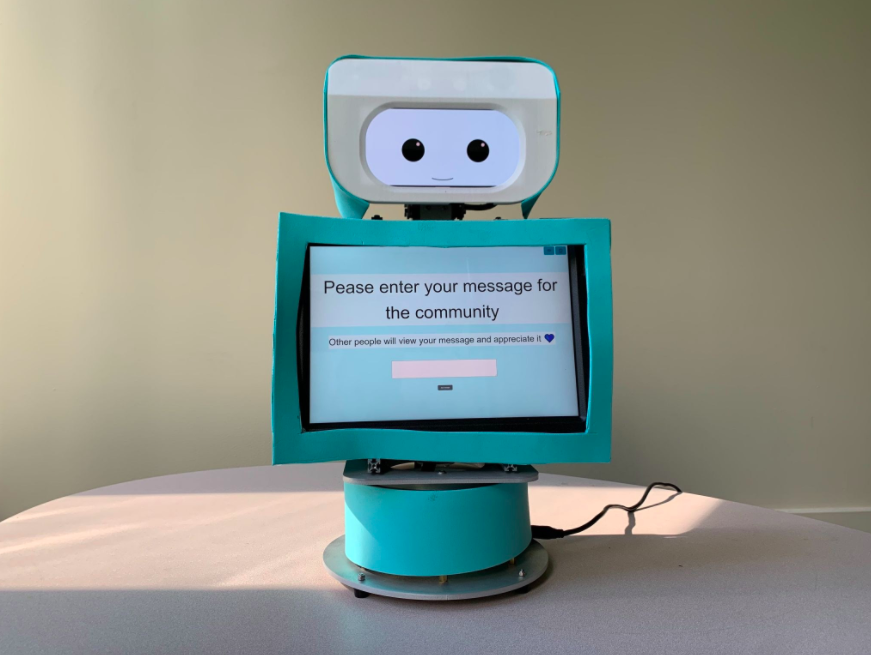 Adolescents are subject to high levels of stress in their lives, resulting from school, relationships, and family life. Not surprisingly, school stress is most commonly reported as the biggest source of stress for teens. Therefore, both measuring and addressing teen mental health with a community-based tool is an accessible and valuable approach to supporting teen mental health.
Social robots are being used to help other populations, such as the elderly and young children. However, there is very little research on either the experience of stress in teens, or the interactions between teens and robots. This presents a unique research opportunity in the field of human-robot interaction (HRI).
Our interdisciplinary team is using participatory, human-centered design to develop a social robot that can measure teen stress in a high school setting. We have developed our own robot, named EMAR (Ecological Momentary Assessment Robot), and performed research with teens.
Our team
The team is led by Dr. Elin Björling (HCDE), a stress researcher who is designing technologies for teen mental health and Maya Cakmak (CSE) who is focussed on end-user programming of social robots. This project is also led by Patrícia Alves-Oliveira who has worked extensively using co-design to develop social robots for children. We are interested in engaging UW students in this project.
During the Fall 2021 quarter, we are offering an interdisciplinary DRG to integrate the software system of the robot EMAR. We aim to perform a soft deployment of the EMAR robot with teens to test the system. DRG student teams will support the final integration of the software for this robot, so that it can be used by teens in their daily life to support their mental health.
---