Andrew Davidson
UCD Charette for K-12 Outreach
Note: This DRG is at capacity for Spring 2018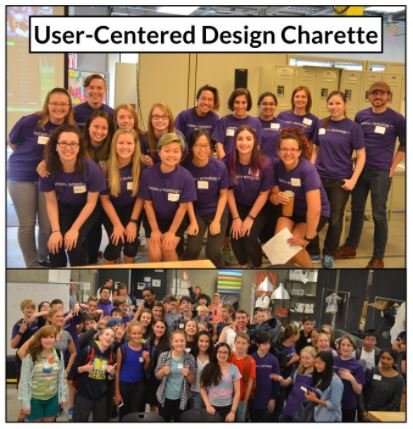 For the past few years, we have been using a design activity known as a charette as a way to introduce students to the user-centered design (UCD) process. In the "UCD Charette," students are given a particular design space to explore (such as user interfaces for a website, mobile app, or a physical device). In a very short period of time (two hours or less), working in small groups, they brainstorm user needs, develop use-case scenarios, and create interaction designs for an application. We have run these participatory workshops with students at various educational levels, from middle school to graduate programs, and with K-12 teachers.
A fast-paced, hands-on activity that gives a good first-hand overview of the entire field, the UCD Charette allows students to experience the thrill of design, while raising questions about its practice, setting the stage for further study. It is adaptable to many different application areas and levels of expertise and interest.
We firmly believe that participatory activities such as this UCD Charette are far more effective as outreach and recruiting for HCDE than traditional college information sessions. Our long-term goal is to use the UCD Charette for broad outreach and recruiting in the K-12 environment. We also intend to evaluate this program and practice, and to expand its reach.
In a recent dub talk (July 5, 2017), "Filling the Pipeline: Design & Engineering Workshops for K-12 Outreach," we summarized the various HCDE outreach efforts.
In this DRG, we will continue to broaden our outreach efforts for human centered design in the K-12 environment. UW student teams will facilitate a a UCD Charette in local high school classrooms. Curricula and materials for the UCD Charrette have already been developed. Students will use existing charrette materials, adapting and customizing them for specific classroom needs. Teams will go into the classroom and lead students in the exercise. They will assess the results of the workshops and prepare a report on their findings. We will use these findings to further develop the UCD Charette protocol.
We are looking for dedicated and enthusiastic students at all levels (BS to PhD) to help with this project. Eligible students should be familiar with the User Centered Design process, and have already taken HCDE 210, 318, or 518. Experience working with, teaching, or mentoring young students is a plus.
The DRG will meet on Mondays, from 4:00–5:30 pm. All participants are expected to register for 2 credits.
Note: This DRG is at capacity for Spring 2018
For questions please contact either of us:
Elena Agapie <eagapie@uw.edu>, HCDE PhD student, K-12 Outreach coordinator
Andrew Davidson <adavid7@uw.edu>, HCDE faculty, K-12 Outreach director
Alternative Spring Break: HCDE Workshop
Note: Enrollment in this research group is at capacity.
Would you like to do something meaningful on your spring break this year?
Would you like to play an important role in K-12 outreach for HCDE and the UW?
Are you interested in traveling to rural Washington to mentor middle and high school students?
Alternative Spring Break (ASB) is an outreach program organized by the UW's Pipeline Project. It provides opportunities for teams of undergraduate students to spend their spring break in a rural or tribal community of Washington State, working with local schools.
This year, in partnership with the Pipeline Project, HCDE is running its second ASB program, and will send two teams of undergraduates to Neah Bay, Washington, the Makah Tribe town, to lead middle and high school students in an HCDE Workshop.
The workshop will focus on digital storytelling using the Scratch programming system. Over the course of the week, the workshop students, guided by the HCDE student team, will create and program animation and interactive media projects using Scratch to tell stories of their culture or explore math and science principles.
Video: HCDE Alternative Spring Break 2017
The above video captures the experience of the first HCDE Pipeline ASB project team last year. You can also read more about the team's work here: hcde.uw.edu/news/hcde-alternative-spring-break-recap.
To prepare for the ASB workshop, the HCDE student team will participate in a winter quarter DRG. In the DRG, they will develop and pilot the curriculum, learn the essentials of engaging with students in their community, and generally prepare for this outreach adventure. The DRG will meet on Tuesdays from 6:00 — 8:00 pm.
In addition to registering for this 2-credit DRG, participants must also be willing to spend spring break week (March 18 – 24, 2018) on the ASB trip. Housing, transportation, food, and incidental expenses for the trip will be arranged and paid for by the department.
For the ASB workshop, we are seeking dedicated and enthusiastic undergraduates with generous spirit who are passionate about mentoring and inspiring young learners. Participants must be a current HCDE undergraduate student, and have completed HCDE 210 or HCDE 318, and HCDE 310.
Note: Enrollment in this research group is at capacity. Students who are accepted to the program will be notified by December 12.
If you have any questions about the program or the application process, please get in touch with one of us:
---
Andrew Davidson's Directed Research Group archive: