Andrew Davidson
Winter 2019
HCD charrette for K-12 outreach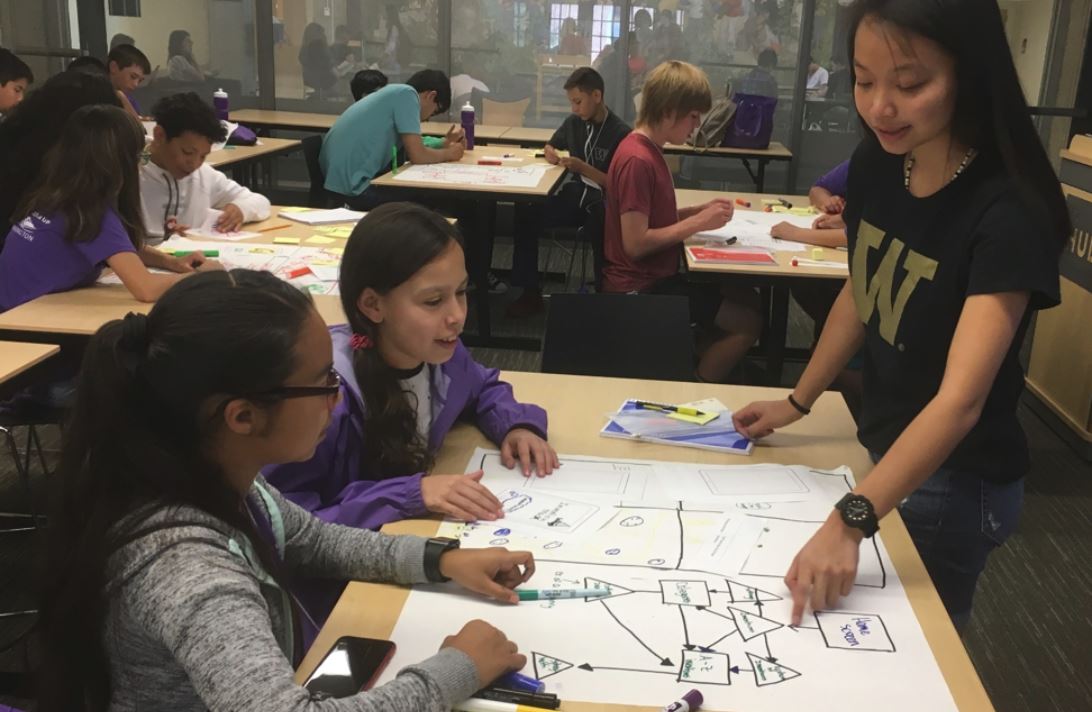 For the past few years, we have been using a design activity known as a charrette as a way to introduce students to the human centered design (HCD) process. In the "HCD Charrette," students are given a particular design space to explore (such as user interfaces for a website, mobile app, or a physical device). In a very short period of time (two hours or less), working in small groups, they brainstorm user needs, develop use-case scenarios, and create interaction designs for an application. We have run these participatory workshops with students at various educational levels, from middle school to graduate programs, and with K-12 teachers.
A fast-paced, hands-on activity that gives a good first-hand overview of the entire field, the HCD Charrette allows students to experience the thrill of design, while raising questions about its practice, setting the stage for further study. It is adaptable to many different application areas and levels of expertise and interest.
We firmly believe that participatory activities such as this HCD Charrette are far more effective as outreach and recruiting for HCDE than traditional college information sessions. Our long-term goal is to use the HCD Charrette for broad outreach and recruiting in the K-12 environment. We also intend to evaluate this program and practice, and to expand its reach.
In a dub talk (July 5, 2017), "Filling the Pipeline: Design & Engineering Workshops for K-12 Outreach," we summarized various HCDE outreach efforts. Further information about the HCDE K-12 Outreach program may be found here: hcde.uw.edu/about/k12.
In this DRG, we will continue to broaden our outreach efforts for human centered design in the K-12 environment. UW student teams will facilitate an HCD Charrette in local school classrooms. Students will meet with classroom teachers to understand their students, learning goals, and environment. Curricula and materials for the HCD Charrette exist and students adapt these materials, customizing them for specific classroom needs. Charrette teams will visit local high school classrooms and lead students in the workshop. They will assess the results of the workshops and prepare a report on their findings. We will use these findings to further develop the HCD Charrette protocol.
We are looking for dedicated and enthusiastic students to participate in this project. Eligible students should be familiar with the User Centered Design process, and have already taken HCDE 210, 318, or 518. Experience working with, teaching, or mentoring young students is a plus.
The DRG will meet on Tuesdays, from 4:00–5:30 pm. All participants are expected to register for 2 credits.
To apply, please submit your resume and a letter explaining your interest and qualifications for the project here: https://goo.gl/forms/eOBRzxOoI2t7osx43.
The deadline for applications is Sunday, December 16, 2018. We will notify all applicants of our decisions by December 21.
Questions? Please contact:
Andrew Davidson <adavid7@uw.edu>, HCDE faculty, K-12 Outreach director
Samantha West <samwest@uw.edu>, HCDE MS student, K-12 Outreach coordinator
---
Winter 2019
Alternative spring break: HCDE workshop
Would you like to do something meaningful on your spring break this year?
Would you like to play an important role in K-12 outreach for HCDE and the UW?
Are you interested in traveling to rural Washington to mentor middle and high school students?
Alternative Spring Break (ASB) is an outreach program organized by the UW's Pipeline Project. It provides opportunities for teams of undergraduate students to spend their spring break in a rural or tribal community of Washington State, working with local schools.
This year, in partnership with the Pipeline Project, HCDE is running its third ASB program, and will send two teams of undergraduates to Neah Bay, Washington, the Makah Tribe town, to lead middle and high school students in an HCDE Workshop.
The workshop will focus on physical computing for citizen science, using the Circuit Playground Express (Arduino) platform. Over the course of the week, the workshop students, guided by the HCDE student team, will develop and deploy a scientific instrument that can be used to gather field data.
HCDE Alternative Spring Break 2017


hcde.uw.edu/videos/asb
The above video captures the experience of the first HCDE Pipeline ASB project team in 2017. You can also read more about the team's work here: hcde.uw.edu/news/hcde-alternative-spring-break-recap.
To prepare for the ASB workshop, the HCDE student team will participate in a winter quarter DRG. In the DRG, they will develop and pilot the curriculum, learn the essentials of engaging with students in their community, and generally prepare for this outreach adventure. The DRG will meet one evening each week (either Monday, Tuesday, or Wednesday, TBD) from 6:00 — 8:00 pm.
In addition to registering for this 2-credit DRG, participants must also be willing to spend spring break week (March 23 – 29, 2019) on the ASB trip. Housing, transportation, food, and incidental expenses for the trip will be arranged and paid for by the department.
For the ASB workshop, we are seeking dedicated and enthusiastic undergraduates with generous spirit who are passionate about mentoring and inspiring young learners. Participants must be a current HCDE undergraduate student, and have completed HCDE 210 or HCDE 318, and ideally also HCDE 439.
To apply for the program, please fill out this online application «goo.gl/forms/AYKvkU0f5l4ITjR83» by Saturday, November 24 at 11:59 pm.
In the application, you will be asked to submit your resume, in PDF form, and to answer a number of essay questions, but you do not have to complete them all in the same session. This is a summary of the essay questions:
Why are you interested in the ASB project? Tell us about your academic and personal goals, and how ASB might help you achieve them.
What experiences do you have working with, teaching, or mentoring teens and children?
An important part of ASB is working as part of a closely-knit team. What personal characteristics and experiences do you have that will positively contribute to the team dynamic?
Relate an experience in which you worked with an individual or group from a different background than your own. What did you learn from the experience?
What aspect of human centered design do you find most compelling, and why?
Do you have any special interests, skills, or experience that you think would be useful on an ASB team?
Is there anything else that you would like to share with us?
We will also require an interview with selected applicants between November 26 and December 7. Students who are accepted to the program will be notified by December 11.
If you are interested in this exciting opportunity to make a difference in young people's lives, inspire them about the potential of human centered design and a college education, to learn about and engage with communities in rural Washington, and enrich your life in many ways, please consider applying for the HCDE ASB program!
If you have any questions about the program or the application process, please get in touch with one of us:
---