Corporate Affiliates Program
The Human Centered Design & Engineering Corporate Affiliates Program provides a direct line between industry partners and HCDE students and faculty.
Corporate Affiliates enjoy a special connection with HCDE that fosters long-term relationships, leading to technical exchange, collaboration, and interaction with faculty, students, and alumni. Join today »
Affiliates choose their level of membership based on the needs of their company and their desired level of involvement with HCDE. All CAP member companies are invited to HCDE's annual Career Fair, host on-campus information sessions, and to share job openings with our students. Member benefits »
Corporate Affiliates members sponsor student projects, propose research topics for faculty and students, participate in career fairs and employer info sessions, and enjoy a special connection with the department and with other Corporate Affiliates members. Partnership opportunities »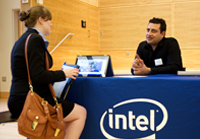 Our list of members is growing every day. Well-known Corporate Affiliates include Amazon, Blink UX, Boeing, Deloitte Digital, Expedia Inc, Getty Images, Google, Groupon, HTC, IMB Design, Intel, Microsoft User Research, Nordstrom, and Tableau, and many others. All members »
Are you looking to hire HCDE students? Consider hosting a table at the annual HCDE Career Fair, and submit your job and internship descriptions to the HCDE job board.