HCDE STUDY ABROAD: DESIGN LONDON
EARLY FALL 2022
Explore critical practice rooted in London's vibrant Design culture
Program dates: August 20 - September 10, 2022
UW credits: 5
Application deadline: February 15, 2022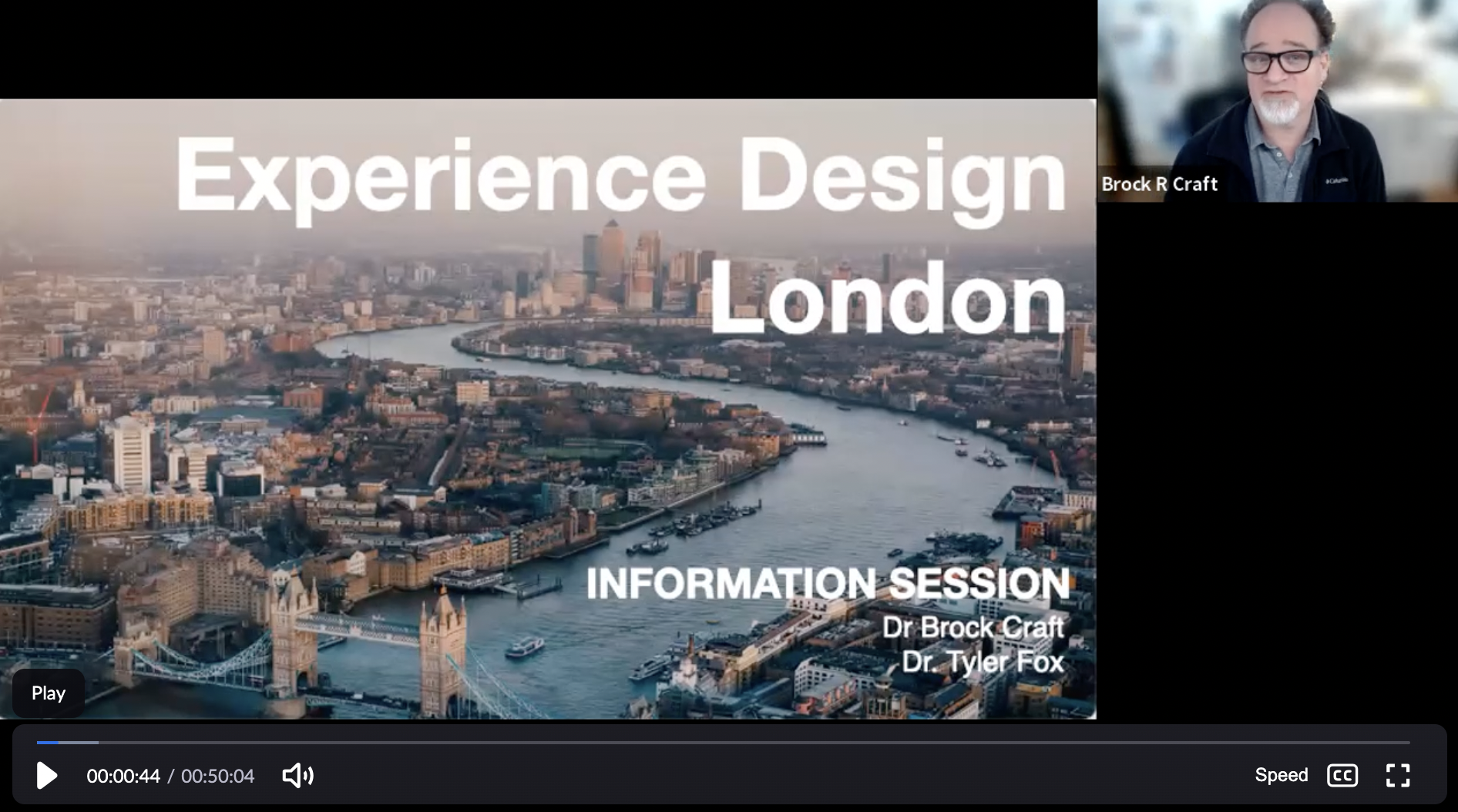 Hosted by program directors Brock Craft and Tyler Fox. Recorded February 9, 2022.
Join Human Centered Design & Engineering faculty members Drs. Brock Craft and Tyler Fox on an international exploration of Experience Design. This three-week program includes seminar sessions, guest speakers, field trips, and critique sessions. It is open to undergraduates who have completed HCDE 318, and Master's and PhD students from all design-related disciplines.
Program Description
This three-week short course aims to encourage critical practice rooted in London's vibrant Human Centered Design culture. London remains a globally significant crossroads for creative cultures of all kinds, and has a thriving interaction and user experience design scene. A crucial aspect of this process is cultivating awareness of physical and social contexts and how they are mediated by technology, and how they may be investigated. The infrastructure of the city presents opportunities for developing deeper understanding of how to engineer interactions and experiences at a system-level scale.
Building on our experiences and learnings from the 2018-2019 and the planned 2019-2020 version of this course which was cancelled due to COVID-19, we will be working over three weeks to develop a deep understanding of people, place, and how our work as experience designers relates to socio-technical systems. We will focus on systems of urban infrastructure, including the River Thames and the Tube network, directing attention on how, when, by whom and why the systems are used. This means thinking about what happens beneath the surface, what moves on/in it, navigates or spans that surface, and the space above it. We will consider ourselves as explorers searching for meaning and data on and around systems of civic infrastructures.
Outcomes will be research-driven, exploratory speculations on how London's infrastructures shape how it is experienced. Student work will be materialised in physical forms, involving people in the creation and communication of the work. Interactions with London's Design culture will include studio visits, use of maker-spaces, exhibition visits, talks and seminars. These encounters will give participating students a taste of London's creative environment, and lead to a wider awareness of how Human Centered Design contributes to placemaking, cultural development, and engaged critical practice.
Possible Travel Restrictions due to COVID-19
For the 2022-2023 academic year, study abroad programs will likely include limitations. Visit the UW Study Abroad COVID-19 page for the latest information.
2019 Design London Video Recap