The process of applying to the Bachelor of Science in Human Centered Design & Engineering (HCDE) depends on a student's entry point to the University of Washington. Choose an option below to learn more about the different pathways for entering the major.
Frequently Asked Questions
What is the application deadline for admission into the department?
For current UW students and transfer students, the application deadline is April 5 for autumn quarter start.
What is the difference between HCDE and similar UW majors like Informatics, Computer Science, and Interaction Design?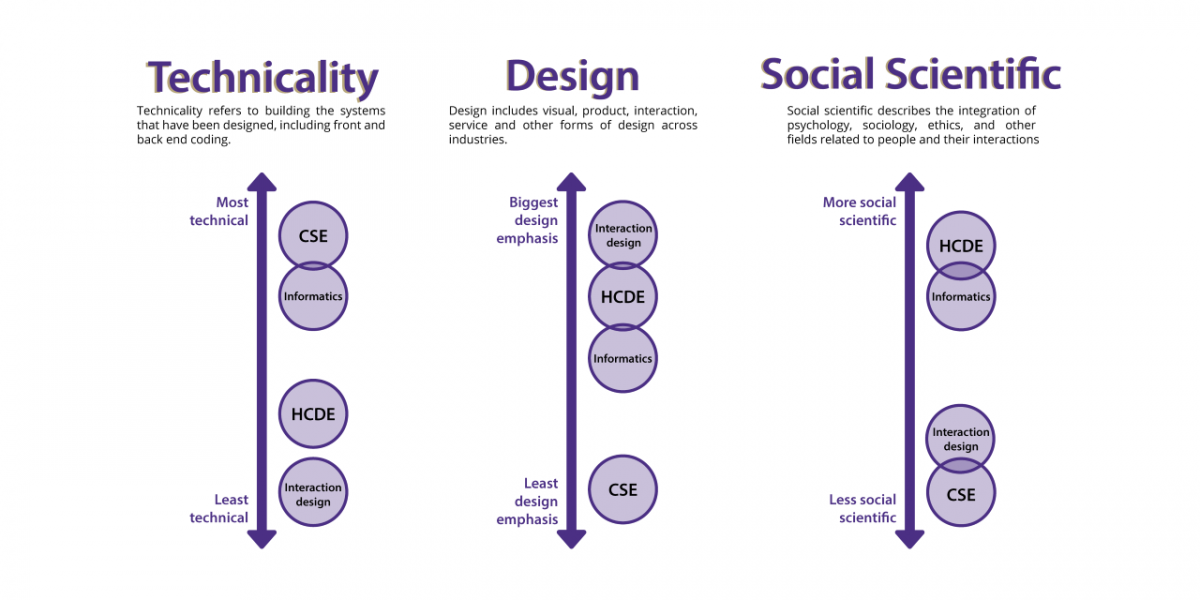 HCDE has three major areas of learning: technicality, design, and social scientific. Technicality refers to building the systems that have been designed, including front and back end coding. The UW Computer Science and Informatics programs have a greater focus on technicality than HCDE does, and Interaction Design has fewer technical components than HCDE. The design component includes visual, product, interaction, service, and other forms of design across industries. The Interaction Design major has the greatest emphasis on design, followed by HCDE then Informatics. Computer Science has the least emphasis on design. Social scientific describes the integration of psychology, sociology, ethics, and other fields rated to people and their interactions. HCDE has the greatest emphasis on social scientific content, followed by Informatics. CSE and Interaction Design both have minimal focus on the social scientific.
Where can I find the application?
When will I hear an admission decision to the program?
All applicants will be notified of being admitted or declined approximately one month after the deadline. Next steps such as change of major and course scheduling will be outlined in your decision letter.
Can I apply to multiple College of Engineering departments with one application?
Yes, all departments use the same online application. Direct-To-College students will rank their department preferences and then address each department-specific personal statement prompt. Transfer students must apply to UW first, then use the college of engineering's application to complete application requirements for each engineering major.
Will I have an advantage if I submit my application before the deadline?
No, all applications are reviewed together after the application deadline so submitting early will not result in an earlier decision.
How many words does my personal statement need to be?
Your personal statement needs to address the prompt provided on the application. There is no word length maximum, but typical length is around 750 words. Please be mindful of keeping your statement around 750 words out of respect for our admission committee's time.
See 11 tips for writing a personal statement »
Can HCDE advising help with my personal statement?
Can I submit a letter of recommendation?
No, HCDE does not accept letters of recommendation.
Can I submit a portfolio or sample work?
Because the admissions committee has to review so many applicants each cycle, they do not have time to review portfolios.
What if I don't have all the prerequisites completed by the application deadline?
All prerequisites must be completed by the application deadline to be eligible for admission. The only exception to this rule is current transfer students from a semester school: they may have one prerequisite course in progress at the time they apply.
Is admission to the program competitive?
Yes, HCDE is a capacity-constrained program, meaning we are unable to admit all qualified students. The acceptance rate for the last two cycles (AUT '20/SPR '21) was approximately 16%. Please speak with the undergraduate adviser if you have further questions.
How can I increase my chances of being admitted?
The most important part of your application is your personal statement, as it's how the admission committee gets to know you! The department particularly values personal statements that thoroughly address the prompt and articulate an understanding of HCDE. Involvement in research, internships, employment, or volunteer experience may help us understand what you value and are interested in, but are definitely not required for an offer of admission into HCDE. Competitive grades, positive quarterly grade trends, and coursework related to HCDE concepts are also all key components in evaluating applications.
If I am not accepted into the program, could I receive feedback about why?
Can I apply multiple times if I'm denied?
You are welcome to apply more than once. In each application cycle, you are a new applicant and must submit all new materials to be considered. Keep in mind the UW's credit limit registration holds for students who haven't declared a major. The more time you spend applying equates to more credits you earn without being in a major and making progress to graduate. HCDE cannot remove registration holds for students who are not yet admitted to the major.
What if I have senior status or 135+ credits?
You are still eligible to apply, however, please include in the additional comments section why you are deciding to change your major, add another major, or do not yet have a major in progress.
Will applying a second time mean I'm more likely to get into the major?
No. The admissions committee does not track whether an applicant has applied to the major before. However, an average 46% of admitted students from AUT '18-SPR '21 had applied two (or more) times. Often students have had time to reflect on their interest in HCDE, take relevant extracurriculars, and refine their application between cycles.
How long does the program take to complete?
The undergraduate program is designed to take two years with required core coursework structured in a sequence. Students typically cannot take a quarter off as certain required core courses, as well as HCDE elective course options, are only offered once per year. Please do not apply if you are not prepared to complete the program in two academic years.
Can I pursue another major or minor in addition to HCDE?
In most cases yes. However, keep in mind that HCDE's sequenced course schedule may make scheduling an additional major tricky. In addition, any second major that is declared along with HCDE automatically becomes a double degree (as opposed to a double major), requiring a minimum of 225 credits to graduate. To maintain active student status in HCDE after you are admitted, you will need to be enrolled in the required core courses offered each quarter during your first and second year. You will need to complete a graduation coursework plan, and include a statement describing your reasoning as to why you are pursuing two majors, to both departments for approval. Typically, completing coursework for a minor presents few issues. A graduation coursework plan and statement are not necessary with a minor. We do not allow double degrees with any Engineering degree, Computer Science, Informatics, or Interaction Design.
When are Information Sessions?
Information sessions are scheduled once per month during the academic year. Specific Admission and Application info sessions are offered in the weeks leading up to the application deadline. Dates/times and locations are noted on the HCDE Info Session Calendar at least two weeks in advance.
Do you accept Post-bac students?
No, it is highly encouraged that students who have already completed a Bachelor's degree, look closely into HCDE's User-Centered Design Certificate or Master's Degree programs. Students admitted into these programs come from interdisciplinary academic backgrounds.
Is the program or courses available online or through distance learning?
With the exception of the remote courses during the COVID-19 pandemic, the program is only offered in-person on the UW Seattle campus.
Where could I learn more about the undergraduate program in Human Centered Design & Engineering?
Appeals Procedure
This procedure only applies to non-Engineering Undeclared (DTC) and Transfer students. If you are a DTC student, please contact your assigned Engineering adviser.

If you are denied admission to the HCDE department, you should first consult with the HCDE undergraduate advisor. Then you may request a review of the Admissions Committee decision by writing a letter to the Department Chair (hcdechr@uw.edu), citing your reasons for appeal. You must submit this letter within two weeks after the letter of denial is postmarked. The only legitimate basis for appeal is an error in the data considered by the Admissions Committee. If you were denied admission because you submitted incomplete or inaccurate records, your appeal will not be considered. A Departmental Appeals Committee will consider appeals and respond promptly.