By Neilly Herrera Tan, Keri Mallari, and Himanshu Zade, HCDE PhD students
Neilly Herrera Tan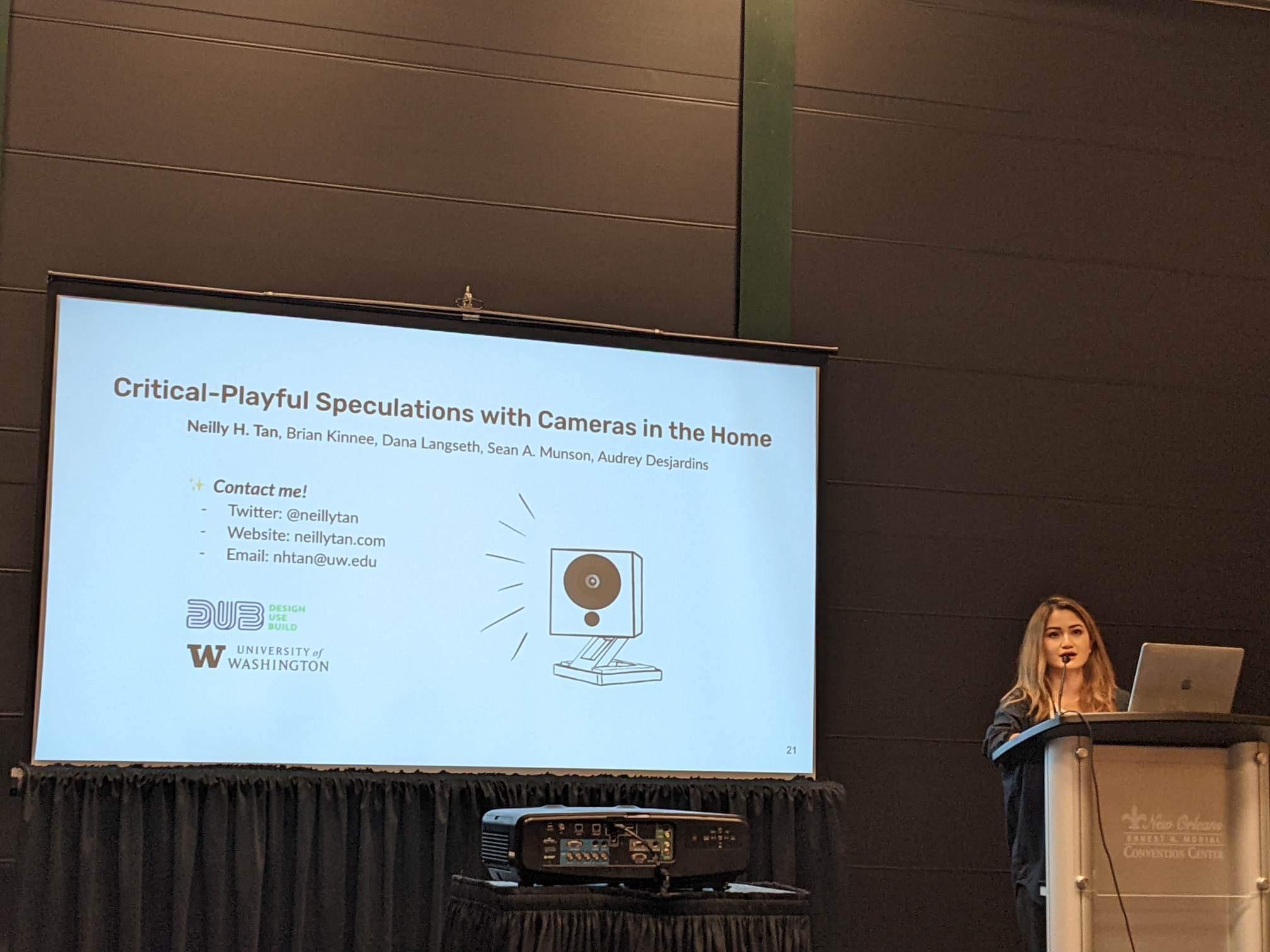 At a reunion of students from the Intentional Traces Collective, the research lab led by HCDE Associate Professor Sean Munson.
This year was my first time attending the CHI conference in person, and I learned so much from my experience. I presented two papers, titled "Critical-Playful Speculations with Cameras in the Home" and "Monitoring Pets, Deterring Intruders, and Casually Spying on Neighbors: Everyday Uses of Smart Home Cameras." It was such a great experience to be able to share my work with others and to share this excitement, criticality, and curiosity around the role of pervasive computing devices in the home. The most impactful aspect of the conference was being able to connect with old friends and meet new peers from other universities. It was so energizing and meaningful to be in community with others in HCI through fostering and developing new and old relationships with fellow students and mentors. For example, I attended a meetup between other fellow Filipinos in HCI, and I also even met some of my longtime research collaborators in person for the first time! Throughout my time at CHI, I was able to take away the joys of sharing research and sustaining community with others.
Keri
I attended the CHI conference in person for the first time. My attendance began with a participation in the Social Presence in Virtual Event Spaces workshop, where I got to meet and exchange ideas with academic and industry researchers and developers during the breaks or lunch during our workshop. Outside of the workshop, I mostly attended session talks that interest me, and caught up with recent papers published in my research space. I also attended the presentations of fellow HCDE students!
After the workshop and presentations, the best part of attending the conference was being able to meet the authors of papers fundamental to my work. I was able to meet new friends and mentors, who gave feedback about my work and are interested in the progress of my future work. It was such a blessing to be surrounded by this community and to be able to attend this conference in-person.
Himanshu Zade
The annual SIGCHI 2022 event was organized in the city of New Orleans, Lousiana (United States). As a regular attendee of the CHI conference for the past few years, it was very exciting to be back in person and meet the community. Although it was a (relatively) smaller event this year, it was equally insightful!
My primary purpose in attending CHI'22 was to participate in the "Designing for Mis/Disinformation' workshop organized by the 'Credibility Coalition' group. The workshop was a great venue to know more about the ongoing research in the space and to meet researchers with similar interests as me. I am particularly happy about the outcome as I have been invited to co-author a book chapter — on a similar theme as that of the workshop— with some of the workshop attendees.
Another thing that struck me was how CHI this year addressed the diversity of the keynote speakers and brought two women of color to share their research and experiences with the CHI community. I used the rest of the conference to support my labmate, Melinda, in presenting her work and to connect with some old and some new friends from the research community. I also learned about some research pursued at Ga-Tech (Amy Bruckman's lab) and Cornell-Tech (Mor Naaman's lab) that is close to my interests and extends the findings from my recent research projects. I am excited to see how their research unfolds in the upcoming chapters of CHI!