HCDE MS Frequently Asked Questions
Program Scheduling
When are classes held?
All classes are held during weekday evenings (typically from 6:00–9:50 p.m.) on the University of Washington campus in Seattle, WA.
Is this program full-time or part-time?
It is designed to be either. About half of our students attend full-time (10+ credits/quarter) and half attend part-time while working or doing internships. Each student decides how many classes to take each quarter depending on personal commitments (e.g., work, family).
Is the HCDE MS available as an online or distance learning program?
No, our program is offered only in-person in Seattle, WA.
Tuition and Fees
What is the total tuition rate?
All students (Washington state residents, domestic, or international) are charged exactly the same tuition rate. A full outline can be found on the Tuition and Fees page.
Do you offer scholarships or tuition support?
No, unfortunately the MS program does not have the resources to offer tuition support to students. For more information about financial aid or personal loans, please see the Tuition and Fees page.
I work for the University of Washington or the State of Washington. Is this program eligible for Tuition Exemption?
No, this program is self-sustaining (not state-supported) and therefore does not participate in the University's Tuition Exemption program.
Admissions and Applications
When is the next admissions deadline?
The application deadline always falls on or immediately around January 15 of each year (varying slightly only to avoid overlap with holidays/weekends). Once set, it is a hard and inflexible deadline. Applications are due at 11:59 p.m. Pacific Time. All materials (including unofficial transcripts, recommendations, and, when applicable, TOEFL scores) must be uploaded into the online application by this deadline in order for the application to be considered complete and eligible for review in the admissions process. Late materials will not be accepted; nor is it possible to change what one has submitted, or to submit additional material after the deadline. 
I am a User-Centered Design Certificate student. Do I need to submit a new application to the MS program?
Yes, you must submit new materials; you are considered a new applicant and need to submit a completely new application (including recent transcripts). We do not have access to previously submitted materials.
I applied to the MS program last year and was not accepted. Could you use my application from last year?
No, we do not have access to materials submitted in other years and you are considered a new applicant. Please submit new application materials (including recent transcripts and new recommendations) in order to be considered.
I submitted my application but forgot to add something to my resume or Personal Statement. Could I request to make a change?
Unfortunately, after an application has been submitted, it is not possible to submit additional materials or request to have documents updated or replaced. Please double-check all documents and only upload final versions into the online application.
When may I expect to hear an admissions decision?
All applicants who applied in the current admissions cycle will receive an email outlining being accepted or declined by the following March 16.
I am an international student. Could you tell me whether my TOEFL scores have arrived? If I know the results of my TOEFL and can self-report them on my application before the deadline, is that acceptable?
It may take several weeks for TOEFL scores to show as being "received" by the University of Washington. After applying, please be patient and periodically log-in to your application profile to check the status of the scores. While you are waiting for your official scores to be sent to the University from ETS, you may, if you know the results of your exam, self-report your scores on your application to help ensure that it is considered complete before the deadline. For specific questions about test scores, please email uwgrad@uw.edu.
What is the required TOEFL score?
Successful candidates must have the following minimum score on one of the tests below. Please note that, given the competitive nature of our program, and the importance of being able to communicate fluently in English in our courses, we strictly enforce these standards during the admissions review process.
106 on TOEFLiBT (including 26 Speaking sub-score)
623 on TOEFLPBT
263 on TOEFLCBT
Is the Master's program in HCDE considered a STEM program?
Yes, we are considered a STEM program, and accepted students are therefore eligible to apply for OPT extension. The CIP code for all our programs is 11.0103.
How will I know whether my transcripts have been received?
You are responsible for ensuring that the University of Washington has received your transcripts by the January 15 application deadline. To check the status of transcripts, please log-in to your application status page. Remember, only unofficial transcripts are needed for application review. If you receive an offer of admission, you must then submit official transcripts for review. For specific questions about transcripts, please email uwgrad@uw.edu.
How will I know if my recommenders have submitted their letters of recommendation?
Once you have submitted your application, you can check the status of your recommendation letters by logging into your application status page. It is the applicant's responsibility to ensure recommendations are received by the January 15 deadline. Late recommendations cannot be accepted.
I understand three recommendations are required. Is it possible to submit a fourth recommendation?
In fairness to all applicants, only three recommendations may be submitted. Any additional recommendations will not be reviewed.
Whom should I have write my recommendations?
Choose individuals that know you well, and are able to speak in depth regarding your character, accomplishments, and abilities. If you are still in school, or just recently graduated, professors or other researchers under whom you worked would be excellent candidates. If you have been out of school for a while, your best option might include direct work supervisors or other professional mentors.
I am writing a student recommendation and get an error message while uploading my letter. Do you have any suggestions?
Yes, sometimes the online system has bugs with Firefox or Chrome browsers. If this occurs, please try again using Internet Explorer. If you continue to have problems, please send the letter, as an attachment, to hcdegrad@uw.edu.
How competitive is MS admission? 
Admission is highly competitive and we accept about 25% of our applicant pool each year.
What can I do to differentiate myself as a candidate?
Be sure your personal statement shows a clear relationship between your professional goals and the skills taught in the program. Take your personal statement seriously and express your vision as clearly as possible.
I'm interested in both the MS in Human Centered Design & Engineering and another program at the University of Washington. Is it possible to apply to both programs and then make a decision?
Yes, the University of Washington allows you to apply to more than one program simultaneously. There is no penalty for doing this since every department evaluates applications independently. You must submit a completely separate application for each program you are considering. 
HCDE vs Other UW Graduate Programs
How does the MS in Human Centered Design & Engineering differ from the Master of Human-Computer Interaction + Design (MHCID)? 
The MS HCDE is a 50-credit evening program, resulting in a graduate engineering degree, costing $860 per credit in academic year 2020-2021. Students take classes (a mix of theory, project, and studio based courses), participate in faculty led Directed Research Groups, and complete Capstone Projects and optional internships, with the overall curriculum focusing on research, design, and engineering. The program typically takes part-time students approximately 3 years to complete, while full-time students are usually able to complete in 5-6 quarters.
The MHCID is a 46-credit program, costing $1,098 per credit in academic year 2020-2021. It is an intensive 11-month day curriculum that is project-based in a design studio format. The MHCID program is a full-time commitment and students typically do not hold jobs or internships while enrolled. Find additional information about MHCI+D program costs and financial aid, here.
Find a comparison of the Master of Human-Computer Interaction + Design program with related degree programs on their website »
How can I learn more about applying to the University of Washington Graduate School? 
Please see the Graduate School's Frequently Asked Questions page.
Obtaining More Information
Could I attend an Info Session?
Yes, Info Sessions are held throughout the academic year on the University of Washington campus in Seattle. Details will be posted on the Info Session Calendar. Sign up to be notified by email about an the next Info Session.
Watch an Info Session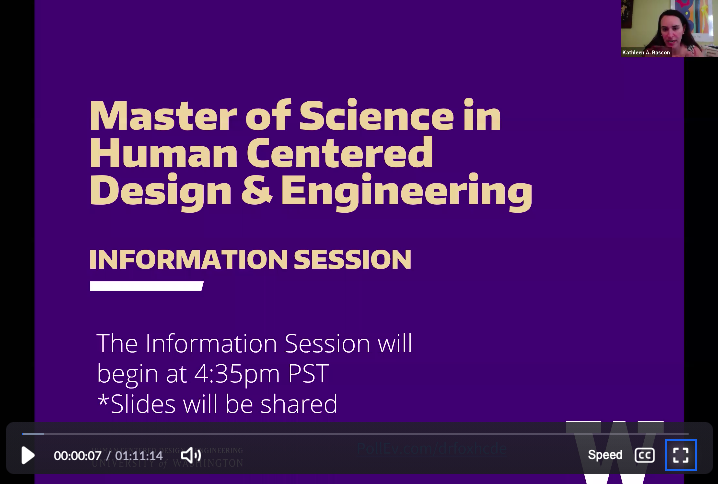 Have questions about the Master of Science in Human Centered Design & Engineering? Watch an Information Session about the program, hosted by HCDE advisors Kathleen Rascon, Alex Llapitan, and program director Tyler Fox. View upcoming information sessions on our calendar.
Recorded September 2020