MS Ambassadors
The Human Centered Design & Engineering Master's Ambassador program enables prospective students to learn from the experiences of current HCDE Master's students.
The HCDE Graduate Ambassadors are not currently taking appointments until the new year in 2021. Check back then to make an appointment.
2020 Graduate Ambassadors
Shelby Zink
Hello! I'm Shelby, a first-year master's student in the HCDE program. I have a bachelor's degree in Industrial & Interaction Design (BIID) but shortly after graduating, found myself passionate and working full-time as a researcher for 3.5 years in the public health field and using my design skills as a creative means for problem solving health disparities with underserved communities. I have found the course work in HCDE to be an excellent learning experience and a merger of my people, design, and research skills and I'm excited to pursue my passion for design in the UX field. Currently, my favorite HCDE classes are HCDE 518 and 517 and I'm looking forward to taking capstone next spring. I love design- especially social impact and diversity and inclusion initiatives. Please feel free to reach out with any questions you may have! 
Ethel Xu
I am an international student from China who has spent four years in Michigan attending college. I have a background in Psychology focusing on personality and organizational psychology. Upon graduation, I came to my favorite city, Seattle, to pursue my dream of improving people's work experience by designing efficient, effective and actionable enterprise products. My favorite class so far is 508 Visual Communication and 518 User Centered Design which both have helped me sharpen my design skills and knowledge in the human-centered design process. I am always happy to meet and talk with prospective students about the program itself and the opportunities you will be able to gain on this beautiful campus and in the city. 
Devin Min
My name's Devin! I plan to graduate from the program in June 2020. Prior to my HCDE education, I went to University of Michigan majoring in mechanical engineering. Right after undergrad, I started off my career as a software test engineer. As my career progressed, I realized I had a passion for UX and understanding the impact technology has on users. I then pivoted officially to UX working in different companies within the Seattle area as a product designer. My passion also includes mentoring and evangelizing design thinking, leadership, and influence to our products today. Let me know how I can help you in any way, I am excited to meet current and future students.
Sara Koeck
Hi, I'm Sara! I'm a full-time student with an undergraduate degree in German Literature and International Studies. I did my BA at the UW as well, so I've been on this campus for a while and know my way around! Since my academic background was not technical or design focused in anyway, it's been fun and challenging to work in a totally different environment. As of now, I am focusing on becoming a UX Researcher, but am open and interested in other areas as well. I'm particularly interested in making sure different cultures and languages are factored into the design and research process to create truly human centered technologies. 
Evelyn Kalafus-Mastenbrook
Hi there, I'm Evelyn! Born and raised in Seattle, I went to Oberlin College to study Psychology and Spanish. After studying abroad in Mexico and Chile, I fell in love with learning about other cultures and moved to Spain for two years to become fluent in Spanish. Since moving back to the PNW, I've worked at several small tech startups and worn all the proverbial hats, from sales to marketing to customer success.  Within the HCDE program, my interests include project management, interaction design and international UX. I'll be finishing my Master's in June 2021. Please feel free to reach out with any questions!
Bridgett Zayas 
Hi! My name is Bridgett and I'm currently a full time MS student in HCDE, anticipating graduation in Spring 2021. I earned my bachelor's degree in digital media and communication from Florida International University, all the way in Miami, FL. Some of my interests include the user-centered design process, participatory design, accessibility, and gamification. So far my favorite class has been a special topics course titled Constructing Design Narratives taught by Adi Azulay, where I learned about discursive and speculative design (ask me more about this!). Feel free to reach out if you have any questions about HCDE or what it's like to be an HCDE student. I can show you where the good coffee spots are around the district. 
Dinah Coops
Hi, my name is Dinah and I'm a 3rd year part time Master's student in HCDE. With a background in photo art direction and design, I'm transitioning into UX research and design by working within the tech industry as I complete my degree in Summer 2020. My goal is to combine my past experience as an art director in the clothing industry with my new skills in UCD and direct them towards impact design. Impact design can mean a lot of things, and I'm currently exploring the threads of  environmental, social, educational and speculative design towards creating positive change. Happy to answer questions about what it is like to be part of the HCDE community!
Nora Carr
Hi, I'm Nora. I am a full-time MS student in HCDE, and I have lived in Seattle for most of my life. I hold undergraduate degrees in both Sociology and Nursing, and have been providing bedside care as a Registered Nurse in hospitals for the past seven years. Through my experiences in healthcare, I gained an understanding of how critical it is to have technology, systems, and processes that are efficient, cost-effective, and provide benefits instead of barriers to the people who use and rely on them. I am focusing on research, design, and engineering, and my future goal is to work on emerging technologies in the healthcare arena. I grew up in Seattle, and am excited to talk with prospective students about the HCDE program, the University of Washington, and all the amazing things there are to do and see in this part of the world! 
Taylor Honda
I'm a first-year full-time Master's student in HCDE. I received my BA in Sociology from UC Berkeley in 2017 and then worked in database management for a nonprofit on their fundraising team. My education and work experience taught me about many different social issues but didn't really teach me how to fix them; therefore, I decided to pursue my Master's to learn how to apply human-centered design principles to solve problems. Within HCDE, I am interested in UX research, accessibility & inclusive design, and usability. My favorite classes so far have been qualitative methods, experimental methods, and usability studies. I have also participated in DRGs on queer theory & HCI and exploratory analysis of social media communities. I'm a first-generation grad student, so talk to me if you have any questions or concerns about that! You can also talk to me about anything else — Seattle, housing, internships/jobs, money, etc. 
Carolyn Donaldson
Hi! My name is Carolyn and I joined HCDE as a full-time MS student in 2019. Before joining the program, I completed my undergraduate degree in Communication Studies and worked in Human Resources at a healthcare organization. After being introduced to HCD at work, I started exploring design at community events and found my way to HCDE. I'm passionate about building and sustaining inclusive systems through design research and have really enjoyed the classes HCDE 518 User-Centered Design and HCDE 519 Qualitative Research so far. Please reach out with any questions about HCDE, both inside and outside the classroom. I'd love to chat! 
Alice Oh
Hi, I'm Alice, a first-year full-time international student. I earned my bachelor's in Business Administration and worked as a Product Manager in the consumer appliance industry for over 4 years before moving to Seattle. During those years, I realized that I had a strong interest in improving and innovating user experience, which ultimately led me to enter the HCDE master's program and pursue a career as a UX designer. For the past two quarters, I have taken 508 Visual Communication, 519 Qualitative Research and 524 Programming Concepts in HCDE for my electives. As a person who does not have a typical design background, my favorite course is 508 since it helped me quickly stretch my design capabilities. Feel free to reach out with any questions about HCDE student life.
Patriya Wiesmann
Hi, I'm Patriya! In 2019, I traveled cross-country from NYC to Seattle to join the HCDE Master's Program. Driven by a love of learning, I believe in blending skill sets and enjoy working in multidisciplinary environments. Prior to HCDE, I was leading efforts in voice recognition technologies, language management, and vehicle infotainment systems in industry. Midwestern at heart, I studied at The Ohio State University completing my bachelor's degree in mechanical engineering with minors in design and German. My interests lie in accessibility, ethical design, and engineering education. Fun Fact - My dog, Zelda, has road-tripped cross-country and along the Pacific Coast Highway with me. I enjoy meeting new people and providing mentorship. Feel free to reach out with any questions - HCDE, GO-MAP, pivoting careers, engineering, and study abroad to name a few! 
Watch an Info Session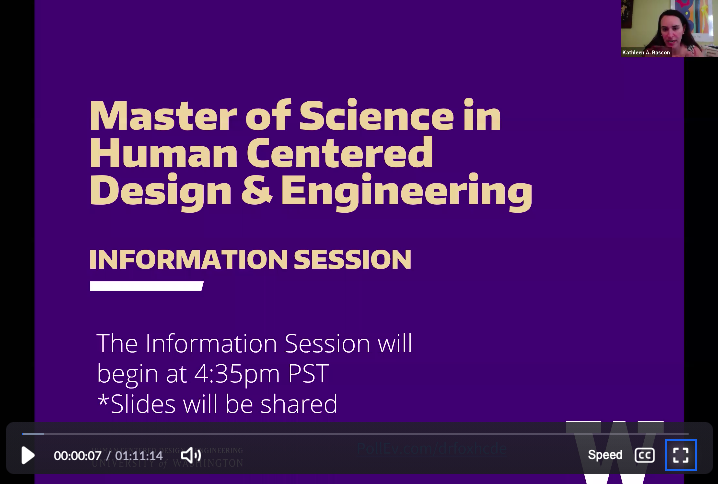 Have questions about the Master of Science in Human Centered Design & Engineering? Watch an Information Session about the program, hosted by HCDE advisors Kathleen Rascon, Alex Llapitan, and program director Tyler Fox. View upcoming information sessions on our calendar.
Recorded September 2020