Program Objectives
Upon completion of the HCDE Master's degree, students assume leadership roles in human centered design and engineering in academia, industry, government, and non-profits. 
Graduates of the HCDE Master's program are able to: 
Evaluate and understand human needs as a basis for designing and engineering new technologies.
Create visual, interactive, experience and systems designs and prototypes.
Master conceptual frameworks that motivate interdisciplinary research and design in human-centered design fields.
Select and critically evaluate user research methods for a variety of stakeholders and product contexts.
Translate organizational requirements into interface and product solutions, while accounting for all stakeholder perspectives and working ethically and collaboratively.      
Communicate effectively in oral, written, and visual forms, while scaling communications to audience needs and sociotechnical contexts.
HCDE Alumni at Work
Andrea Chin (MS '14), User Experience Researcher, McGraw-Hill Education
Watch an Info Session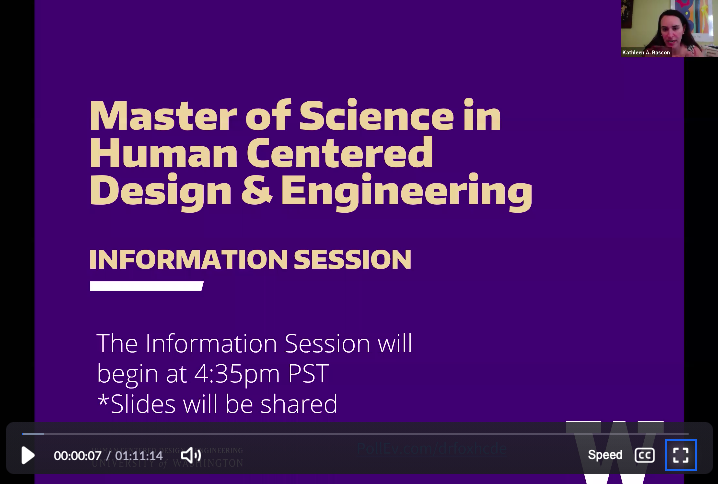 Have questions about the Master of Science in Human Centered Design & Engineering? Watch an Information Session about the program, hosted by HCDE advisors Kathleen Rascon, Alex Llapitan, and program director Tyler Fox. View upcoming information sessions on our calendar.
Recorded September 2020