An HCDE team lead by Irini Spyridakis (MS '10) and Madison Holbrook (BS '18) is pairing the University's food waste with community agencies in need.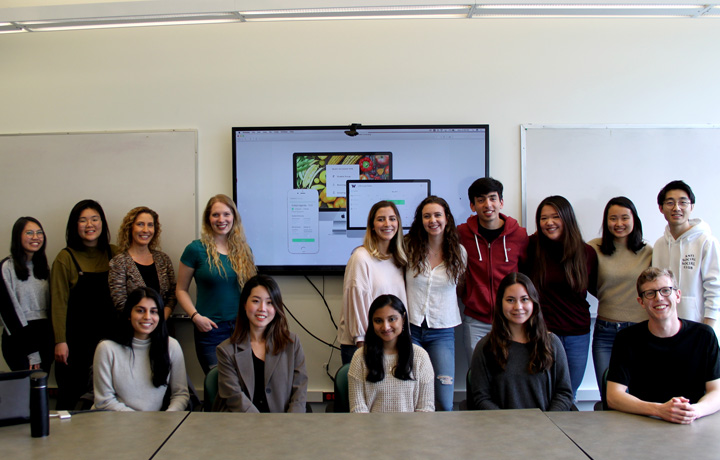 Students in the two-quarter Directed Research Group designed and developed a website to pair excess food from campus dining halls with local non-profit agencies.
In HCDE Lecturer Irini Spyridakis' course on advanced communication in HCDE, she asked students, "If you had a million dollars, what kind of project would you do for social good?"
Madison Holbrook, at the time a junior in HCDE, immediately knew her project would focus on the area of food recovery. "I grew up on a farm," Holbrook explained. "There was no shortage of food. But when I moved to Seattle, I saw that there was a huge disconnect between food going to waste and people struggling with food insecurity." For Spyridakis' course, Holbrook proposed a website that would pair campus dining halls with local shelters and non-profits to coordinate food recovery.
Spyridakis (MS '10) encouraged Holbrook to take the concept further, and the pair wrote a proposal to the Campus Sustainability Fund. Their project was awarded $17,000 to support a team of student designers and developers in the creation of an open source website to connect leftover dining hall food with non-profit agencies.
To facilitate this, Holbrook and Spyridakis co-led a two-quarter Directed Research Group with students from HCDE, Computer Science, and the iSchool, to research, design, and develop the concept to a fully functional website.
The platform was designed for and with the help of three groups: dining halls (food providers), shelters (food receivers), and student groups (food transporters). Through the website, when the dining hall knows they have excess food, they schedule the student group for pickup. The dining hall can also communicate directly with the shelter for an emergency pickup, when they can't house the excess food.
In May 2018, the first pilot is launching between UW Local Point dining hall, Union Gospel Mission and Compass Housing Alliance, and student groups Green Greeks and the Carlson Center Service Learners. The team will study the process, including analyzing how much money is saved by diverting food from the compost facility, with the goal of using the savings to support a staff position. Holbrook looks forward to scaling the project up to other campus food providers, as well as other universities.
"For me, the best part of this project is the feeling of knowing you can dream up an idea, communicate it, find people who are interested in it, and develop something that will actually help people," Holbrook said. "For a long time, it was just pen and paper, meetings and designing, but now that this is a thing that exists in the world, we are able to connect food that would otherwise be wasted with people who can use it. It feels great."