June 1, 2021
The Department of Human Centered Design & Engineering is presenting the 2021 Mikey Award to Dr. Daniella Kim, UX research leader and an affiliate instructor in HCDE.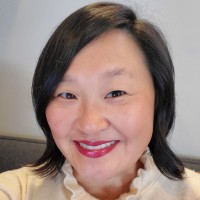 The Myron L. White Award, or the Mikey Award, is named after the co-founder of the department. It is presented annually by HCDE faculty to leaders in the field and dedicated friends of the department.
Dr. Kim has been teaching courses in the Department of Human Centered Design & Engineering since 2014. Her courses have included Empirical Traditions in HCDE, User Centered Design, Usability Studies, Psychology of UX, Mixed Methods in the Wild, Master's Capstone, and she has led several Directed Research Groups to explore current research topics.
The HCDE faculty are awarding Kim the Mikey Award because of her student-centered approach, dedication to both the teaching and research mission of the department, her care and mentorship of students, and her advocacy for HCDE both inside and outside of UW.
Kim is an academically trained psychoacoustician, and says she is grateful to those who helped her make the jump from understanding how babies perceive music to UX so many years ago. The practice of trying to understand human needs in technology, the psychology behind being a human, and the ethos of being human-centered resonate deeply with her first principles.
Kim started her research consultancy, Halibut Flats Research and Development, in 2012 in an effort to bring evidence-based research to various organizations. She has worked with a range of companies including female-owned startups, healthcare, non-profit, large enterprise, and fintech. She is especially drawn to organizations that prioritize social good, building the world we wish to see. With one foot in the world of industry and one foot in the world of academics, Kim's work is grounded in both, which is especially valuable in an applied department such as HCDE.
Kim thanks The HCDE faculty for always encouraging her to connect the old with the new, the traditions and the disrupters, and for being consistent supporters of blending worlds. "This special department has allowed me to stretch my own thinking, question my bias, and it always provides new things to learn," she said.
HCDE Professor and Chair Julie Kientz will present Daniella Kim with the 2021 Mikey Award at the HCDE Graduation & Awards Ceremony on June 9, 2021.