October 11, 2021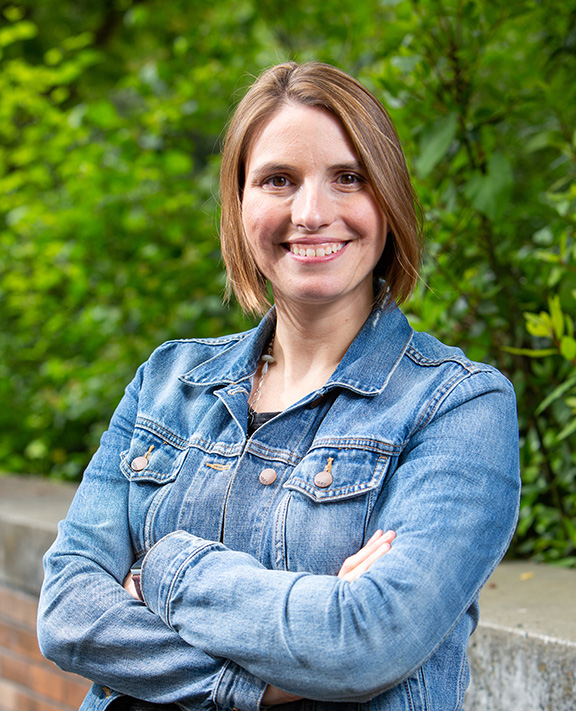 HCDE Professor & Chair Julie Kientz
Welcome to a new academic year in the Department of Human Centered Design & Engineering!
I am overjoyed to be welcoming the HCDE community back in person on our Seattle campus this year.
After 18 months of fully remote operations, it has been wonderful to see our new and returning students at our orientation events, join our faculty and staff at our annual retreat, and find activity returning to HCDE's home in Sieg Building.
We know that this year will be a bit of a transition year as we make the return back to campus, but I believe that HCDE's guiding principles of respect for people, equity, thoughtful impact, and interdisciplinary exploration will be key to helping us make this a great year.
This year we look forward to welcoming a new full-time faculty member, Assistant Professor Sayamindu Dasgupta, whose research focuses on how young people learn with and about data. We are also excited about several new projects led by HCDE researchers: Professor Cecilia Aragon is beginning a study to diversify data science through the research and design of ethical games; Assistant Professor Sucheta Ghoshal piloted a summer program aimed at designing tools and techniques for counter-fascism; Associate Professor Kate Starbird and colleagues with the Center for an Informed Public are continuing their work developing collaborative, rapid-response approaches to mitigate online disinformation; and I'm collaborating with colleagues in the iSchool and across the country on a new network to tailor digital technologies for children. Members of the HCDE community are always doing great work, so I encourage you to stay up on our latest developments by following the HCDE news page, or connecting with us on Facebook, Twitter, LinkedIn, and Instagram.
Conducting HCDE operations remotely this last year has created new opportunities for how we engage with our alumni and industry partners. We are still eager to offer many remote opportunities to connect with HCDE students on mentorship, project sponsorship, and career recruiting. Here are just a few ways you can collaborate with HCDE this year:
Mentoring Pods
HCDE Mentoring Pods is a new program in which we group 3-4 students with one UX mentor to meet virtually, once per month from November through May, at a time that is convenient for the mentor. Discussion topics might include: interviewing skills, portfolios, LinkedIn profiles, whiteboarding practice, navigating job descriptions, salaries and negotiation, networking techniques, UX titles, pivoting to UX from other industries, and general Q&A. Sign up as a mentor here »
Propose a Usability Study
Each winter quarter (January through March), first year master's students conduct usability studies on client projects. The time commitment from the project sponsor is minimal and there is no donation or financial commitment. Products will not be tested through formal user research, however a usability report is presented at the end of the class. More about proposing class projects »
Sponsor a Capstone Project
Capstone projects are student-run, large-scale projects that encompass two quarters of student work from January through June. Proposed projects should touch on at least two components of the human-centered design process: user research, ideation, prototyping, implementation, and evaluation. More about sponsoring a Capstone project »
Make a gift to the HCDE Emergency Student Support Fund
HCDE continues to ask for community donations to the HCDE Student Emergency Support Fund to support our students facing near-term financial hardship. Thanks to the contribution of numerous donors, every student who requested aid last year received funds to address emergent situations, such as unexpected health care costs, car repairs, legal fees, and housing insecurity. Give today »
Thank you for your support of HCDE, and I wish you a safe and healthy start to the new academic year.
All the best,

Julie A. Kientz
Professor & Chair
Human Centered Design & Engineering