June 14, 2019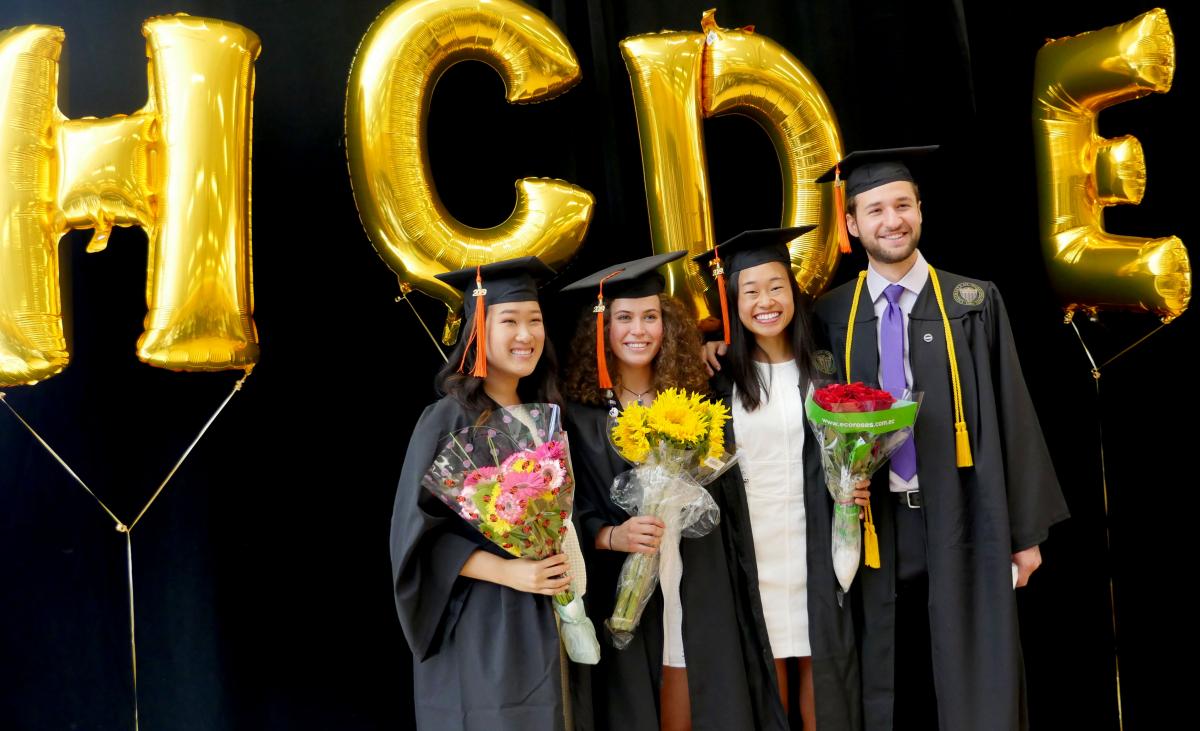 The Department of Human Centered Design & Engineering (HCDE) held its 2019 Graduation & Awards Ceremony on the morning of Tuesday, June 11, in the Husky Union Building Ballroom.
In 2019, the Department awarded 97 students Bachelor of Science degrees, 78 with Master of Science degrees, and 4 with doctoral degrees. The full list of graduates is below.
Graduation Addresses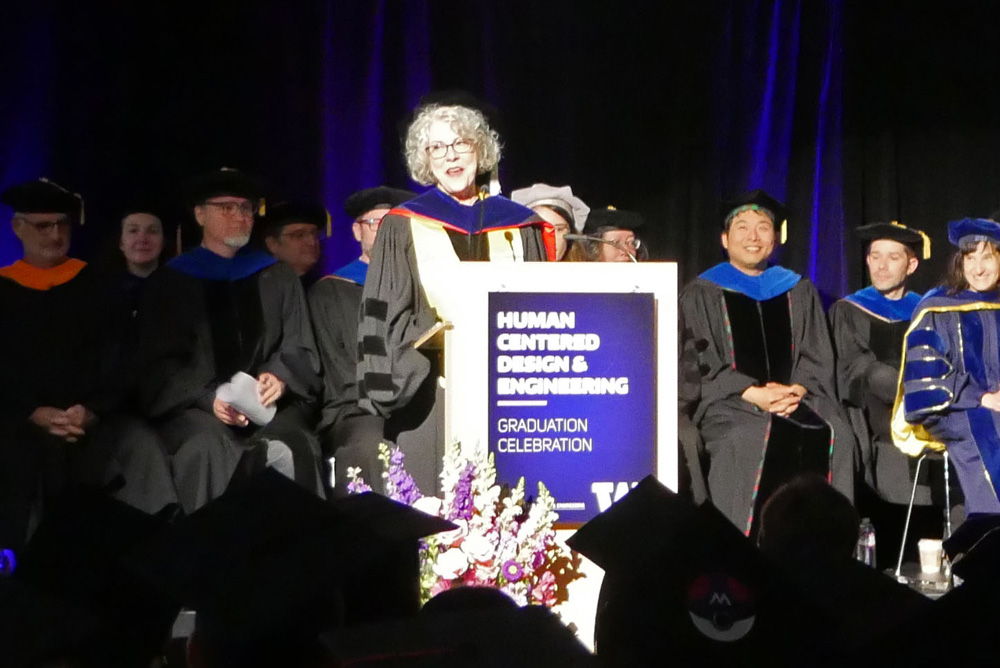 Guest graduation speaker Dr. Brenda Laurel
The 2019 Graduation speaker was guest Brenda Laurel. Dr. Laurel is a video game design trailblazer, author, and virtual reality pioneer. She has worked in interactive media since 1976—in the computer game industry with Atari and Activision; in research labs at Atari and Interval Research; and as a Distinguished Engineer at Sun Labs. She researched gender and technology at Interval Research, and co-founded Purple Moon, interactive media for girls, in 1996. Read the full text of Dr. Laurel's graduation address »
Awards of Excellence
The Department of Human Centered Design & Engineering annually recognizes outstanding students with Awards of Excellence. These awards honor students who have distinguished themselves by demonstrating greatness in Academic Excellence, Leadership and Engagement, and Innovation. The HCDE faculty nominate and vote on the recipients and craft the award statements below. Read about these awards and see the past recipients, here.
Undergraduate Award for Academic Excellence
Ritika Gupta
Beyond her stellar GPA, Ritika is an amazing all-around student. She consistently hits high marks academically, creatively and technically. She is the kind of student who is ever curious, asking probing and insightful questions, and sets the highest standards for herself. She is a deeply thoughtful designer and researcher who consistently achieves excellent results in her work. She has also been an outstanding course assistant in our introductory course, HCDE 210.
Graduate Award for Academic Excellence
Hayley Bierbaum
Hayley is a highly creative student who put the time in to think critically about her coursework and how to make the most of her time in HCDE. She also served as an excellent teaching assistant in many courses during her time with us. (Hayley was unable to attend the ceremony as she recently moved to San Francisco to work as a researcher for Airbnb.)
Undergraduate Award for Innovation
Alaa Amed
Alaa is a highly creative student with the soul of an artist and the dedication to her creative work that exemplifies innovation. Alaa received a minor in Digital Arts and Experimental Media and she brought her passion in wearable technology to the HCDE Alternative Spring Break program where she engaged teens in their own designs.
Graduate Award for Innovation
Cynthia Bennett
Throughout her doctoral studies in HCDE, Cindy has demonstrated outstanding scholarship in her research. She authored many publications in the areas of human-computer interaction, disability studies, and accessibility, and she is a major contributor to the accessibility research programs at UW. Her dissertation research has been supported by both Microsoft Research and the National Science Foundation. She is also an influential teacher and mentor for her fellow peers within HCDE and around the UW.
Graduate Award for Innovation
Blake Tsuzaki
During his time in our master's program, Blake was a fountain of good ideas. He combined his technical expertise with user experience research and design to develop comprehensive solutions to design challenges. Especially clever was Blake's work in physical computing and web services, where he also served as an outstanding teaching assistant in many courses.
Undergraduate Award for Leadership & Engagement
Emily Wong
Emily has extensive leadership and mentoring experience. She is passionate about creating social impact and giving back to the community, and has participated in numerous efforts to bring more women and underrepresented minorities into technology and engineering. Emily has served as president of Women in User Experience (WiUX) as well as the executive organizer of DubHacks where she helped organize the largest hackathon in the Pacific Northwest.
Graduate Award for Leadership & Engagement
D'Marcus Butler
D'Marcus has demonstrated leadership excellence through his role as president of the HCDE Graduate Student Association, where he helped to organize professional development workshops for his peers, and through his service on the department's diversity committee. D'Marcus has taken an active role in the UW's Graduate Opportunities and Minority Achievement Program, where he holds a leadership role on the Graduate Student Advisory Board.
Graduate Award for Leadership & Engagement
Kiley Sobel
Kiley has been an outstanding leader of the HCDE community. In addition to being a leader among graduate students, such as through her work in being the graduate student union representative, she has been a leader in HCDE outreach efforts and through her mentorship of HCDE undergraduate research assistants. She was an outstanding teacher, as a leader and as one of the primary architects of our successful introductory course, HCDE 210. She has also shown immense leadership in the international research community for her roles leading student volunteer efforts at numerous conferences.
Mikey Award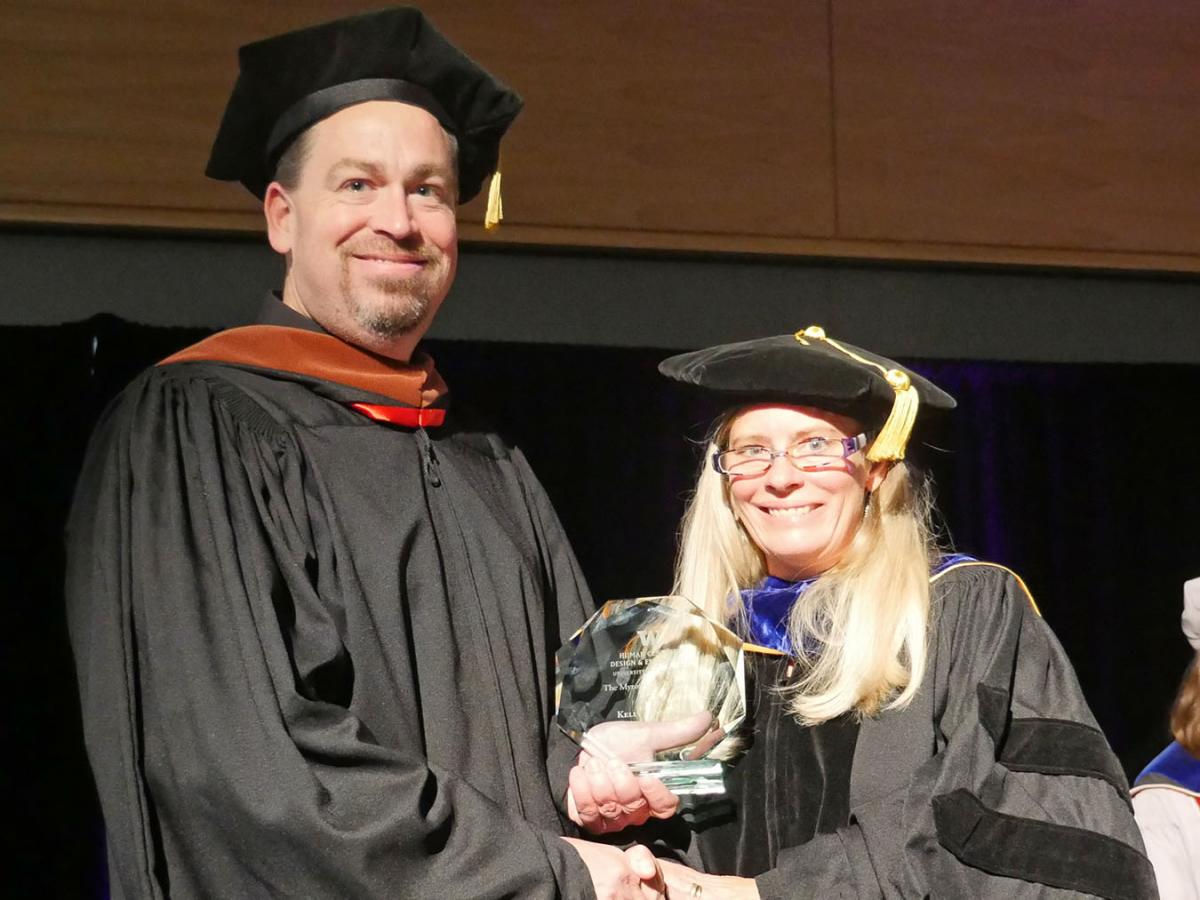 Mikey Award Recipient Kelly Franznick
Each year, the HCDE faculty select a recipient of the Myron L. White (aka "The Mikey") Award. The Mikey Award, named after a founder of the department, is given to a leader in the field and a dedicated friend of HCDE.
The HCDE faculty unanimously voted to award Kelly Franznick the 2019 Mikey Award, thanking him for his years of support of the Department. Kelly Franznick is a co-founder and Chief Innovation Officer of Blink UX. He is a dedicated friend of HCDE, currently serving on the department's External Advisory Board and previously on the Professional Graduate Programs Advisory Board. Kelly has been unfailingly generous with his time and energy in supporting many initiatives in HCDE. In addition to serving on our leadership boards, Kelly has taught classes for us, visited frequently as a guest lecturer, and opened up Blink's offices for student groups. He has an exemplary vision about how human-centered design can help clients and the world at large, and has been at the forefront of partnering with our department to help us prepare students for their future careers.
2019 Graduates
Congratulations to the HCDE Class of 2019! All HCDE degrees awarded in the 2018–2019 academic year are below.
PhD Graduates
Bachelor of Science
Reine Khadija Abubakar
Tariku-Di Allen
Alaa Abdalla A Amed
Aleenah Halim Ansari
Madisen Reyn Leonor Arurang
Yuki Asakura
Robert Connor Aylor
Timnit Bekele
Hallelujah Dararo Bekele
Vrishti K S Bhowmik
Gabrielle Diana Bilka
Andrew Geoffrey Briggs
Jamie Byun
Shangyang Chen
Stefanie Choi
Natalie Michelle Chow
Oorja Chowdhary
Jonathan Clinton Cole
Delannah Lynette Collins
Ruby Kathryn Davis
Feven Yonas Debela
Carina Marie Dempsey
Laura Elizabeth Dickinson
Zoe Olivia Escalona
Pari Jonathan Gabriel
Connor Garrett
Pooja Trisha Ghelani
Ritika Gupta
Nathan Han
Kaitlyn He
Sharon Saiyin Heung
Jingle Huang
Olivia Florence Irwin
Wendy Kang
Daiana Kaplan
Sierramatice Westphal Karras
Daniel Michael Kim
Inhae Kim
Ostin Kurniawan
Madeleine Tuong-Vi Le
Angela Li
Jang Soo Lim
Garrett Joel Mar
Theodore Jonathan McDonald
Courtney Madison McKee
Maria Guadalupe Medina
Sunny Mishra
Mulki Mohamud Mohamed
Owla Mohamed
Nikita Morozov
Wesley A. Muthemba
Leana H. Nakkour
Japjeet Singh Narang
Aylee Willow Neff
Lynda Thu Nguyen
Emily Nuri
Sam Christopher O'Brien
Michael Carrasca Palomo
Tre Gino Paolini III
Geon Soo Park
Mi Yeon Peach
Maria Elena Perla
Monica Catherine Posluszny
Reksha Rathnam
Rachel Ren
Sebastian Torres Retana
Samuelle Maria Saliba
Arshvardhan Singh Saroya
Jill Aneri Shah
Helene Yu Chen Shea
Amanda Chih-Ning Shen
Courtney Faye Smith
Cheyenne Fan Sokkappa
Samuel Bernstein Spieth
Nathnael Biruk Solomon
Timothy Sun
Asuka Takano
Savong Tan
Yodit Debritu Tefera
Kush Tekriwal
Zachary Chandler Thomas
Betsy Claire Todaro
Jonathan Anh Tran
Megan Yun Truong
Akshaya Venkat
Sahana A. Vishwanath
Ben Powell Wagner-Wilkins
Maike Wells
Emily Julia Wong
Kelly Xu
Ruotong Xu
Kotoko Yamada
Matthew Tao Yang
Steven Yong
Colin Ross Youngblood
Melody Yu
Ryan Thomas Zuzelski
Master of Science
Ross Abplanalp
Scott Andersen
Kira Awadalla
Bhakti Bathia
Meghna Bhairappa
Hayley A. Bierbaum
D'Marcus Butler
Kairavi Chahal
Adrian Che
Anting Chen
Vera Chen
Amy Chen
Christopher Collins
Kristen M. Demarjian
Tien Do
Kristoffer D. Everson
Evan William Feenstra
Alante D. Fields
Stefanie Maike Funtsch
Benjamin Galassi
Zimu Guo
Veronika Hanson
Michael Harwell
Katie R. Hauser
Yaonan Huang
Charlie Huo
Chris J. Hussein
Jenna Leigh James
Honggang Lai
Jose Lara Silva
Sonnet Andrea Lauberth
Dong Li
Galen Lieberworth
Alice Lin
Wamwitha Love
Yi Luo
Yahui Ma
Daniel MacDonald
Bill Marshall
Christina Mauri
Josephine Hoy
David A. Molinero
Samantha Muscat-Scherr
Nitya Nambisan
Hannah Christy Nursalim
Elizabeth Quepons
Jen Rapp
Kartika Rathee
Sandra Radosavljevic Rathman
Jake Rhodes
Haley Rohl
Sonam Hemant Samel
Toni Saylor
Kate Schenot
Andrea Jacqueline Sequeira
Yoonbo Shim
Hye Won Son
Tucker Standlee
Omari Stringer
Yi Tang
Sandy Tsai
Blake Tsuzaki
Anthony Ugas
Corynne Umeda
Nicole A. Vanmeter
Meng Wang
Zirui Wang
Juliette Weiss
Samantha Brooke West
Kyle A. Witt
Man Xu
Chun-Fang Yang
Ziyan Yang
Eric Zelna
Emily Yurou Zeng
Manuel Zetino
Tyson Zevenbergen
Dawen Zheng
Amy Xin Zhong