November 2, 2017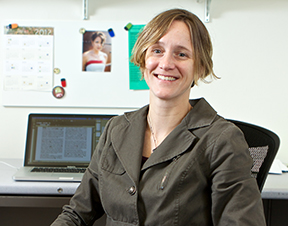 Kate Starbird, assistant professor of Human Centered Design & Engineering is embarking on a research project to study how people adapt to power outages and water shortages immediately following a natural disaster, to help policymakers, businesses and individuals better prepare for the future.
Starbird is one of several researchers on the project led by University of Delaware's Disaster Research Center and funded by the National Science Foundation's "CRISP" program, Critical Resilient Interdependent Infrastructure Systems and Processes. She brings her experience tracking how people communicate on social media during and after crisis events to the scope of the project.
The research team will use earthquakes in Los Angeles as a case study to understand how disasters impact critical infrastructure, how people adapt to the resulting service interruptions, and the implications of those interruptions on daily life. All that information will be used to optimize a broad range of risk management strategies to better meet societal needs.
Additional researchers on the project are Principal Investigator Rachel Davidson, professor in the Department of Civil and Environmental Engineering at the University of Delaware; James M. Kendra, director of the University of Delaware's Disaster Research Center; Linda Nozick and Thomas O'Rourke, both professors of civil and environmental engineering at Cornell University; and Bradley Ewing, a professor of energy economics at Texas Tech University.
Read the full press release: Preparing for the power outages and water shortages of the next disaster.