May 18, 2023
Shenna Shim, a senior in the Department of Human Centered Design & Engineering, is presenting new research on creative coding and remixing behaviors at the 2023 Undergraduate Research Symposium on Friday, May 19.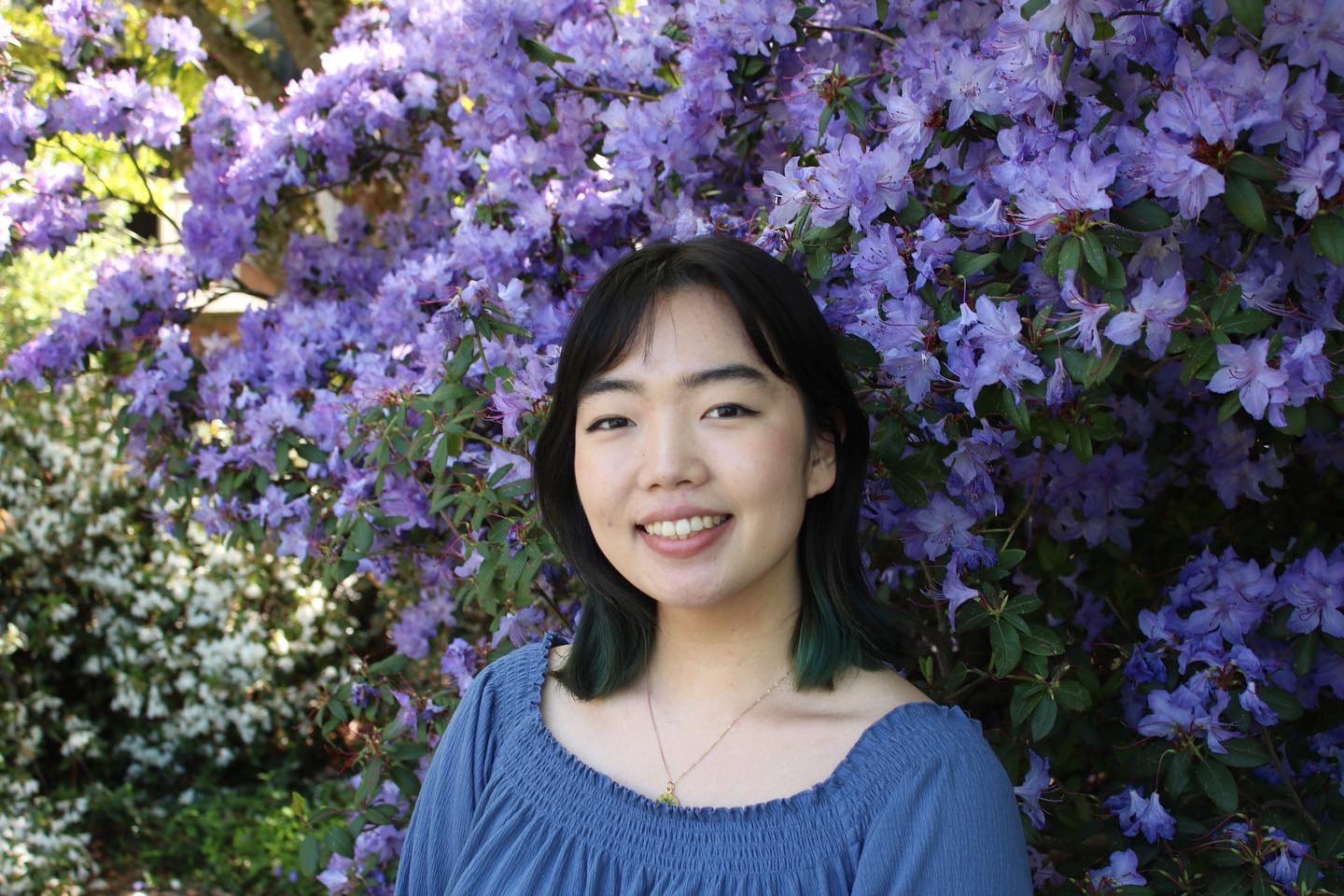 Shenna Shim, senior in the Department of Human Centered Design & Engineering
Shim's project, "Forking a Sketch: How the OpenProcessing Community Uses Remixing to Collect, Annotate, Tune, and Extend Creative Code" explores the practice of remixing in the field of creative coding. Creative coding involves using programming for artistic expression, and remixing refers to the iterative process of modifying existing code or artworks. In her presentation, Shim will describe the process of researching how the OpenProcessing community uses remixing, and share findings from the study.

Undergraduate Research Symposium
May 19, 2023
Session O-2F: Societal Impacts of Education and Language
Mary Gates Hall, room 284
1:30 - 3 p.m.

Forking a Sketch: How the OpenProcessing Community Uses Remixing to Collect, Annotate, Tune, and Extend Creative Code

Shenna Shim

Creative coding refers to a method of computer programming that prioritizes artistic expression. Remixing is the iterative behavior of altering an existing artifact. Frameworks such as p5.js support sketching with creative code. Given the focus on expressivity over functionality, code reuse in creative coding practice is distinct from other programming contexts. Additionally, remixing facilitates iteration on existing code, but we have yet understand how creative coders use remixing in practice. To understand creative coder remixing strategies, we studied the community of OpenProcessing, a site dedicated to sharing code-generated artworks. To begin, we conducted a network analysis to determine which datasets of original sketches (also referred to as the antecedent sketch) and their remixes to use in our study. Our visualization consisted of a social network graph in which the nodes represent individuals, and edges showing their relationships. We found that 30% of the 1.2 million sketches in our dataset were involved in remixing. For data analysis, we utilized a code-diff tool to showcase ways the antecedent sketch's code differs from the remix and categorize various types of remixing strategies. Over time, these categories became increasingly focused on changes made visible on our code-diff tool. We present on the diversity of ways that authors remix to curate projects, annotate process, explore variations, and transform existing sketches. Through remixing, artists have already begun to tailor, customize, and explore different ways to use their creative tools, in ways system developers may not have foreseen. We find that remixing also encourages exploratory programming and experiential learning. As creative code is increasingly used to support computational education, we can consider the implications of remixing for understanding and facilitating informal learning. At last, we reflect on the prevalence of these remix types and how future systems could support a multiplicity of remixing strategies for creative work.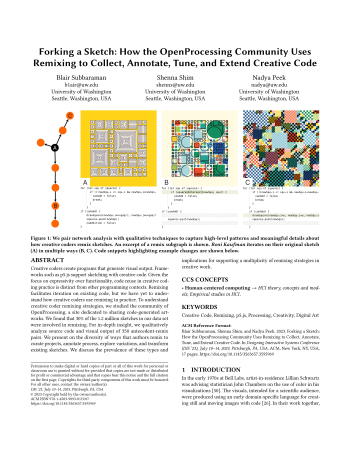 View the paper,
Forking a Sketch
, on the Machine Agency website.
Collaborators with Shim on this project are PhD student Blair Subbaraman and HCDE Assistant Professor Nadya Peek. The three collaborate in Machine Agency, a research group led by Peek whose focus is to "harnesses the precision of machines for the creativity of individuals."
Shim also presented this work at the Open Source Arts Contributors Conference in April 2023. The paper produced by the team has been accepted to the 2023 ACM SIGCHI Conference on Designing Interactive Systems (DIS), where the team has been invited to present at the annual conference in July 2023.
The Undergraduate Research Symposium is an annual event for students across all UW majors to showcase completed or ongoing research projects. The event is free and open to the public.