February 22, 2017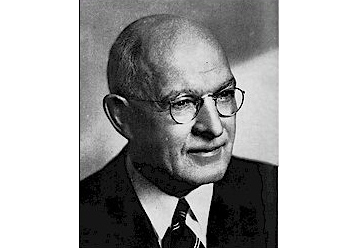 Coinciding with the 75th anniversary of the United States presidential executive order 9066, the department of Human Centered Design & Engineering celebrates our building's namesake, University of Washington President Lee Paul Sieg, a leader who demonstrated compassion for the University's Japanese American students during World War II.
On February 19, 1942, ten weeks after the Japanese bombing of Pearl Harbor, US President Franklin D. Roosevelt issued Executive Order 9066, an authorization leading to the forced relocation and incarceration of Japanese American citizens to American internment camps.
Dr. Sieg, UW President from 1934 to 1946, was committed to ensuring that the University's Japanese American students could continue their education in the wake of the order. Dr. Sieg wrote letters to colleges and universities around the country to find institutions willing to open their doors to UW Japanese American transfer students. Thanks to the efforts of Dr. Sieg and many other UW staff and faculty members, the UW secured admission for Japanese American students in colleges in Colorado, Illinois, Iowa, Massachusetts, Missouri, Minnesota, New York, North Carolina, Ohio, South Dakota, Utah and eastern Washington.
Robert O'Brien, Assistant to the Dean of Arts and Sciences at the time, recalls his experience working with Dr. Sieg, in an oral history interview dated April 24, 1975:
I think that Lee Paul Sieg, the president of the University of Washington, was one of the most important persons in being of help to our students. Several things should be said about President Sieg. One, he opposed the evacuation, but when it happened he felt that the University of Washington was under obligation to protect their students, and he wrote letters to college presidents all over the United States indicating his faith in the American qualities of Japanese Americans, and urging these people to take our former students who were to go to the relocation assembly centers. Second thing that impressed me about Dr. Sieg was the flexibility he had in relation to grades and terms. Many Nisei were about to graduate but they were in the last quarter, not allowed to attend the University because they were sent to Puyallup and other relocation centers. President Sieg felt that the better service would be done if they were given degrees. Some of these deans--I try not to remember who they are--felt that this was outrageous, that the degree could not be given to a person who had eleven twelfths of their education. But President Sieg knew what he thought was right, and the University awarded students who came within--completed 11 quarters, and one of the most encouraging things for those behind barbed wire was when President Sieg and some of his deans went to the relocation centers and gave these young people their degrees. I may be prejudiced for the University of Washington because it's my alma mater but I don't think there was anything like this going on other places. We also carried our extension courses to some of the relocation centers as a service to people whose parents were still taxpayers even though they weren't living with us.
Oral History Interview with Robert W. O'Brien, April 24, 1975. Acc. 2420. UW Manuscripts & University Archives. http://www.lib.washington.edu/exhibits/harmony/UW-new/Admin/RobertObrien2.html
Read more about the University of Washington and its Japanese American students during WWII in Interrupted Lives: Japanese American Students at the University of Washington, 1941-1942.
The department of Human Centered Design & Engineering is committed to fostering an open, inclusive, and human-centered community. We are proud to call Sieg Hall our home.