June 10, 2021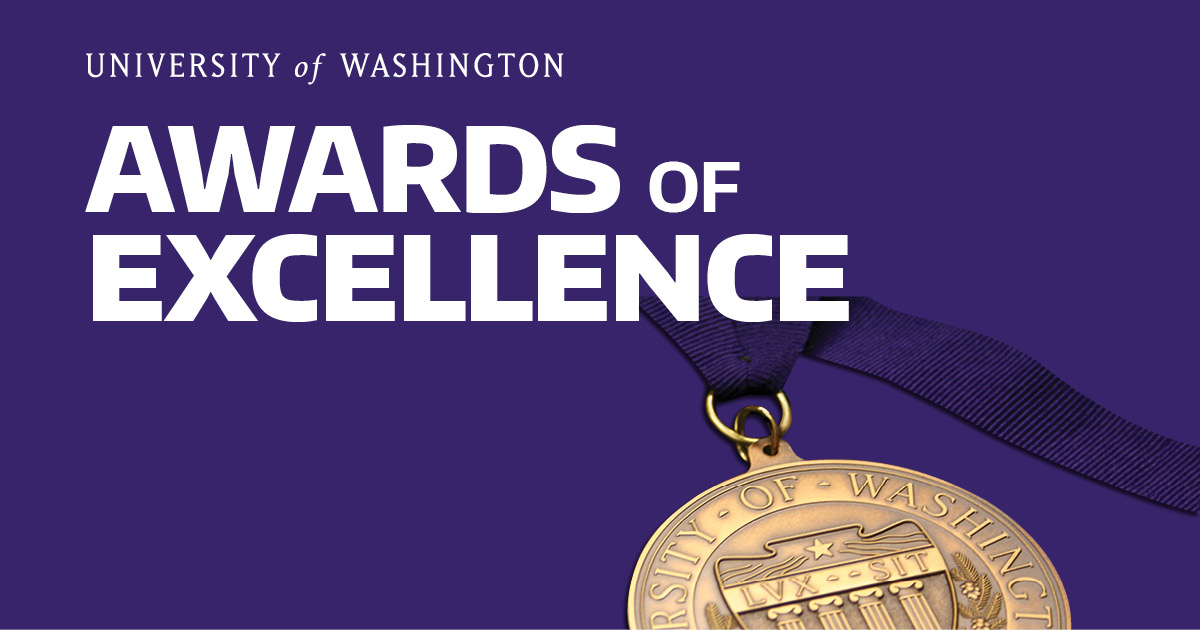 Nadya Peek, an assistant professor in the Department of Human Centered Design & Engineering, receives the University of Washington Distinguished Teaching Award for Innovation with Technology.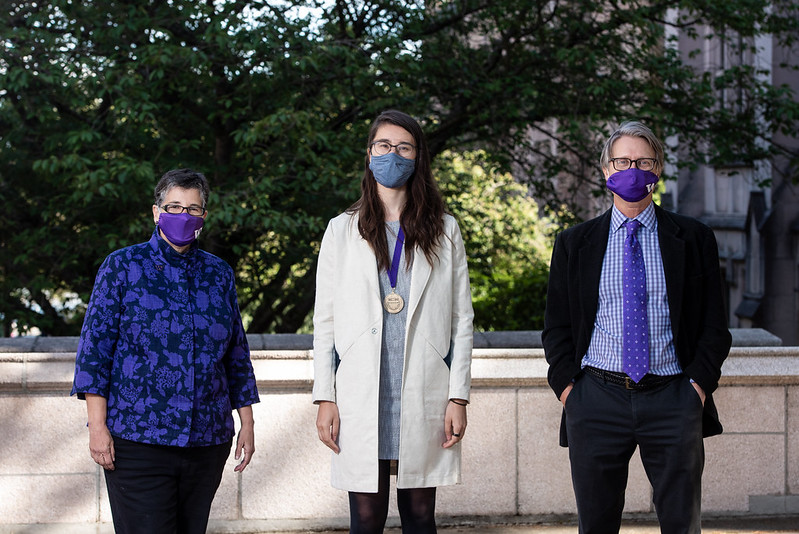 HCDE Assistant Professor Nadya Peek (middle) with UW President Ana Mari Cause (left) and UW Provost Mark Richards (right) at the awards ceremony in June 2021.
The Distinguished Teaching Award for Innovation with Technology is awarded annually to a current faculty member from the UW Seattle, Tacoma, or Bothell campus who has improved student learning or engagement through an inventive use of technology. Peek was selected for her innovative work developing a new curriculum to help students master computer-aided design and 3D printing skills from home during the pandemic.
Between winter and spring quarters in 2020, when the pandemic forced UW instructors to reimagine all facets of their in-person courses, HCDE Assistant Professor Nadya Peek had two weeks to figure out how to teach her scheduled course on digital fabrication remotely.
Peek's course on digital fabrication is usually held in campus makerspaces, where students can access 3D printers, laser cutters, CNC mills, CAD software, and many other tools for making. A core objective of the course is for students to understand machine workflows, equipping them with skills for rapid physical prototyping.
Peek has extensive experience setting up makerspaces all over the world, including in resource-constrained environments. She quickly put together a cost-effective bill of materials that would enable students to learn digital fabrication safely from home using hobbyist materials and would still fulfill the course's learning goals.
Understanding that the course would come with a higher technology fee for students, Peek worked with the HCDE leadership on a plan to reduce the burden on students for whom the fee would create a hardship. Some students purchased the equipment for themselves, and others used on-loan equipment from the department that went back into the department's makerspace toolkit once the course was over.
Throughout the 10-week course, students created many different artifacts by developing custom fabrication processes for their machines. In this new form of learning, students lived with their 3D printers, used them on a daily basis, and created objects for personal use with them. Peek saw students engage deeply in learning, design, testing, iteration, and peer support. She also found that students got to know the machines better than they may have in the campus makerspace, gaining a deeper understanding of their machine's maintenance and experimenting with fine-tuning to create new outputs.
"From all accounts, the execution of the makerspace-at-home learning plan was incredibly successful," said Julie Kientz, Professor and Chair of HCDE. "Nadya received very high course evaluations from students, who raved about their ability to learn and take ownership of making at home. Many students have shared stories with me about how her class is a model for distance learning and being innovative with teaching when unique constraints are imposed. As a result, Nadya's class has enabled us to think more about our other classes that have materials work and set a model for how we manage classes with material components from an equity perspective."
"Dr. Peek has always been truly innovative in how teaching happens with technology, and even more so among the backdrop of the pandemic at a time of true need for our students. We are very fortunate to have her as a part of HCDE, and UW is very lucky to have her teaching for our students and our cross-cutting programs," said Kientz.
Visit the Awards of Excellence website for more information about the awards and to view the complete list of awardees.