August 8, 2018
Leah Findlater, assistant professor in the Department of Human Centered Design & Engineering has received an award from the National Science Foundation to advance wearable sound awareness techniques for people who are deaf or hard of hearing.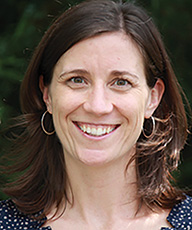 Sound awareness has wide-ranging impacts for persons who are deaf or hard of hearing, from being notified of safety-critical information like a ringing fire alarm to more mundane but still useful sounds like the clothes dryer ending a cycle. While hearing aids and surgically implanted devices like cochlear implants can improve sound and speech recognition, they do not eliminate hearing loss and generally do not improve sound localization.
Findlater and her collaborators are pursuing research that combines advances in wearable microphone array development and sound sensing with novel sound feedback interfaces rendered on emerging technologies such as head-mounted displays and smartwatches.
Collaborating with Findlater on this project are Jon Froehlich, associate professor in the UW Allen School of Computer Science & Engineering; Ramani Duraiswami, professor of computer science at the University of Maryland; and Raja Kushalnagar, associate professor at Gallaudet University.
This project has the potential to impact a large portion of the population. Approximately 15 percent of adults in the United States report some trouble hearing. People with disabling hearing loss account for two percent of adults aged 14 to 54, but that number increases with age to nearly 50 percent of those over the age of 75. Findlater and her team believe now is a critical time for this work as the US faces an aging population; adults who lose their hearing later in life are less likely to know American Sign Language and Deaf culture, and would be more reliant on sound than those who lose hearing at a younger age.
Find additional details about the award on the NSF website.