April 5, 2018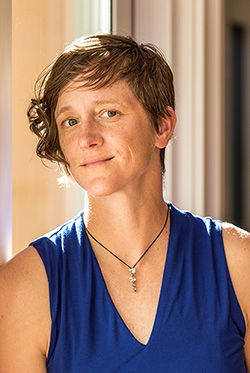 Dr. Kate Starbird, assistant professor in the Department of Human Centered Design & Engineering, has received a Faculty Early Career Development (CAREER) Program Award from the National Science Foundation.
The five-year, $550,000, grant will support Starbird's research into why and how disinformation—or false information created intentionally to mislead and/or confuse—spreads online.
Starbird directs HCDE's Emerging Capacities of Mass Participation (emCOMP) Laboratory, where she works with students to study the dynamics of massive participation and interaction enabled by new and social media. Her current focus on the spread of disinformation stems from her ongoing research into crisis informatics, or how people use digital tools to communicate in the wake of disaster events. Recent research by Starbird and her students has discovered vulnerabilities in our online systems to disinformation, and at times of disasters and crisis events, quick access to accurate information is critical.
Starbird's goal through this work is to help people, and the online platforms they use, be more resistant to disinformation. With the support of this award, she will work with students to develop tools and methods that people, including emergency responders, technology designers, and society at large, can use to detect and understand disinformation online. More broadly, her research will contribute to the body of knowledge around the complex relationships between technological affordances, social network structure, human behavior, and intentional strategies of deception.
The CAREER award also has an educational component. It will support PhD student training, and efforts to recruit undergraduate students to participate in Starbird's research through HCDE's directed research groups and an academic bridge program. It will also inform the development of graduate-level curriculum in human-centered data science.
CAREER awards are the National Science Foundation's most prestigious awards for junior faculty. They are awarded to teacher-scholars for their excellence in research and education, and the integration of the two.
More about Kate Starbird