April 16, 2019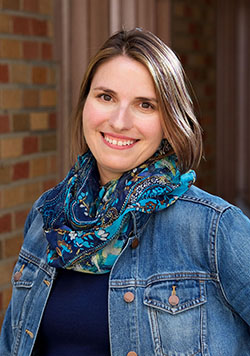 Julie Kientz, Associate Professor of Human Centered Design & Engineering, has been awarded the 2019 Faculty Teaching Award from the College of Engineering.
Awarded annually to one faculty member in the College of Engineering, this award recognizes Kientz for her innovative contributions to engineering education and her advocacy for and engagement with students both in and outside of the classroom.
Since joining the department faculty in 2008, Kientz has taught 14 different courses, demonstrating a breadth of knowledge across the field of human-centered design. Her course topics have ranged from user experience design, grant writing for career development, introduction to HCDE, and Capstone at both the undergraduate and Master's level.
Kientz actively works to enhance her teaching abilities by seeking mentors who excel at teaching, engaging with the UW Center for Engineering Learning and Teaching, and directly working with students to discuss how she can improve their learning experience.
Kientz takes a student-first approach in curriculum design, and she was instrumental in the redesign of the HCDE Master's program curriculum as well as the PhD curriculum. She also demonstrates a commitment to the mental well-being of her students: after learning that some in the department were facing challenges balancing demands on their time, Kientz organized a weekly time-management workshop for students. To help prepare PhD students with a practical understanding for their journey through doctoral education, she developed an introductory, and now required, course for HCDE PhD students—Introduction to PhD Studies.
Nominations for the Engineering Faculty Awards are submitted by members of the student body, staff, and faculty, and the awardees are selected by the Dean of the College of Engineering. Below are just a few statements submitted by Julie Kientz's students.
"Julie embodies what I hope is the future of engineering and, in doing so, she gives me hope for what engineering might become with the thoughtful guidance of leaders like her. I am continually amazed by Julie's ability to seemingly effortlessly balance being an outstanding teacher, mentor, researcher, and community member who centers honesty, integrity, reflexivity, authenticity, and equity in her work."
"I couldn't have asked for a more compassionate teacher. I was impressed by how she took the time to read through our assignments and always connect our questions and concerns to valuable information."
"Julie transcended what it means to be a professor by providing each diverse project as much resources and support that she could throughout the entire quarter. She's enthusiastic about what she teaches, and it shows in the efforts she made to make the class engaging, creative, and opportunistic to learn new skills."
"Being in a class environment where I was encouraged to learn pushed me to create a project that I am passionate about, and Julie's constant support and willingness to offer help was an asset. Her belief in my group and our project has pushed us to continue this project as our capstone as well as enter it into an entrepreneurship competition."
"Dr. Julie Kientz is a passionate, thoughtful, and enthusiastic educator. She has an inspiring capacity to understand and empathize with her students—creating an inviting and safe learning environment for everyone she works with. Dr. Kientz is an exceptional faculty member who embodies the teacher-scholar model through and through."
Kientz will receive the award from Michael Bragg, Dean of the College of Engineering, at a recognition ceremony on May 23.