April 24, 2020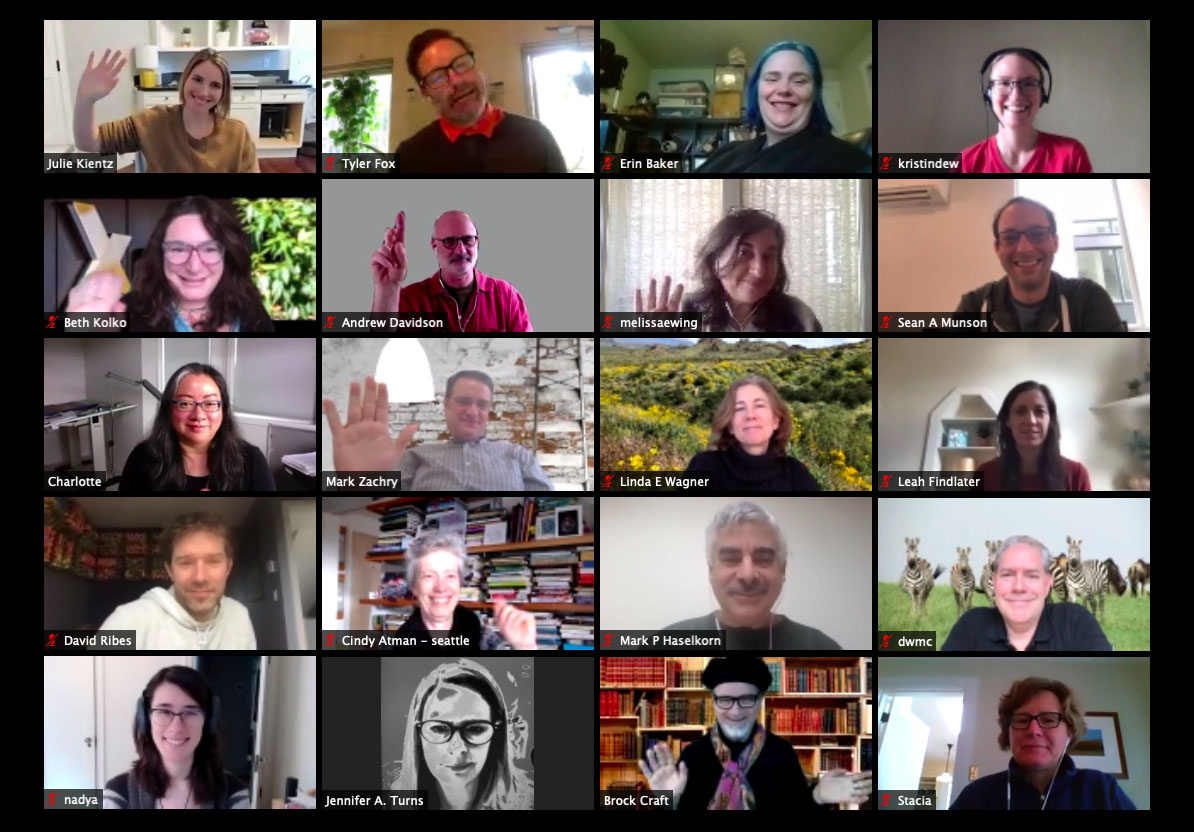 HCDE faculty and staff meeting online using Zoom in April 2020
Along with academic institutions across the world, the University of Washington and the Department of Human Centered Design & Engineering has modified its operations to protect the health and well-being of our students, faculty, staff, and the community due to the COVID-19 pandemic.
Beginning March 9, 2020, all HCDE courses and research activities moved online to support social distancing. This shift required HCDE instructors and students to mobilize swiftly and finish the final two weeks of winter quarter online, and to spend the week of spring break redesigning spring quarter courses to accommodate remote learning.
The creative and empathetic approaches that define HCDE have been at the forefront during these uncertain few weeks.
HCDE faculty are hosting regular virtual drop-in sessions to share strategies and resources for online teaching with other instructors and teaching assistants. To support the mental well-being of the HCDE community, HCDE research scientist Elin Bjorling and PhD student Susanne Kirchner are conducting weekly "D-stressors" for people to come together online and focus on activities to support mental health.
HCDE faculty and researchers have been involved in numerous rapid response grant proposals and research activities over recent weeks to gain a better understanding of technology's role in affecting people's work practices, family life, decision-making, and our response to misinformation.
"As human-centered designers, we sometimes use the term 'liberating constraints," said HCDE Professor and Chair Julie Kientz. "By applying different constraints, we can come up with more innovative solutions, and I am hopeful our department will do just that, and I am already seeing that happen in numerous ways. I am confident that we will all come out of this time having learned so much — just perhaps not the way we anticipated."
On April 8, UW President Ana Mari Cauce announced that instruction will remain online through the summer 'A term,' or at least until July 23. President Cause also announced that the 2020 Commencement Ceremony will be a virtual celebration in an interactive platform, and that 2020 graduates are invited to participate in the 2021 Commencement. HCDE will also host a virtual departmental ceremony in June 2020, and is considering future opportunities to celebrate our 2020 graduates when safe to do so in person.
"I want to thank the HCDE students, faculty, staff, and researchers for their continued patience and empathy as we try to adjust to this new normal," Kientz said. "This is a difficult time for everyone, so please give each other grace, and assume positive intent on behalf of everyone else in your community. I also want to encourage everyone to take breaks, and to give yourselves the self-care you need."
If you have questions for the Department, or resources to share with the HCDE community, please reach out to us at hcdechr@uw.edu.
See more