May 21, 2020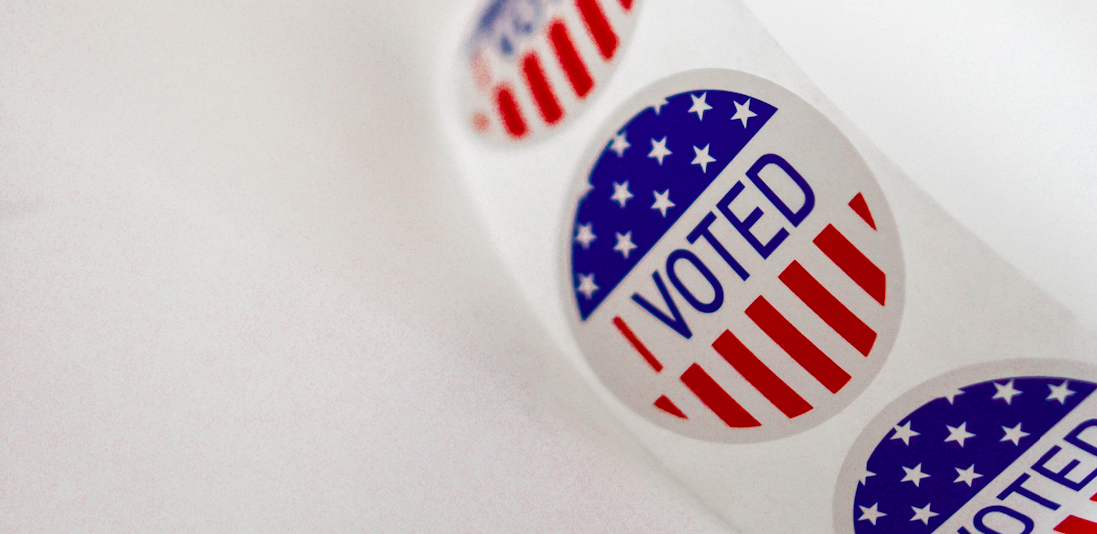 During a time of physical-distancing, what can we do to promote meaningful and productive civic engagement? This was the inquiry at the heart of HCDE's recent Democracy Design Jam, held May 16-17, 2020.
Under normal circumstances, 2020 would already be a major election year in the United States. Now, the Covid-19 pandemic is creating even greater pressure, having already caused disruptions in the election cycle. With just under six months until the November general election—and no clear end in sight for physical distancing—the clock is ticking to figure out how best to leverage social and communications technologies to engage in healthy democratic practices from afar.
The Democracy Design Jam was organized with the volunteer efforts of Emily S Lin, a social scientist and HCDE alumna; Brian Boyle, Counsel at American Promise; and Saiph Savage, HCDE lecturer in International User Experience and Communication. Nine teams of HCDE students and affiliates participated in the weekend-long event, engaging in 32 hours of creativity and collaboration.
On Saturday morning, subject matter experts offered perspectives on the various types of "users" in American democracy, as well as the increasing threat of disinformation during the COVID-19 pandemic. Experts included Marshall Ganz, Harvard's Kennedy School of Public Policy; Kate Starbird, associate professor of Human Centered Design & Engineering; and Massachusetts State Representatives Natalie Higgins and Jon Zlotnik.
Watch the video of the morning session here:
After the period of learning and discovery on Saturday, each team spent the rest of the weekend creating a 5-minute video prototype that answered two basic questions: (1) Who are your users? and (2) How would your solution strengthen democracy? Participants could drop in on virtual office hours throughout the weekend with subject matter experts to ask questions and get feedback on their ideas. Office hours were offered by experts including Russell Stevens, Deployment Lead at the Lab for Social Machines at the MIT Media Lab; Paul Snow, Head of TV Partnerships at YouTube; Esther Handy, Interim Executive Director at Puget Sound Sage; and Ryan Miller, Game Designer at Modern Myth.
"I really enjoyed the office hours talks. The data scientist from the MIT Media Lab was super insightful about where they can even look for data now," said HCDE Master's student Jennifer Spriggs.
On Sunday evening, four finalist teams were invited to deliver their presentations live via Zoom to a panel of judges that included Julie Kientz, professor and chair of HCDE; Manka Dhingra, Washington State Senator; Jon Zlotnik, Massachusetts State Representative; and Natalie Higgins, Massachusetts State Representative.
Winning project:
WeVote

Winning project

Ryan Alli, Honson Ling, Patriya Wiesmann, Ethel Xu

WeVote is a mobile app to enhance voting research experience through education, efficiency, and engagement. It aims to lower the barrier of entry for political engagement.
Finalists:
Common Ground

Sue Chen, Evelyn Kalafus-Mastenbrook, Valerie Remaker, and Della Sigrest

Common Ground is an app that is designed to combat the social divisions that were weaponized in the 2016 election. It humanizes the "opposing side," by focusing on things people have in common rather than political strategy.

Collective / Leveraging Social Media for Voter Education

Yile Zhang, Elisabeth Dunn, Mofe Osanyintolu

This project asks, how might we help young, marginalized Americans equip themselves with the information they need to vote? The students proposed Collective, a tool that uses videos and information snippets to expand access to vital voting information using established social media platforms.

The People's Dinner Party

Jennifer Spriggs, Shireen Saini, Visudha Sathurappan

We may be socially distant, but we cannot afford to be socially disengaged. The People's Dinner Party proposes a digital dinner party, where voters join candidates and cook together while discussing issues important to them.
The winning team, HCDE students Ryan Alli, Honson Ling, Patriya Wiesmann, and Ethel Xu, received an invitation to present their concept to Alyssa Weed, the President of Seattle's League of Women Voters, later this month.
A full repository of all submitted video prototypes can be viewed on the HCDE YouTube channel.
"As a designer, this event allowed me to use a lot of theories that I have learned in classes," said Honson Ling, thanking the organizers for providing this exclusive experience that bridges concepts learned in class with real-world problems.