June 22, 2018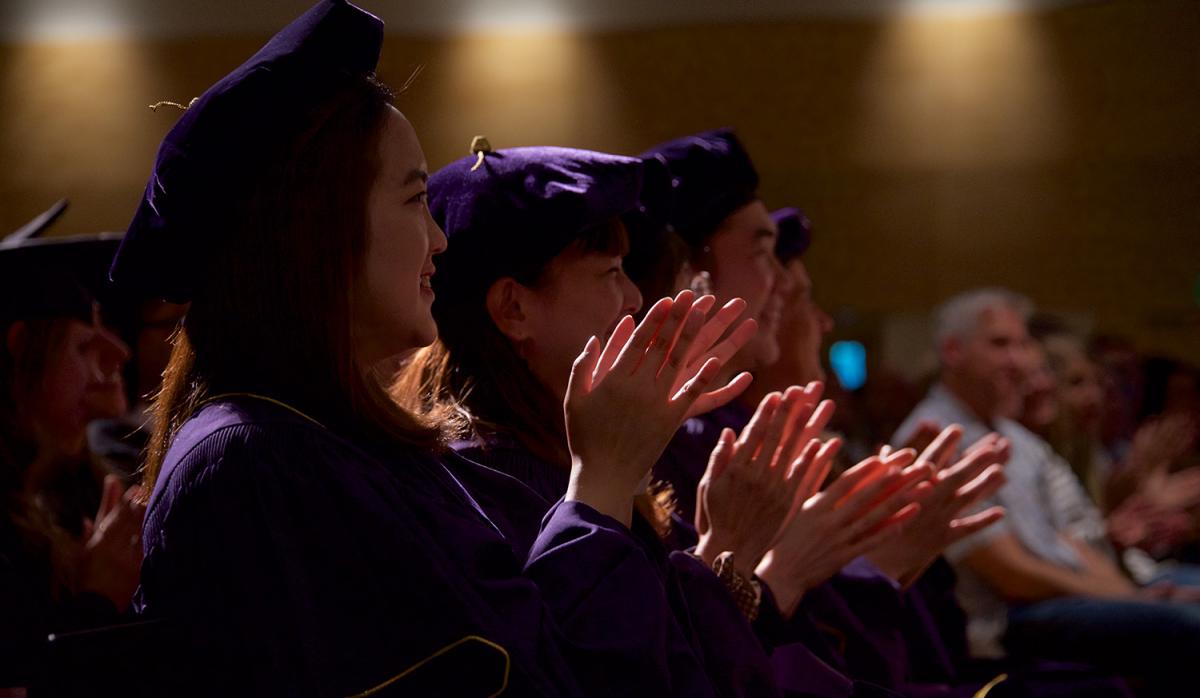 The department of Human Centered Design & Engineering (HCDE) held its 2018 Graduation & Awards Ceremony on the evening of Tuesday, June 5, in the Husky Union Building Ballroom.
The class of 2018 represents HCDE's largest yet, with 105 students receiving their Bachelor of Science, 72 with their Master of Science, and 5 with doctoral degrees. The full list of graduates is below.
Graduation Addresses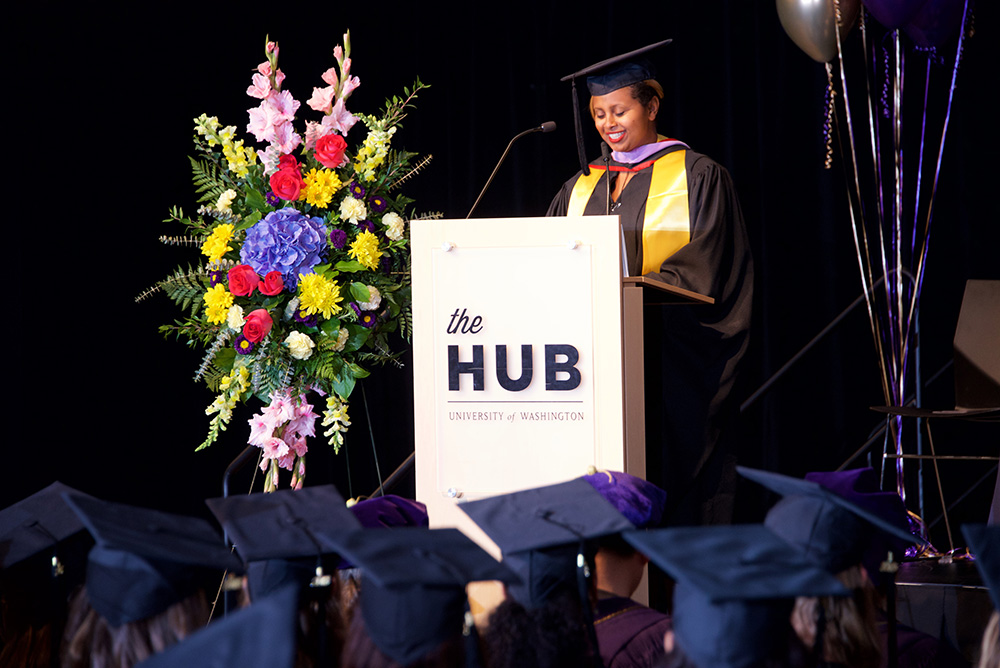 Guest graduation speaker Sara Zewde
The 2018 Graduation speaker was guest Sara Zewde. Sara is a landscape designer, urbanist, and public artist. During the past few years Sara has worked at several prominent architecture and urban design firms, where she contributes to the development of large-scale and civic landscapes around the world. Sara holds a Master of Landscape Architecture from the Harvard Graduate School of Design, a Master of City Planning from MIT, and a BA in Sociology and Statistics from Boston University.
For the first time, HCDE welcomed representatives from the student body to deliver graduation addresses.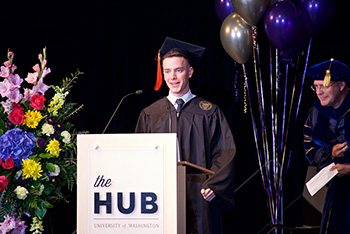 Scott Smith, the president of the HCDE Student Association, introduced a video that the undergraduate class produced. View the video here.
Mikey Award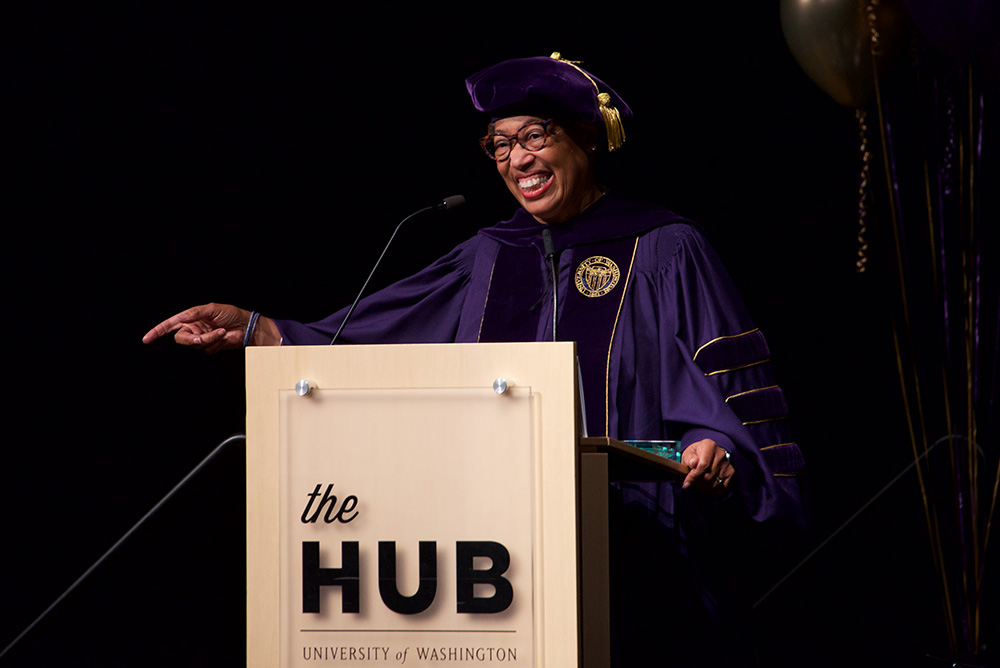 Mikey Award Recipient Constance W. Rice
Each year, the HCDE faculty select a recipient of the Myron L. White (aka "The Mikey") Award. The Mikey Award, named after a founder of the department, is given to a leader in the field and a dedicated friend of HCDE.
The HCDE faculty unanimously voted to award University of Washington Regent Constance W. Rice the 2018 Mikey Award, thanking her for her years of support of the Department and her leadership in the broader Puget Sound community. Dr. Rice has been a steadfast supporter of the department from its early days. She is former affiliate faculty member, worked on research projects with faculty, and has directly served on advisory boards for academic programs and for diversity.
Awards of Excellence
The department of Human Centered Design & Engineering annually recognizes outstanding students with Awards of Excellence. These awards honor students who have distinguished themselves by demonstrating greatness in Academic Excellence, Leadership and Engagement, and Innovation. Read about these awards and see the past recipients, here.
Congratulations to the HCDE Class of 2018! All HCDE degrees awarded in the 2017–2018 academic year are below.
Bachelor of Science
Lauren Nicole Antilla
Yuka Asanuma
Kimberly Aubert
Becky Louise Baron
Rabea Baroudi
Michael Wesley Beach
Lauren Beehler
Gero Rolf Bergk
Kurt Daniel Tahimic Blancaflor
Kristy Chen
Jason Runyuan Chen
Yujin Cho
Leena Choi
Tressa Coultard
Kate Cowley
Charlotte Ahn Dissmore
Molly Jane Donohue
Mike Eacker
Eric Su Eckert
Noah Cormery Eisfelder
Anastasia Erofeeva
Emma Justine Faubion
Ethan Reid Fletcher
Yuliana Flores
Kelsey Fukuda
Sanjana Galgalikar
Madeleine Gander
Yuriana Garcia
Zena Getachew
Samantha Gil Vargas
Alex Gilbert
Kenjiro C. Goodson
Brent Gruenke
Woody Mengran Gu
Andrey Dimaano Guiao
Edwin Guijosa
Celina Hipolito
Madison Holbrook
Valerie Ziyi Huang
Brian Nindo Illa
Olivia Florence Irwin
Kiwon Jeong
Sung-Duk Kang
Mallory Kester
Allyson L. Kline
Yeun-Yuan Kuo
Tiffany Lan
Truc Ly Le
Josephine Le
Gina Janet Lee
Yeh-Eun Lee
Mackenna Lees
Michael Nolen Long
Cole Lundell
Quinn Julian Mau
Nicole Erin McGovern
Tsewone Melaku
Camille Grace Mitchell
Alexandre Mooc
Alexandra Jessica Morgan
Andrew David Newton
Edgar Onofre
Kyril Panfilov
Adele Parsons
Burren Peil
Sergey Rogozin
Eduardo Rojas Esparza
Ian Russell
Samuel San Nicolas
Wil Sanctis
Daniel Robert Scheid
Kanishk Shukla
Addison Potter Simon
Yvonna Marie Skrinnik-Comstock
Scott Smith
Shaunte L. Smith
Lulu Sun
Finn Charles Thompson
Bonnie Tran
Haley Tuttle
Brynn Tweeddale
Emily Uthoff
Karena Vongampai
Angus Wang
Kimberly Wong
Meredith Xie
Selena Xu
Aleah Young
Nathan Alexander Young
Greg Yu
Jacqueline Yu
Stephanie Yu
Chenying Yuan
Carol Yuan Yuan
Eric Zhang
Yangmei Zhao
Kaitlyn Zhou
Master of Science
Alexa Alejandria
Ria Athavia
Josh Baker
Sijia (Jessica) Bao
Ender J. Barillas
Rachel Jayne Barnecut
Ritesh Bhagat
Andrew Scott Boydston
Livia Brown
Alik Brundrett
Anna Rose Casey
Kailey Chan
Ashish Chaudhary
Xiaodong Chen
Pierre Charles Delcourt
Trang Dai Dinh
Morgan Duffy
Laura M. Eise
Francis Estrada
John Frens
Lu Gan
Jesse L. Gylling
David D. Harris
Lauren Elizabeth Hirt
Clara Jane Jauquet
John M. Jessup
Haruka Jones
Navid Kamran
Nichole Kim
Sangin Samuel Kim
Michael Knauer
Erika Ann Langhauser
Mark Winslow Laughery
Jihyun Lee
Josh Leibsohn
Shuyu Li
Tessa Taoxi Li
Elise Livingston
Philip Z. Loh
Lea Lonnberg-Hickling
Yao Lu
Vivek A. Maharajh
Aastha Malhotra
Sang Woo Nam
Janet Ng
Alexandra Olarnyk
Alec Olschner
Rigo Ordaz
Nathan G. Ormsby
Diana Oviedo
Thana-On Punkasem
Swetha Ramaswamy
Padma Ravikumar
Zechariah Robinson
Angela Rosette
Erika Sam
Dana Sasinowski
Anna Dolores Serra
Samuel Ellen Shen
Sang-Wha Sien
Layne Skullerud
Julie Stuart
Jihoon Suh
Jin A. Suh
Danielle Pamela Teska
Joshua Thomas
Brooks Tiffany
Jonathan Wang
Tess Wolfe-Stelzer
Audrey Wu
Lillian Xiao
Lulu Xiao
Nicholas E. Zimmer
Doctor of Philosophy
Christina Chung

Dissertation: Using Personal Informatics Data in Collaboration with People with Different Expertise


Sarah Fox

Dissertation: Maintaining the Menstruating Body: Feminist interventions on public infrastructure


Ray Hong

Dissertation: Construction of Interactive and Intelligible Distance Cartograms


Robin Ellen Mays

Dissertation: Toward Better Design of Humanitarian ICT: A social agency-centered framework of humanitarian information needs based on a grounded study of successful Red Cross/Red Crescent practitioners.


Hyewon Suh

Dissertation: Supporting Health Monitoring by Reducing User Burden & Enhancing User Benefit