The department of Human Centered Design & Engineering (HCDE) held its 2017 Graduation & Awards Ceremony on Friday, June 9 in the Husky Union Building.
2017 represents HCDE's largest graduating class yet, with 66 students receiving their Bachelor of Science, 71 with their Master of Science, and 4 with doctoral degrees. The full list of graduates is below.
HCDE alumnus Jerrod Larson (PhD 2010, MS 2003), UX Manager at Qualtrics, delivered the 2017 graduation address featuring a choose-your-own adventure style ending. View the full text of Dr. Larson's speech here.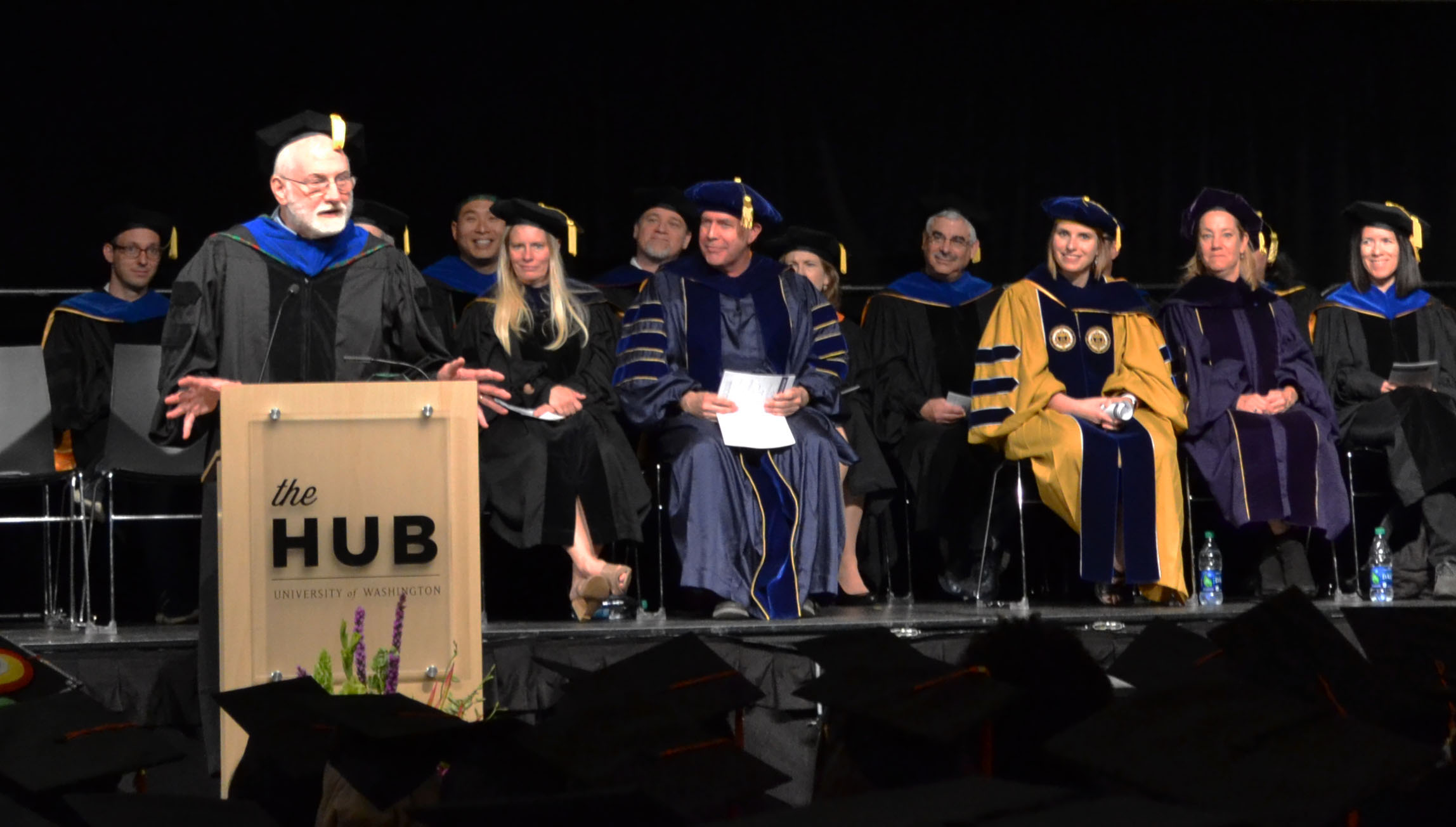 Emeritus Professor David K. Farkas receiving the 2017 Mikey Award
The HCDE faculty awarded the 2017 Myron L. White Award (aka the "Mikey") to Professor Emeritus David K. Farkas. Farkas was an active professor in the department for over 30 years, before he retired in 2013. The HCDE faculty unanimously voted to award Professor Farkas the 2017 Mikey Award, thanking him for his years of service to the Department and the many students he has mentored and supported. 
The department annually recognizes outstanding graduating students with Awards of Excellence. These awards honor students who have distinguished themselves by demonstrating excellence in one of three categories: Innovation, Leadership and Engagement, and Academic Excellence. Read about these awards and see the past recipients, here.
Undergraduate Award of Excellence
Kyle Musselwhite
Sol Choi
Graduate Award of Excellence
Alexis Hiniker
Undergraduate Award for Innovation
Aaron Joya
Graduate Award for Innovation
Team SIM: Sahil Anand, John Luetke, Nikhil Venkatesh, Dorothy Wong
Undergraduate Award for Leadership & Engagement
Sara Jennings
Graduate Award for Leadership & Engagement
Joseph Bernstein
Taylor Scott
For the 2016-2017 year, HCDE awarded a special recognition for community service, awarded to the Alternative Spring Break team of Lydia Davison, Michael Fernandes, Leyla Ibrahim, Valerie Najera, Karin Vaughan, and Samantha Gil Vargas.
The 2017 HCDE Alternative Spring Break team receiving special recognition for community service
Please join HCDE in congratulating the Class of 2017!
Just finished the HCDE Dept graduation. Took a few pics. #HCDE2017 pic.twitter.com/bgR3eCJU4n

— David McDonald (@dwmcphd) June 9, 2017
All HCDE degrees awarded in the 2016–2017 academic year are below.
Bachelor of Science
Alexis Anand
Angie Andriani
Joanna Bailet
Devin Leelan Bell
Torin Martin Blankensmith
Maria Buan †
Macauley Cameron
Angela Chen
Michael Chen
Felicia Chiang
Alison Chiu
Shin Young (Lucia) Choi
Sol Choi ∞
Lydia Davison
Tien Do
Dominic Dopico
Shelley Eang
Molly Fallen
Hua Fan
Michael Fernandes
Ethan Reid Fletcher
Peyton Elias Foucht
Luis A. Gonsalez
Kimberly Ha
Sara Jennings
Tsuki Kaneko-Hall
Alex Heilgeist
Owen Mingxiao Hu
Anh Hua
Leyla Ibrahim
Joy Jean
Aaron Joya
Nicholas Kaman
Dorothy Kong *
Monica Youvin Lee †
Kirk Samuel Lestelle
Yeqing Lou
Jay Luo
Zhuo Luo
Ben Luster
Calob Mejias
Kyle Musselwhite
Valerie Najera
Andrew Newton
Neha Nuguru
Alex C. Pease
Hannah Postings
Siddharth Rao
Keane Riley
Phillip Gregory Robison *
Kendall Lee
Mertens Sahl *
Prerna Sitomer
Khalil Somani
Stephanie Ann Stanek
Leo G Stewart
Amy Tang †
Nicole Tilly
Andy Truong
Tuyen Tu Truong
Paulina Tsai
Karin Vaughan
Madeline Wood
Justin Michael Woodum
Kexiang Xu ∞
Joshua Pei Yao
Anne Zheng
* Cum Laude awarded Winter 2017
† Cum Laude projected Spring 2017
∞ Magna Cum Laude projected Spring 2017
Master of Science
Rolner Alliance
Nicholas Clark Alvey
Sahil Anand
Meredith P. Anderson
Jon Anscher
Bradley Neal Arnesen
Clement A. Auyeung
Heather Bales
Valerie Kathleen Bays
Nicole Emelia Bernardi
Joe Bernstein
Demi Boe
Emily Bulajewski
Wilson Carletti
Kira J. Cassels
Daren Lee Chaisy
Paula Chuchro
Steven Derhammer
Ariel A. Duncan
Nichole Fernkes
Olivia Frederick
Brett Daniel Fuller
Annica Lila Garfield
Jennifer Giblin
Charles Paul Kamehameha Harris-White
Kacie J. Hsu
Laura E. Hunter
Carolyn Huynh
Anastacia Jaime
Spencer James
Setumadhava G. Kathawate
Joyce E. Kim
Thomas J. Koines
Ivan Sergei Koveshnikov
Khuyen Lam
Jasmine Lawrence
Dana Lee
Diane D. Lee
Julie Zhuying Li
Aidan T. Little
John A. Luetke
Gabriela Madrid Valero
Gideo Mari
Kenneth T. Milne
Samara Mohammed
Ryan Moore
Ricki Li Mudd
Angela Julia Nelson
Mike Northcutt
Alan T. Reese
Matt Reynolds
Paul F. C. Roberts
James S. Sanders
Vishwas Shetty
Veronika Sipeeva
Scott A. Sizemore
Julia Snyder
Meena Sujanani
Nicholas David Throm
Paul Townsend
Nikhil Venkatesh
Annie Wang
David Wang
Scott Scott Wang
Lauren Wheelwright
Dorothy Wong
Feiyang Xue
Loretta Yiu
Danning Zhang
Tingting Zhang
Ying Zheng
Yuan Zhuang
Doctor of Philosophy
Zhiwei Guan

Dissertation: The Effect of 'Need to Belong' on Online Social Behaviors and Cognitive Interactions

Alexis Hiniker

Dissertation: Supporting Intentional Media Use in Families

Mania Orand

​​Dissertation: Bridging Research & Practice: A Theoretical & Empirical Mapping of Design Space using Solo Travel Domain

Taylor Scott

​Dissertation: A Framework of Distributed Affect in Text Based Communication