By Steven Goodman, Emma McDonnell, and Lotus Zhang
Steven Goodman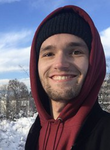 Steven's CHI 2021 experience: This was my second time attending CHI and my first time attending the conference virtually as well. Despite some early difficulty navigating the CHI virtual platform, I eventually got around them and sat in on sessions that aligned with my current work and interests, such as "Understanding Accessibility", "Accessible Interaction", "UX of AI", and "Human, AI, & ML". I liked that the virtual format allowed attendees to ask casual questions at any point during the presenter's talk, and I believe this allowed for richer discussion as a result. However, I was disappointed in some of the virtual limitations when attempting to connect with other researchers directly (e.g., introducing myself after a talk and striking up an ad-hoc conversation was not possible virtually). Despite this, I greatly appreciated having the opportunity to view progress made by my peers over the past year and to learn of the developments happening at the intersection of AI and accessibility research. It's wonderful that our community can come together for CHI despite the ongoing pandemic, and although I'm looking forward to in-person conferences resuming, the virtual format shows promise for individuals who would otherwise be unable to attend due to physical or financial barriers. I'm hopeful that conference organizers can learn from CHI 2021 to make virtual components work more effectively for everyone in the future.
Emma McDonnell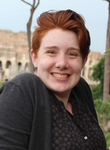 Emma's CHI 2021 experience: This was my first CHI, and I also attended as a presenter, so it was an interesting experience to navigate! While I really appreciated the effort to adapt for time changes, I found that as part of a team that had to present our 2 publications twice, it was a bit hard to keep on top of, and that it was also hard to make sense of what sessions I had already basically attended vs new material. There were some really excellent sessions I was able to attend live, such as "Understanding Accessibility", "Accessible Content Creation", and "Accessible Interaction". I also enjoyed having short videos of all of the talks available asynchronously, and organized into paper sessions. For some sessions that I could not attend live, such as "HCI Confronting Issues of Race, Genders, Feminisms, Reproductive Health", I went through and watched all of the video talks, many at 2.5x speed (my preferred listening speed for audio content), making it easy to get a taste of a lot of research. I presented a Late Breaking Work publication I was part of, and despite the fact that the session was not very organized, it was 2 hours of nice engagement with others- the presenters and the audience were all in a breakout room together and could ask direct questions and chat live. My presentation was towards the end of the conference, and I had not attended other LBW sessions because of time conflicts and conference fatigue, but I found myself wishing I had as it was really lovely unstructured interaction time. I do miss the easy connections with peers live conferences afford, and it was really hard to attend the conference while also teaching, researching, and taking classes, but am glad to have had a chance to share and learn about work done in the past year and look forward to innovative ways to preserve digital access for those who would prefer it over traveling to attend CHI in person for myriad reasons.
Lotus Zhang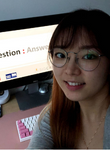 Lotus' CHI 2021 experience: This was my second time attending the CHI conference and the first time attending it virtually. Despite the technical glitch, it was a great experience. I was able to go to all talks that I was interested in at reasonable times, since they accommodated for time zone differences. I mainly went to paper and late-breaking work sessions related to accessibility, e.g., understanding accessibility, access for people with visual impairments. The virtual format made asking questions easier for me personally, because I just needed to type them into the question box. Socializing was a bit challenging, since the built-in message system of the conference platform did not send prompt notifications. I socialized with attendees mainly through the zoom meetings after sessions and the virtual gatherings organized by attendees. While we couldn't talk face-to-face, it was great to be able to catch up with old friends and meet great researchers who I don't usually get to talk with. We also created a document to exchange contacts in case we want to chat about ideas more in the future. It was also fascinating to see so much creativity put into ways to do networking virtually, such as 'Gather.town', but I do hope that accessibility features of these platforms would improve in the future.