March 5, 2019
Dr. Jan Spyridakis, Professor in the Department of Human Centered Design & Engineering and renowned leader in the field, will retire at the end of the 2018-2019 academic year.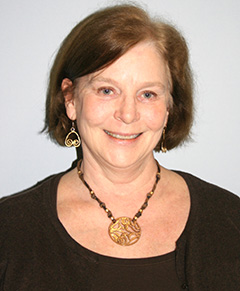 Dr. Spyridakis' career with the department spans four monumental decades. Since she was first hired by the department in 1978, she has taught over 175 courses, served as department chair for six years, and directed the Graduate School's Interdisciplinary Individual PhD (IPhD) program for three years. Her accomplishments have been recognized with six teaching awards (two from the University and one from the College of Engineering) and ten research awards. In 2016, she received the Rigo Award for Lifetime Contribution to the Field of Communication Design from Association for Computing Machinery (ACM) Special Interest Group on the Design of Communication. She serves on two editorial boards and is a Fellow of the Society for Technical Communication.
Spyridakis has taught over 3,600 students—including undergraduate, certificate, master's, and PhD students—and mentored hundreds more in Directed Research Groups and independent research projects. She has supervised research conducted by numerous Master's and PhD students, helping grow the field. In her time with the department, she developed nine new courses, including courses on experimental research methods, international user experience, style in writing, and empirical traditions in HCDE. She also directed the engineering communication program for the College of Engineering.
Spyridakis' research has been marked with trailblazing discoveries in communication design and UX research. Her work focuses on assessing the design of online information and creating remote assessment tools, and on advancing diversity and inclusion of STEM faculty by building workshop tools and producing educational materials with the UW Advance team. She has published over 100 archival articles. In 2013, Spyridakis was described as the most prolific experimental researcher, with the largest number of published research articles, in the last 20 years in technical communication journals (IEEE Transactions on Professional Communication, December 2013 issue).
When Spyridakis served as HCDE department chair between 2008 and 2014, she was only the second female to serve as a department chair in the College of Engineering and one of the few females in the country to serve as chair in a college of engineering. While chair, she led the charge to change the department's name from Technical Communication to Human Centered Design & Engineering. During her first years as chair the state budgets were depleted by fifty percent, and despite that challenge, Spyridakis hired many new faculty and staff who helped broaden and publicize HCDE's research agendas and stabilize its growing infrastructure.
Under Spyridakis' leadership, the department more than doubled its student enrollments and moved to its current location in Sieg Hall—building the design lab, a student lounge, an active learning classroom, and research labs for faculty and PhD students. Her PhD in Curriculum & Instruction served her well when in her last year as chair she led the faculty committee that redesigned the HCDE Master's program curriculum.
In January 2009, at the time of the name change, Spyridakis credited those who came before her, stating "We stand on the shoulders of giants. Everything we have achieved as a department would not be possible if not for the vision and willpower of those who preceded us." Now she looks forward to where the department is headed next: "We are at the forefront of research and innovation. We continue to draw the best faculty, staff, and students. It has been an honor to be a part of this department, and I can't wait to see what comes next for our community."
In retirement, Spyridakis looks forward to relaxing—traveling, writing detective novels about academic life and international wanderings, reading, and spending time with family.
"Professor Spyridakis is a top researcher and educator as well as an incredibly strong advocate of HCDE students and alumni," said David McDonald, HCDE Professor and Chair. "She has always been a leader, helping to set the early trajectory of the department when it was Technical Communication and helping to re-envision the department as it became Human Centered Design & Engineering." McDonald said that when he joined the department's faculty in 2014, Spyridakis provided important guidance and encouragement. "I would bet the majority of the HCDE faculty can share this sentiment," he said. "Jan's legacy to the department is that she embodies excellence, all while putting people first."
Help us celebrate Dr. Spyridakis by sharing your memories
Are you a former student or colleague of Professor Jan Spyridakis? Please share your memories from over the years to help HCDE faculty and staff celebrate her retirement from the University of Washington. Submit your comments via this form, or email Leah Pistorius at lepisto@uw.edu.