March 23, 2018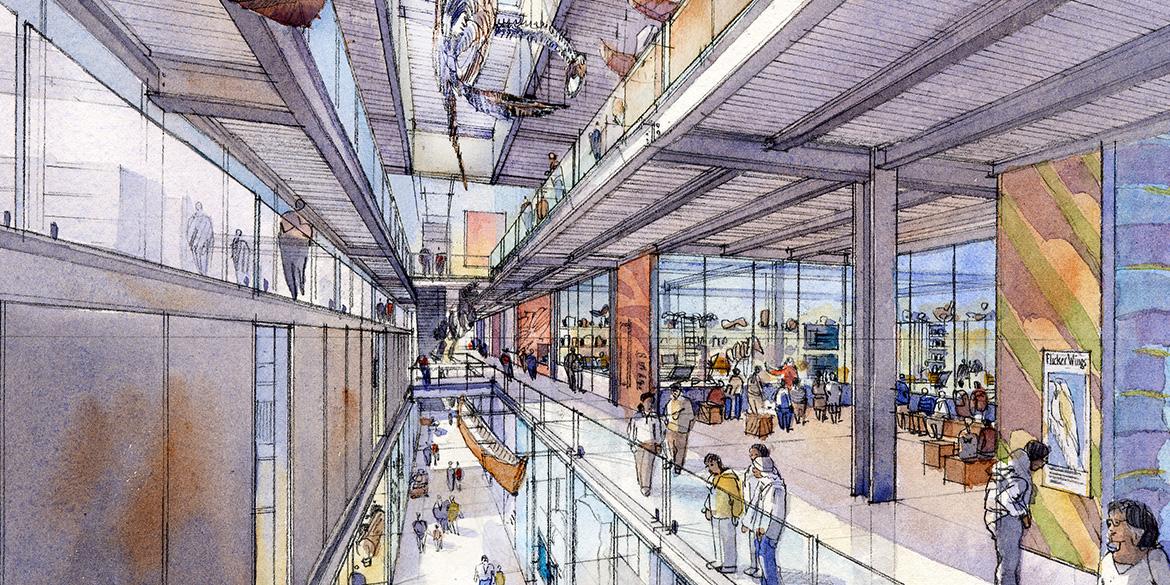 Interior view of the New Burke Museum. Illustration by Olson Kundig/Stephanie Bower Architectural Illustration
Washington's Burke Museum of Natural History and Culture is pioneering an innovative model designed to break down traditional barriers between visitors and museum operations. The Burke's new building, scheduled to open in late 2019, will integrate exhibits with research labs and collections storage, inviting guests to connect with the daily discoveries happening in the museum.
Tyler Fox, lecturer in the Department of Human Centered Design & Engineering, is interested in designing for museum engagement, and exploring how technology can enhance the learning that occurs within a museum. In Winter 2018, Fox led a Directed Research Group aimed at understanding the various challenges and stakeholders within the Burke and discovering new avenues for public engagement.
"I have long been a fan of the Burke museum. When I learned about their concept of an 'inside-out' museum, I thought it was a great opportunity for HCDE students to apply the user-centered design process to a dynamic, real-world project," Fox said.
The class began by interviewing various museum stakeholders, including researchers, interpretive staff, and visitors to discover recurring themes. The students identified the following areas for exploration: how technology can be used to engage visitors, what to do with a lab space that is unoccupied or closed for privacy, highlighting multiple truths and interdisciplinary knowledge, and creating interactions around the provenance of an object.
Kate Fernandez, director of interpretation at the Burke, said the museum is careful about integrating technology into the new space. "As a natural history museum, we tend to stay low-tech, because the real thing— the real object or artifact, or story—is here. And we want people to see and engage with the real thing. So given that, it was really interesting to give students this low-tech framework and see what they came up with."
Within small groups, students researched the identified problem spaces, developed user personas, and prototyped and tested new concepts for visitor engagement.
"We approached this project by starting with people," described a student in the course. "HCDE is grounded in research, so we interviewed our stakeholders first. What do they want to see in their new space? What are their pain points? We then took their feedback and applied it to our designs."
The students developed engagement activities including a scavenger hunt for young visitors, a tool for "pen pal" exchanges between researchers and visitors, and a virtual reality enhancement to for visitors to see up-close what happens in lab spaces when they unoccupied or closed for privacy. The class presented their concepts to Burke staff and the HCDE community on March 5, 2018.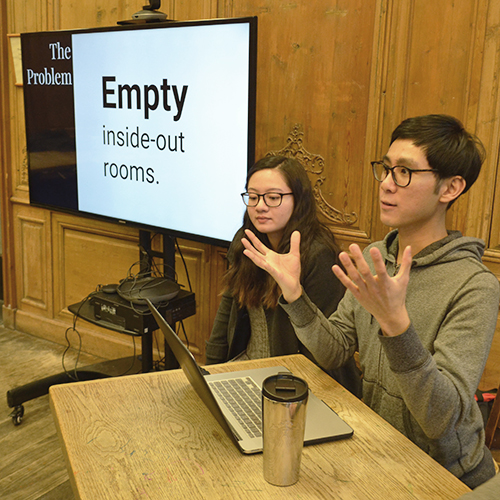 Empty "inside-out" exhibit spaces can be confusing to visitors. HCDE students think virtual reality can help visitors see what happens in the busy lab when it is empty or closed.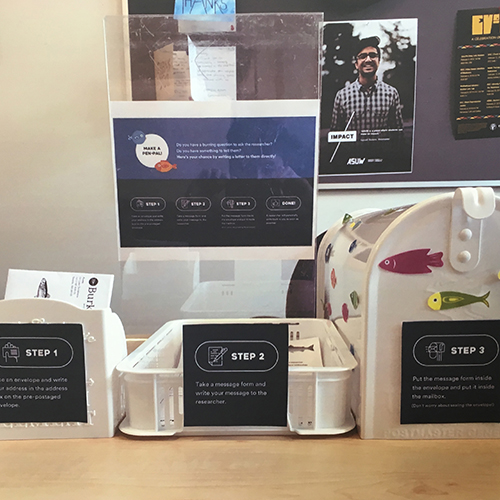 HCDE students developed the concept for a "pen pal" service that would allow Burke researchers to interact with visitors when the time is right for them.
Fernandez said the students introduced a lot of new ideas for her team to think about as they continue developing the plan for the new Burke. "It has been a great opportunity for us to work with the HCDE students. Every student integrated a people-first design methodology as the central element of their projects."
"There is a huge advantage for a research institute like the Burke to get to work closely with a department rooted in design theory, like HCDE. We are very thankful for this collaboration."