May 13, 2020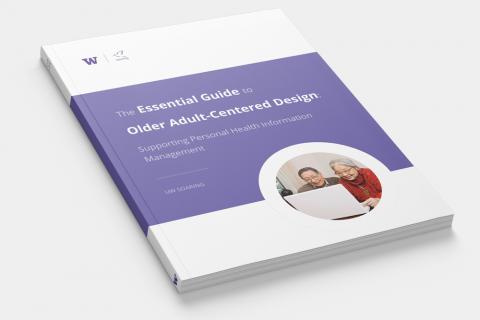 Dawn Sakaguchi-Tang, a PhD student in the Department of Human Centered Design & Engineering, has worked with a multidisciplinary team of researchers to publish The Essential Guide to Older Adult-Centered Design. This guide is designed to assist designers and developers in creating health information technology systems that better meet the needs of older adults and their caregivers.
Managing health information can be difficult for older adults, who often have a number of health conditions requiring multiple provider visits with different treatment plans and medications.
To better understand the personal health information management needs of older adults and their caregiving networks, Sakaguchi-Tang created personas and scenarios of multiple older adults and their complex caregiving network. The team refined the concepts into design recommendations that they included in the guide.
"The work we have done will help communicate the diversity among older adults that should be considered when designing health information technologies," said Sakaguchi-Tang. "Situational differences like living arrangements, health, and cognitive status can influence an older adult's goals and needs as well as how health information is managed by or for them."
The guide is published as part of the University of Washington's Studying Older Adults and Researching Information Needs and Goals (SOARING) project. Anne Turner, Professor in the Schools of Public Health and Medicine, is Principal Investigator on the project, and HCDE Professor Julie Kientz is a co-investigator.
Download the The Essential Guide to Older Adult-Centered Design.
This post includes information originally published by the Northwest Center for Public Health Practice, here.