December 19, 2018
Columns Magazine, December 2018
Samantha Gil Vargas knew she wanted to help others. At the UW she learned that helping begins with listening.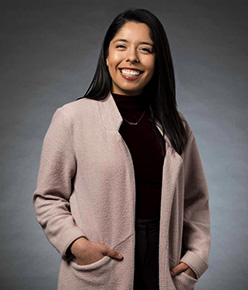 At first, Samantha Gil Vargas wasn't even planning to apply to the UW. "I was afraid I wouldn't get in, and I didn't think I could afford it," she says. After being encouraged by a mentor, though, she did apply – and she was accepted.
"I didn't know exactly what I wanted to do yet, but I knew that the UW would give me the ability to explore a lot of options," she says.
Scholarships from the College Success Foundation and Costco, among others, made it possible for Gil Vargas to attend the UW.
As a pre-engineering major, she took many math and science courses, but it was a sociology class that altered her path.
"The whole concept of sociology is serving people and trying to understand them, and I really loved that," she says. Not long after, Gil Vargas went to a career fair where she learned about the Human Centered Design & Engineering (HCDE) major. The idea of listening to end users and improving products to serve them better sounded intriguing.
As Gil Vargas dove into coursework for her newly declared major, she balanced it with her lifelong passion for helping others.
She went to Neah Bay, Washington, twice as a volunteer with the UW's Alternative Spring Break, helping to design curricula and teach middle schoolers the basics of apps and coding.
Gil Vargas also served as a volunteer at ROOTS, a homeless shelter for young adults in the U District. Much of her role involved simply being present and listening. "A lot of guests don't have anyone to talk to when they're not at the shelter, so ROOTS wants to make sure that volunteers engage with them," she says. "I learned a lot about paying attention to body language and the way people talk."
For her HCDE capstone project, Gil Vargas worked as a user experience designer for Seattle Housing Authority, helping create kiosk and wall display concepts for the Yesler Community Center.
"The center serves many Vietnamese and Somali families," says Gil Vargas. "There were a lot of cultural and language barriers, and we went really deep into focus groups, interviews and concept testing so we could find the best way to communicate information about resources available at the center."
Gil Vargas graduated from the UW in June 2018 and began working for Geeking Out Kids of Color, a South Seattle nonprofit.
"I came up with a curriculum to make coding relatable, and I teach it through a social justice lens that makes children really think about the community and who they are serving," she says.
Gil Vargas credits the University with helping her grow into all these opportunities. "I'm really glad I came to UW," she says. "I learned so much about myself and about how I can contribute to my community. There were many people who helped me along the way, and I think it's my responsibility to help provide similar encouragement for others."
The above story originally appeared in an External Affairs insert in Columns, the University of Washington alumni magazine, December 2018.