July 2, 2023
The University of Washington's ALACRITY center, co-directed by Human Centered Design & Engineering Professor Sean Munson, aims to create innovative strategies for behavioral treatment for mental health problems. With support from a new five-year, nearly $11 million investment from the National Institute of Mental Health, Munson and his collaborators across campus are working to address critical issues in implementing psychosocial treatment in healthcare settings accessible to underserved communities.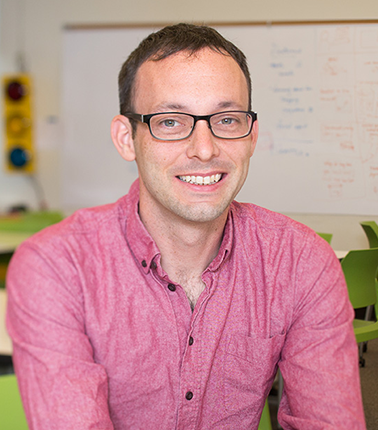 Sean Munson, Associate Professor in Human Centered Design & Engineering
ALACRITY, which stands for Advanced Laboratories for Accelerating the Reach and Impact of Treatments for Youth and Adults with Mental Illness, is a network of research programs supported by the National Institute of Mental Health Division of Services and Intervention Research. Along with Professor Munson, the UW ALACRITY Center is co-directed by Aaron R. Lyon, a professor in the UW Department of Psychiatry and Behavioral Sciences. The Center represents a unique collaboration between the School of Medicine's Departments of Psychiatry and Family Medicine, the Department of Human Centered Design and Engineering, the Department of Computer Science, the School of Social Work, the School of Public Health, and the College of Education. This interdisciplinary approach fosters a comprehensive understanding of mental health challenges and facilitates novel studies to translate research into real-world practices.
Since it was established in 2018, UW ALACRITY researchers have focused on adapting psychosocial clinical treatment in non-specialty settings where many people prefer to access mental health care, like primary care clinics. The funding will enable the researchers to expand their scope to support treatment in school settings. The researchers have designed new frameworks to adapt the usability, contextual fit, and engagement of clinical interventions and implementation strategies in these non-traditional settings that are often more accessible to people of color and those living in poverty in both rural and urban communities. Across their work, the UW ALACRITY team works with local practitioners and other stakeholders to develop and test new solutions for accessing treatment.
The Center has supported several HCDE projects over the last five years, including research by HCDE professors Julie Kientz and Gary Hsieh, and dissertations by doctoral students Arpita B. (PhD '21), Designing Guided Asynchronous Remote Communities to Support Teen Mental Health, and Elena Agapie (PhD '20), Designing for Human Supported Evidence-Based Planning. Professor Kientz will join the UW ALACRITY Center Leadership team for its next iteration.
Learn more about the UW ALACRITY Center and its initiatives at uwalacrity.org.