February 18, 2020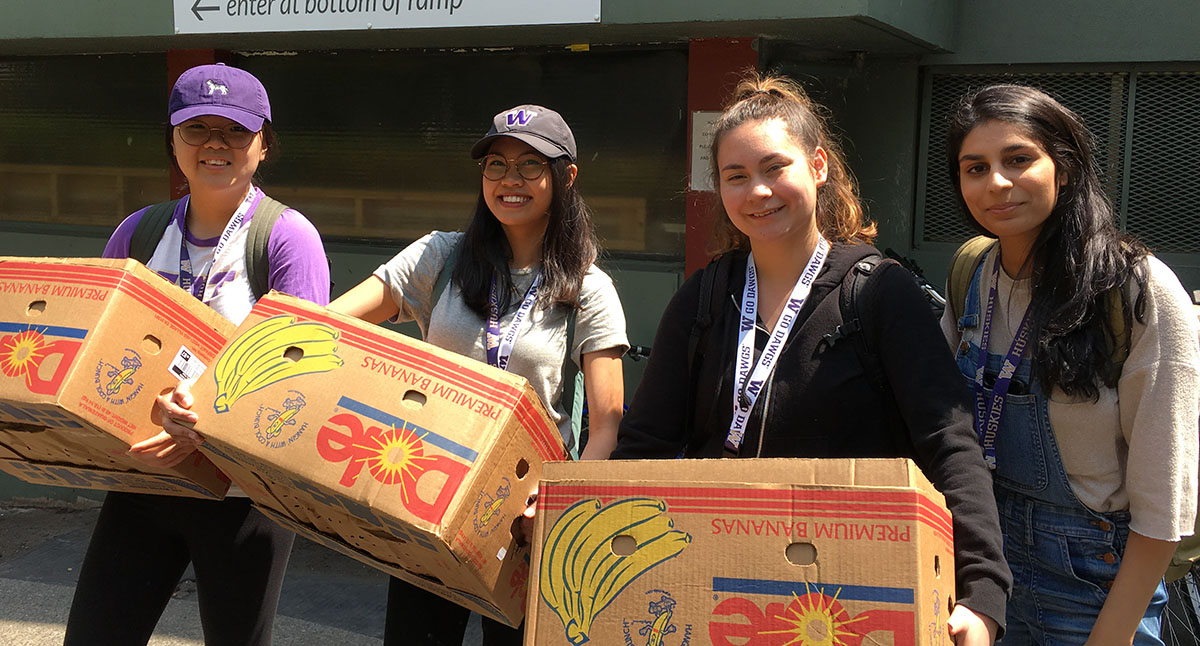 Three years in, the Meal Matchup project, led by HCDE faculty member Irini Spyridakis, has rescued 1,300 pounds of food from UW dining halls and delivered roughly 1,500 meals to local shelters in need.
Irini Spyridakis, a faculty member in Human Centered Design & Engineering who has taught in the Department for 12 years, brings her passion for working with and for underserved communities in health, the environment, technology, and social justice to her work at the UW.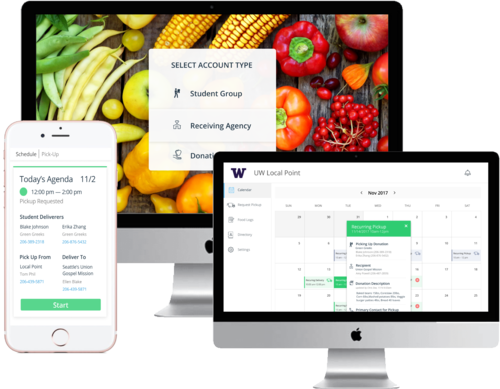 Meal Matchup's open-source software connects dining halls, delivery volunteers, and receiving agencies in the food recovery process.
Spyridakis directs Meal Matchup, a startup she co-founded, to facilitate the recovery of leftover food from dining halls at the University of Washington by delivering it to local nonprofits with the help of UW service learning students. The core innovation behind Meal Matchup is an interactive, responsive open-source food donation website, researched, designed and built over the 2017-2019 academic years by Spyridakis and a team of Bachelors' and Masters' students from the Information School, Computer Science & Engineering, and Human Centered Design & Engineering.
The team is using a human-centered design approach to design, prototype, evaluate, and iterate a whole system design that connects diverse stakeholders—dining hall managers, shelter managers, and service learning student food deliverers. Using Meal Matchup's interactive web platform, dining halls schedule pick ups with student deliverers who bag and tag the food to be frozen overnight, and then return the next day and pick up the food and transport it to local shelters. Meal Matchup is bridging the gap between dining facilities and homeless shelters by capitalizing on built-in systems in place at the UW with service learning classes, improving logistics and efficiency in the food recovery space, and increasing civic engagement within our community. Since the Spring 2018 pilot study, Meal Matchup has worked with 3 UW dining facilities, delivered a total of 1,300 pounds of rescued food to 4 local shelters ,and worked with almost 100 students from service learning classes on campus and through directed research groups, as well as over 18 UW staff and faculty.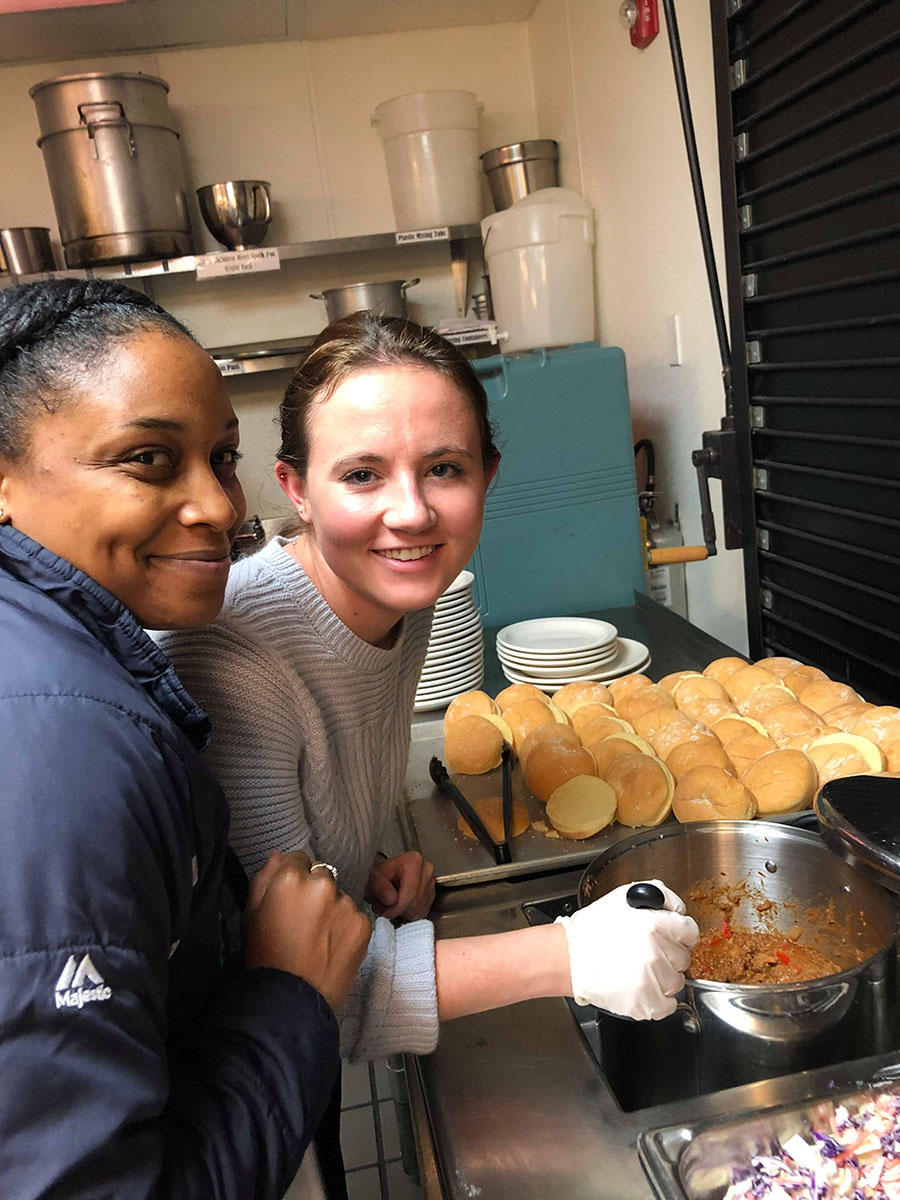 Students enrolled in UW service learning courses pick up the rescued food from the dining halls for delivery to local shelters.
Meal Matchup is addressing a multi-system smart city challenge by feeding the food-insecure, reducing greenhouse gas emissions, and reducing social and economic costs caused by food waste. Spyridakis noted, "If food waste were a country, it would rank third in greenhouse gas emissions after the U.S. and China." She further stated that annually in the U.S. alone, "25 percent of all freshwater goes into the production and distribution of food that never reaches a plate." "The U.S. spends almost $218 billion a year, or 1.3 percent of GDP, on food that is never eaten," Spyridakis said. "The costs do not stop at the dumpster as the U.S. spends $167.5 billion annually on lost productivity, public education, avoidable health care costs, and subsidized programs to support food insecure families."
"Donation matching software like Meal Matchup ranks as third of 27 possible methods in food recovery work—after tax donation incentives and standardized donation regulation, according to ReFED, a non-profit that focuses on food waste," Spyridakis noted. "With every pound of leftover food recovered, we are creating on average 1.2 meals. And a warm meal is a critical element in helping restore human dignity."
Spyridakis' research into the process of food recovery methods and sustainable system models led to the discovery of key pain points for both dining hall managers and shelter managers. "We found that donations under 50 pounds are often costly for food recovery organizations to pick up and deliver," she said. "Another issue is transparency—often when shelter managers do not know what food will be delivered, they do not know how to plan for its proper storage, which can result in food being thrown away—a similar problem faced by dining hall managers who need to know when food will be picked up."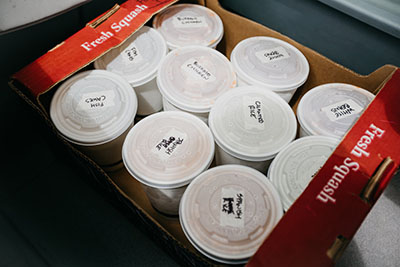 Every pound of leftover food recovered from the dining halls equates to approximately 1.2 meals shelters are able to provide.
To solve the costly issue of smaller deliveries, dining hall managers use Meal Matchup to coordinate with students enrolled in UW service learning courses where Spyridakis onboards new students quarterly to help with deliveries and ongoing research. To increase transparency, the website accounts for poundage and type of food collected, helping dining hall managers identify trends of food consumption and shelter managers understand food supply.
Spyridakis is happy to see the success of Meal Matchup, now in its third year, and looks forward to seeing the program grow even more. "Our goal is for others to have the tools necessary to replicate Meal Matchup in other institutions and communities," Spyridakis said. And inquiries are coming in from other institutions.
To spread the word, Spyridakis and her students have presented and published their research, methods, and outcomes at five conferences across the globe. One notable conference that Spyridakis and a student team of graduate and undergraduates from HCDE, CSE, and the iSchool presented at was the 1st ACM SIGCAS Conference on Computing and Sustainable Societies (COMPASS 2018) hosted at Facebook headquarters in Menlo Park, a conference that UW CSE played a large role in organizing. Meal Matchup also presented at the country's largest conference for sustainability in higher education, the Conference of the Association for the Advancement of Sustainability in Higher Education (AASHE) in Pittsburgh, PA. Recently, Spyridakis and her team had a paper on Smart Resource Management and Civic Engagement at the IEEE 5th International Smart Cities Conference. The team also hosts instructional videos and detailed information about how to start a new Meal Matchup program on their website at mealmatchup.org.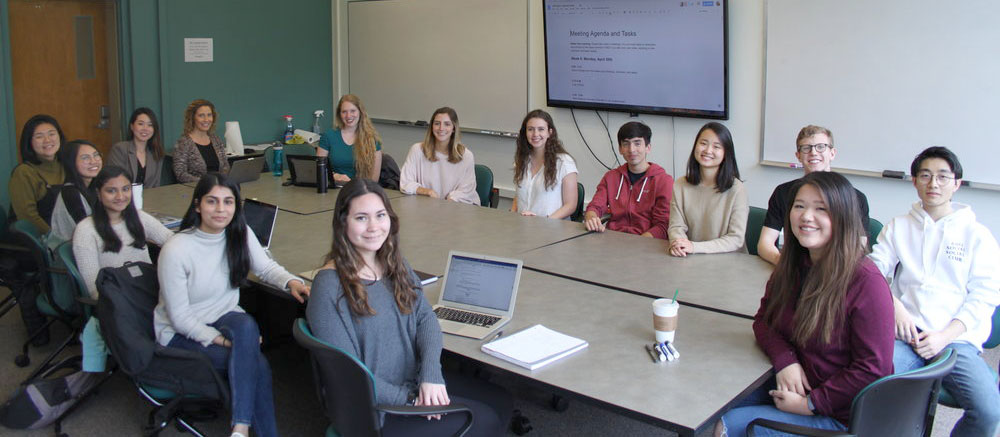 In addition to the benefits resulting from rescuing food that would have been composted or landfilled and delivering it to those in need, Spyridakis hopes that involvement in the project will empower students for years to come. "Research shows that providing civic engagement opportunities to students in college has lasting effects throughout the rest of their lives," she said. "They are more likely to vote, more likely to volunteer, and more likely to take an active role in advocating for their communities." By encouraging civic engagement, Meal Matchup couples technology with social good, addressing a multi-system smart city challenge, helping all those involved become change agents and fostering innovation in sustainability.
"This is a ground-up movement," Spyridakis said. "I want all of the students to see that if you have passion, tenacity, and a community of people who care, you can create truly impactful change."
Spyridakis is grateful to the UW Campus Sustainability Fund (CSF) for a $21,712 grant that she and an HCDE alumna received from the CSF that paid for 21 lines of student pay and supported the initial start-up. Spyridakis is also honored by the College of the Environment for voting Meal Matchup as the top CSF 2018 project, an award that resulted in a $5,000 donation to future CSF projects.