HCDE students participate in an Alternative Spring Break program for the second year.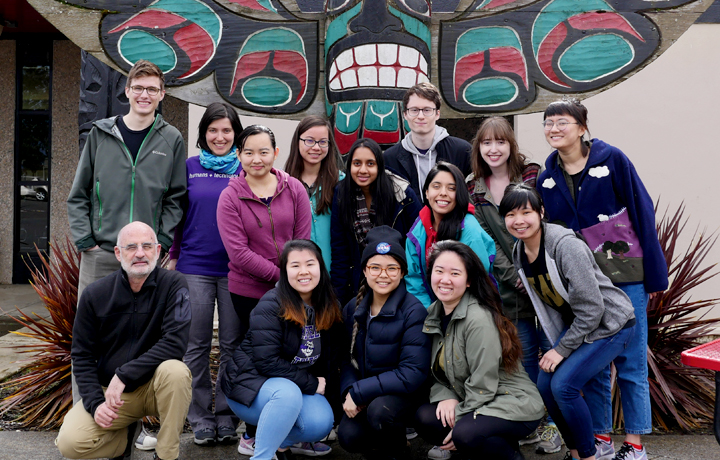 The 2018 HCDE Alternative Spring Break team in Neah Bay, WA. Standing: Nate Young, Elena Agapie, Melody Xu, Melissa Birchfield, Pooja Ghelani, Jon Cole, Samantha Gil Vargas, Noelle Merclich, Aylee Neff, Bonnie Tran. Kneeling in front: Andrew Davidson, Lynda Nguyen, Jojo Le, Yeh-Eun Lee.
For the second year in a row, HCDE worked with the UW's Pipeline Project to send students on an engineering-focused alternative spring break experience. Both years, the team of HCDE and CSE students visited the Makah Reservation in Neah Bay, Washington, where they led a week-long workshop for middle- and high school students.
In 2018, The workshop focused on digital storytelling and coding using the Scratch programming system. Over the course of the week, the Neah Bay students, guided by the UW team, designed and programmed their interactive stories, and learned the fundamentals of computer programming in the process. The workshop was structured as four daily hands-on sessions, and culminated in a showcase on the fifth day where students shared their digital story projects with the community.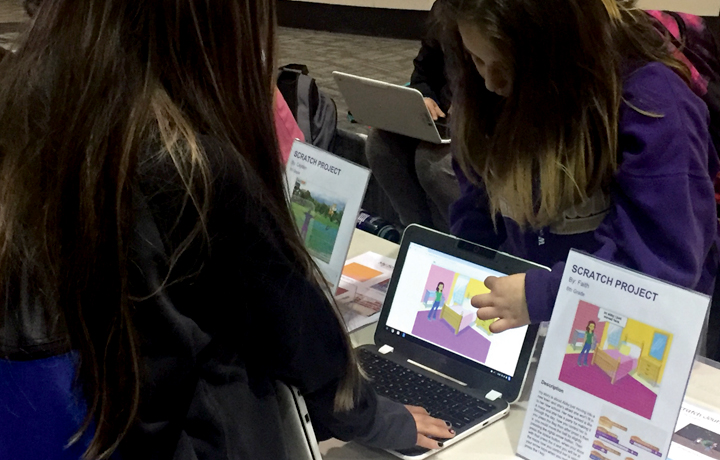 On the final day of the workshop, students demonstrated the digital storytelling projects they designed using Scratch programming system.
The UW students spent the winter quarter before spring break in a Directed Research Group, led by HCDE Senior Lecturer Andrew Davidson and PhD student Elena Agapie, designing their workshop and tailoring it to the age group and cultural interest of the Neah Bay students.
The goal of the HCDE Alternative Spring Break collaboration is to help students in remote areas of Washington to see themselves pursuing higher education, and to learn how studying engineering at UW could enable them to live and thrive in their home communities after graduation. The benefit for HCDE students participating is they get to practice teaching concepts they have been learning in the program, and form mentorship relationships with the younger students.
Donations to HCDE enrich the student experience by supporting opportunities like Alternative Spring Break. Learn more at hcde.uw.edu/give.