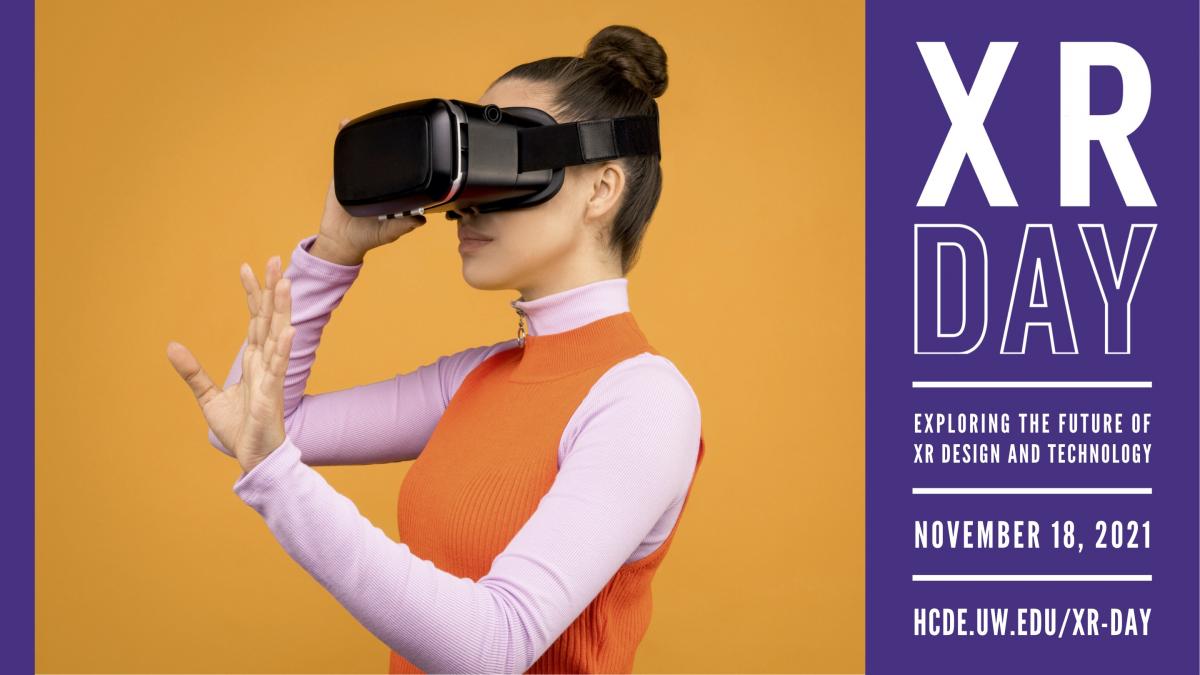 On November 18, 2021, the Department of Human Centered Design & Engineering hosted XR Day, a day-long symposium exploring the evolving potential in XR design and technologies. The event was presented by STMicroelectronics, a strategic partner member of HCDE's Corporate Affiliates Program.
Featuring
Keynote presentations from XR industry leaders and top academics
Panel discussions on XR applications for medicine and education
Topic-based networking opportunities
Demos of cutting-edge equipment and new applications
Networking with industry professionals, students, and academic researchers
About XR Day
The development of extended reality hardware, devices, interactions, and apps is advancing at a rapid pace. The XR revolution spans augmented, virtual, and mixed realities (AR, VR, MR). Past all the hype, what are the capabilities now and in the future? What are the hurdles to broader adoption? How do we understand the user needs and applications to design for a better future? What are the career and research opportunities?
Join the UW Department of Human Centered Design & Engineering and presenting sponsor, STMicroelectronics for a day-long conference exploring the long-term potential in XR design and technologies. We invite industry professionals, academics, alumni, and UW students to come together for cross-disciplinary conversations, thought leadership, collaboration, and to learn together.
Presenters
Thomas A. Furness
Professor, Industrial & Systems Engineering
Founder, Human Interface Technology Laboratory
Founder, Virtual World Society
Dr. Tom Furness is a pioneer in human interface technology and grandfather of virtual reality. Tom is currently a professor of Industrial and Systems Engineering with adjunct professorships in Electrical and Computer Engineering and Human Centered Design and Engineering at the University of Washington. He is the founder of the Human Interface Technology Laboratory (HIT Lab) at UW and founder and international director of the HIT Lab NZ at the University of Canterbury, Christchurch, New Zealand and the HIT Lab Australia at the University of Tasmania, Launceston, Tasmania. He is also an Erskine Fellow and Adjunct Professor at the University of Canterbury and an Adjunct Professor at the University of Tasmania. He is the founder of the Virtual World Society dedicated to bringing together heart and mind through virtual reality to solve pervasive problems in the world.
Shira Gordon
Product Design Manager, Meta
Shira Gordon is the Product Design Manager of Horizon Worlds at Meta. Before that she led AR/VR Media Design at Meta's Reality Lab where she headed up work on Oculus TV, Oculus Venues, Quill and Oculus Media Studio. Prior to joining Meta, she led multimodal design teams at companies including Amazon, Sonos, Hearst and Time Inc. She holds a B.A. in Visual Interactive Communications from the Newhouse School at Syracuse University, a Masters in Human-Computer Interaction from Iowa State University and has served on the board of advisors for the CX Program at Rutgers Center for Innovation Education.
Anton Hofmeister
Group Vice President, STMicroelectronics
Anton Hofmeister is Group Vice President at STMicroelectronics and General Manager of the MEMS Actuator Division, based in Agrate Brianza, Italy.
Anton has been with ST for over 30 years and has worked in Germany, France, the US, and Italy. He has held managerial positions in Key Account Management, Product and Strategic Marketing, Advanced R&D, and General Management. For the past >10 years, he has managed various product divisions in the MEMS sector.
Anton has also served as a board member of the Singapore based Molecular Diagnostics company "Veredus Laboratories" and is Managing Director of ST's German subsidiaries. Since August 2021, Anton is a member of the Governing Council of the MEMS & Sensors Industry Group (MSIG).
Babak Parviz
Vice President, Amazon
Babak is the founder and lead of Grand Challenge, the organization chartered with identifying, investing in, and operationalizing entirely new areas for Amazon. Examples of recent launched products/services from Grand Challenge include Amazon Care, Comprehend Medical, Echo Frames, and Amazon Explore. Prior to joining Amazon in 2014, Babak was with Google as a Distinguished Engineer and Director at Google [x] where he built Google Glass and founded the robotic surgery and the active contact lens programs. Babak received his BA in Literature (University of Washington), BS in Electronics (Sharif University of Technology), MS in Physics and MS and PhD in Electrical Engineering (University of Michigan), and completed his postdoctoral fellowship in Chemistry and Chemical Biology at Harvard University. He has received numerous recognitions including NSF Career Award, MIT Technology Review 35, University of Michigan Bicentennial Alumni Award, Time magazine's best invention of the year, and IEEE CAS Industrial Pioneer Award.
Martina Welkhoff
Founding Partner, WXR Fund
Martina is the Co-founder and Managing Partner at the WXR Fund, an early-stage venture fund investing in women-led spatial computing (AR/VR/AI) companies. Prior to launching the fund, WXR hosted an accelerator from which 26 companies have graduated. Martina was inspired to transition into the VR industry after recognizing the unique opportunity the creation of a new computing platform provided for women and underrepresented minorities. Martina is an advisor to the Center for Leadership & Strategic Thinking at the Foster School of Business. From 2013-2017, she served as the board president of Seattle Women in Tech before transitioning the nonprofit to a for-profit company that is scaling the model globally. Martina was a World Economic Forum Global Shaper and won a Lumiere Award for Distinguished Leadership from the Advanced Imaging Society. She is a 2021 Puget Sound Business Journal 40 Under 40 Honoree. Martina received a BA in English with a minor in Chemistry from Bowdoin College in Brunswick, Maine.
Emcee
Jeremy Barksdale
User Experience Research Manager, Unity Technologies
Councilmember, City of Bellevue
Jeremy Barksdale served on the City of Bellevue's Planning Commission prior to City Council. He now serves on the Board of Directors for Leadership Eastside and Fuse Washington. He earned a Ph.D. in Computer Science (with a concentration in HCI) and a master's in Public Administration from Virginia Tech. Jeremy earned a bachelor's degree in Broadcast Production with a minor in Business Administration, and a master of science degree in Computer Science with a concentration in software engineering from North Carolina A&T State University. Jeremy's personal interests include volunteering in the community, playing musical instruments, singing, reading, hiking and biking. He lives in south Bellevue.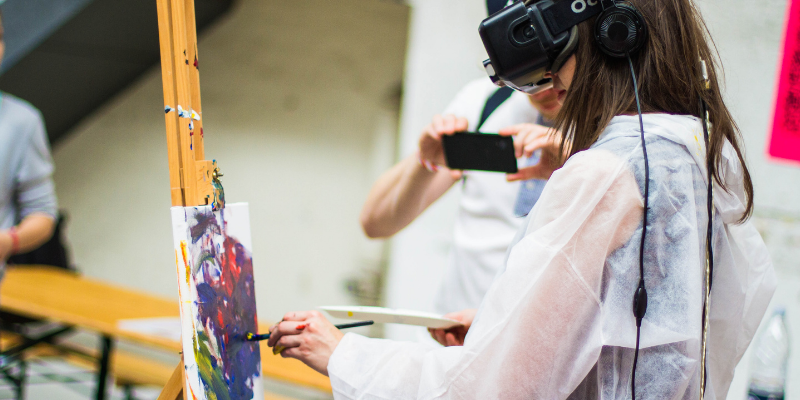 Educational applications of XR
What are some innovative ways that organizations are using XR to educate children and adults? Why aren't more organizations using this technology? How to we measure the benefit of XR for education? What are cautionary tales? How to we achieve widespread use of this technology for all learners?
Featuring panelists:
Juan Rubio, Seattle Public Libraries
Marine Au Yeung, Artefact
Jared Canright, UW physics
Panel moderator:
Elin Björling, HCDE Research Scientist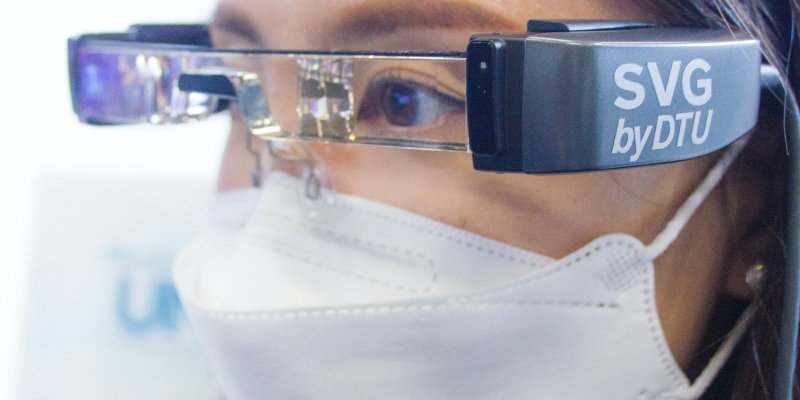 Medical applications of XR
How does XR have utility for telemedicine, surgical, mental health, etc? What are the key benefits to users in the future with XR? What obstacles stand in the way for achieving widespread use and ubiquity?
Featuring panelists:
Hunter Hoffman, VR pioneer research scientist
Mark Brentnall, surgical sciences
Sophie Stellmach, Microsoft
Martine Stillman, Synapse
Panel moderator:
Ivan Tarapov, Microsoft
Panelists
Education Panel
Jared Canright
Graduate Research Fellow, UW Physics Education Research GroupJared Canright (he/him) grew up in Alaska, studied physics and electrical engineering at New Mexico Tech, and is now avoiding any form of extreme weather as a fifth-year PhD student and NSF Graduate Research Fellow in the University of Washington Physics Education Research Group. His PhD research project examines the applications of virtual reality (VR) technologies to physics education. His current project focuses on teaching scientific reasoning skills in introductory physics laboratories using fictitious (and Google-proof) physical phenomena experienced in VR. He moonlights as a conference organizer for Out in STEM, a hobbyist game designer for himself, and a functional adult for his dog and fiancé.
Juan Rubio
Digital Media and Learning Program Manager, Seattle Public LibraryJuan Rubio, the Digital Media and Learning Program Manager at the Seattle Public Library (SPL), designs, develops, and manages educational technology programs with digital media including interactive storytelling and geolocative games. He is the project director of Caring About Teen Mental Health, a national initiative funded by IMLS to co-design VR experiences with teens to explore and support their mental health. He is the author of the chapter, Working Together: Youth-Adult Partnerships to Enhance Youth Voice, in the YALSA book, Putting Teens First in Library Services: A Roadmap. He is on the board of directors of Filmmakers without Borders.
Marine Au Yeung
UX Designer, Artefact
As a UX designer at Artefact, Marine imagines speculative future products and services, and makes them a reality for clients through the lens of Inclusive and Responsible Design. They are passionate about emerging technologies and how they can reshape systems to bring about large-scale positive change. Before joining Artefact, they worked on an augmented reality operating system for higher education in China and developed an ecosystem of smart jewelry for safety purposes. With a background in industrial design prior to their training in UX, Marine specializes in designing interactions that cross the boundary between digital and physical spaces. They have a B.A. from Simon Fraser University.
Medical Panel
Mark Brentnall
Director of Program Management, Surgical Science, Inc. (previously Mimic Technologies, Inc.)
Mark has been working in product development for medical devices and training systems for over 20 years. He has a B.S. in Mechanical Engineering from UC San Diego, and a M.S. from the University of Washington, where he worked with both the Mechanical Engineering and Bioengineering departments to complete his thesis in therapeutic ultrasound. In his early career he worked as a design and systems engineer for several Seattle startups. Most recently, he was hired by Mimic Technologies (a company whose founder and CEO is also a UW grad) as their Product Manager for developing VR simulators to train the next generation of robotic surgeons. Mark is passionate about training and technology in the field of medicine, especially surgery. The future of surgery lies in robotic systems and the applications that will drive them, and VR simulation offers the perfect opportunity to train surgeons on these platforms as well as provide rich data sets for innovation. Mark lives in the U-District with his family and looks forward to developing future collaborations between Surgical Science, Inc. and the University of Washington.
Hunter Hoffman
Director, Virtual Reality Research Center, Human Photonics Lab, University of Washington's Department of Mechanical Engineering
Affiliate faculty, University of Washington's Department of Psychology
Virtual Reality is a unifying technology. Hoffman has collaborated with UW researchers in the Depts of Psychology, Radiology, Rehab Medicine, Anesthesia and Pain, the Pain Clinic at Roosevelt Center, Harborview Hospital Burn Center, Dept of Urology, Dept of Sports Medicine, Psychiatry, and Engineering. In 1997, Hoffman discovered/originated the technique of using immersive virtual reality for pain distraction during painful medical procedures, which he has developed at the UW, in collaboration with NIH funded pain researcher David Patterson at UW Rehab medicine and Harborview Burn Center in Seattle. Hoffman, Patterson, and Walter Meyer MD from Texas have recently conducted joint research using VR distraction to reduce pain in children with unusually large severe burn wound injuries at Harborview Burn Center and Shriners Hospitals for Children in Galveston Texas. Hoffman is also collaborating with researchers at the University of Montreal, using VR distraction to reduce the pain of young children (average age 2 years old) during burn wound care.
Martine Stillman
Vice President of Engineering, Synapse
Martine is the VP of Engineering for the Synapse Seattle office. She focuses on helping our engineering team stay at the cutting edge of innovation, ideation, and technical excellence, and facilitating our multidisciplinary design practices.
Martine spent her first 15 years at Synapse in mechanical engineering and management. Her areas of expertise include plastic part design, brainstorming techniques, design for manufacture, mass production techniques, and quick turn prototyping. She has worked on a wide variety of products, including a fertility wearable, an activity tracker, biometric sensors, fitness performance feedback device, x-ray printer, portable media player, DNA microarray device, oral healthcare device, and many others.
Martine is the president of the engineering curriculum advisory board for Seattle Public Schools, and volunteers extensively with IGNITE to educate high school women about engineering. She has a BS in Mechanical Engineering, as well as a BA in Art, which she finds surprisingly useful. As Albert Einstein said, "Logic will get you from A to B, imagination will take you everywhere.".

Sophie Stellmach
Interaction Design & Science Lead, Microsoft
Dr. Sophie Stellmach is an Interaction Design & Science Lead at Microsoft's Mixed Reality team where she explores entirely new ways to engage with and blend our virtual and physical realities in products such as Microsoft HoloLens. Being an avid eye tracking researcher for over a decade, she was heavily involved in the development of gaze-​based interaction techniques for HoloLens 2. With her PhD from the Technical University of Dresden, Germany, and a strong research background in Human-Computer Interaction, she bridges the gap between Software and Hardware Development to innovative User Interface, Human-centered and Multimodal Interaction Design.
Panel moderators
Elin Björling
Senior Research Scientist, University of Washington
Elin Björling, Ph.D. is a senior research scientist and lecturer in the Department of Human Centered Design & Engineering. She is the co-founder of the Momentary Experience Lab, conducting design and development projects that capture data and intervene to improve health in the real world. Elin is the Project Lead for Project EMAR, an interdisciplinary project exploring the design and development of a social robot to measure and reduce stress in teens. Using human-centered design, Elin engages in outreach education and research working directly with teens in the local community, including co-creating the high school Design Challenge. Over the past two decades Elin has been an integral part of numerous research projects in health sciences and education with a focus on teen stress. As a research methodology, Elin is focused on ecological momentary assessment — capturing momentary data as it happens in the wild. She holds a Clinical Faculty position in the school of Nursing and Healthcare Leadership at University of Washington and consults locally with organizations interested in improving teen health. Elin is a trained program evaluator with experience in educational program evaluation. She has designed and implemented evaluation plans for several large educational grants, both state and federally funded.
Xuny Haley
Masters Student, HCDE
Product Inclusion Intern, Epic Games
Xuny Haley is a 2nd year masters students in the HCDE Program, as well as a Product Inclusion Intern for Epic Games. She previously managed the University of Washington's CoMotion Labs at HQ, an incubator space that incubated XR and other emerging technology startups. During this time, she was heavily involved in volunteer efforts, and worked at XR exhibitions and festivals including SXSW, SIFF, and Seattle Startup Week. She was initially drawn to VR to explore the storytelling component, as she viewed VR as the final frontier of storytelling. Since then her interest has shifted towards the storytelling of innovation, as she views tech as the tool to implement paradigm shifts in society. She is excited to utilize design and research skills to design equitable products and ecosystems.
Ivan Tarapov
Group Manager, Health and Life Sciences, Medical Imaging AI at Microsoft
Ivan Tarapov is a Principal Group Manager at Healthcare AI group at Microsoft Healthcare and Life Sciences, Redmond where he works on novel techniques for the development of healthcare AI solutions. In the past Ivan had worked at Microsoft Research where he contributed to development of state-of-the-art AI systems for automatic segmentation of CT and MRI scans, and created a module on 3D medical imaging for Udacity's "AI for Healthcare" online nanodegree. Prior to joining Microsoft Ivan worked in global consultancy roles, contributing to mission-critical medical software projects.
Demo: UW Reality Lab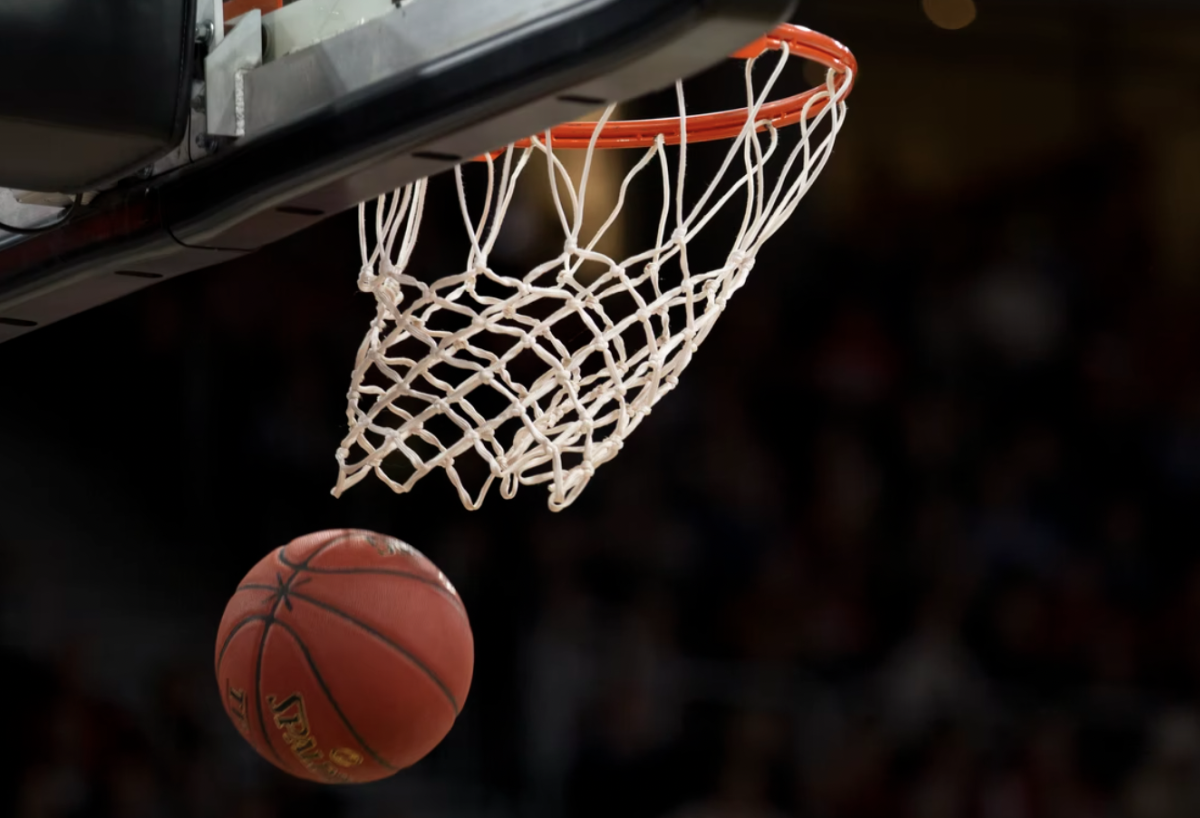 UW Reality Lab will demonstrate how wearable motion tracking systems from ST Microelectronics can be used to enhance augmented reality for training and fitness applications. The team will present a proof-of-concept AR application utilizing prior research into human pose estimation, specifically from professional basketball players, in conjunction with a wearable sensor to provide feedback for practicing basketball free throws.
UW Reality Lab Presenters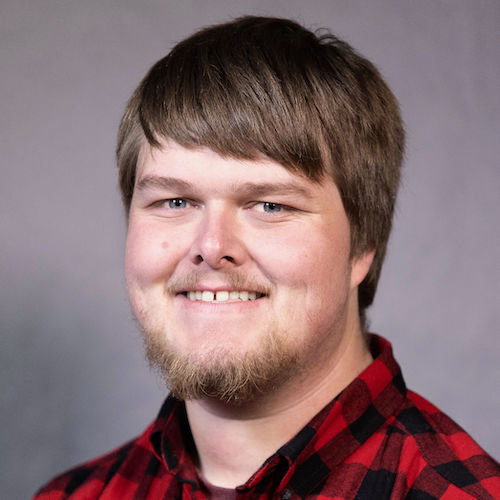 John Akers, UW Reality Lab
John Akers is the Director of Research and Education at the UW Reality Lab. He received his Masters degree in Computer Science and Informatics from the University of Washington, where he focused on extended reality and user experience engineering, and worked in the Taskar Center for Accessible Technology researching accessible inputs for VR.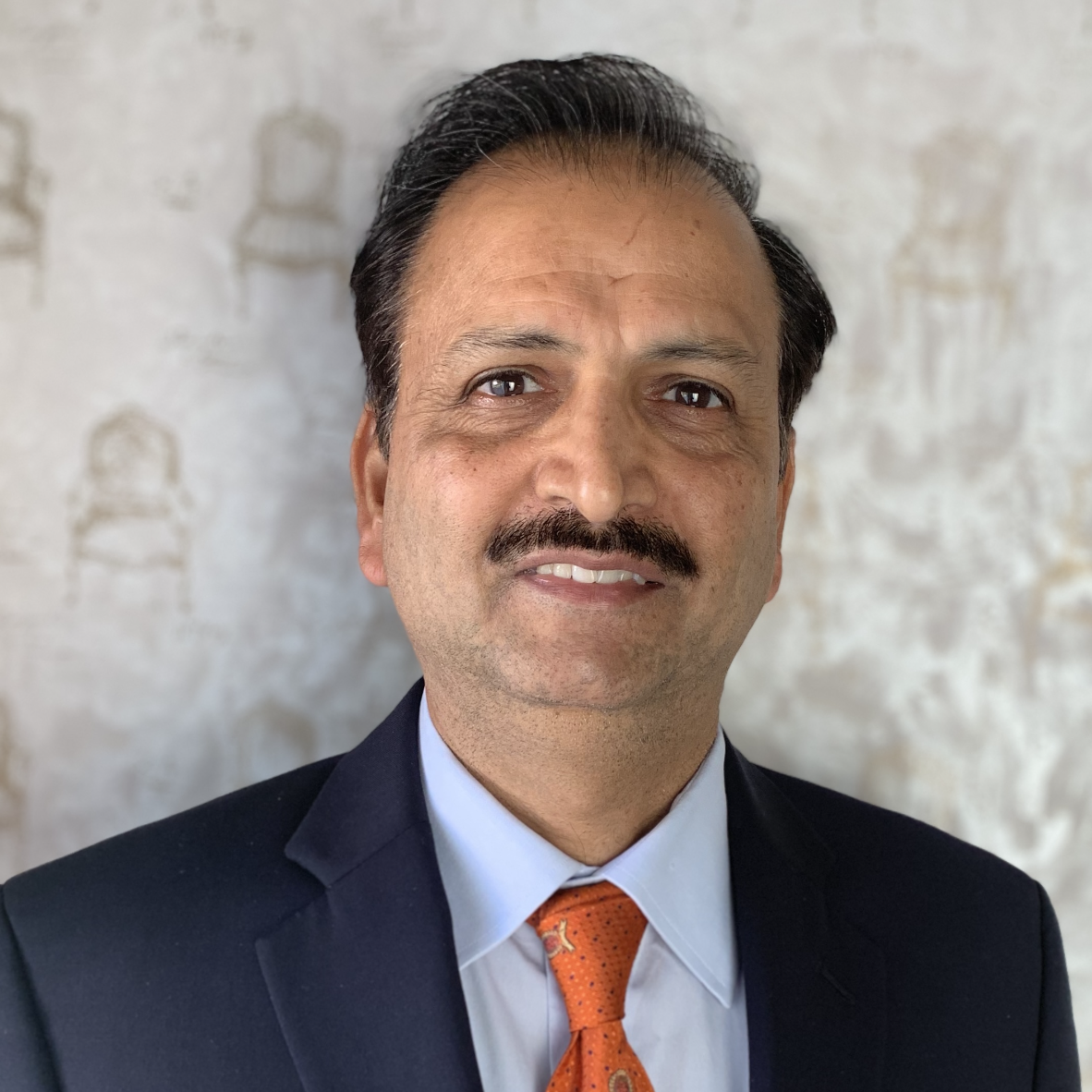 Mahesh Chowdhary, STMicroelectronics
Mahesh Chowdhary, Ph.D., is a Fellow and the Director of Strategic Platforms and the IoT Excellence Center at STMicroelectronics, based in Santa Clara, CA. He leads the effort on the development of solutions and reference designs for consumer electronic devices, automotive and industrial applications that utilize MEMS sensors, computing and connectivity products. His areas of expertise include AI/ML, MEMS sensors, IoT, digital transformation, and location technologies. He has been awarded 29 patents. He has spoken extensively internationally about ML, smart sensors, and IoT. Mahesh received his Ph.D. in applied science (particle accelerators) from the College of William and Mary in Virginia. He is also an adjunct professor at IIT, Delhi.
Questions? Contact HCDE's Outreach & Events Manager Melissa Ewing at mewing3@uw.edu.