November 28, 2023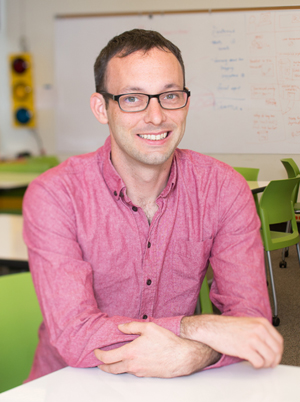 Sean Munson
Sean Munson, assistant professor in Human Centered Design & Engineering, has received a prestigious Faculty Early Career Development (CAREER) award from the National Science Foundation. The five-year grant will fund Munson's research on helping people find value in personal informatics data.
Munson's project, "Inspecting Personal Informatics: Reflection Practices to Unlock Value in Self-Tracked Data," seeks to help people improve their health and wellness, productivity, and finances, by creating tools for them to better understand, and find opportunities from, data generated from self-tracking applications and devices. In addition to studying how people reflect and act on their own data, this work will look at how financial planners, life coaches, and personal trainers collaborate with their clients to understand and act on the data. Goals of this research include influencing the design of future self-tracking tools, and contributing to theory on how people reflect, individually and collaboratively, on vast data sets.
Munson's project also incorporates a variety of educational and outreach elements. HCDE students will have the opportunity to get involved in this work through Directed Research Groups and research assistantships, where they will survey existing practices on data reflection and design and evaluate new applications. In addition, Munson will bring components of this research to the University of Washington's high school student summer programs and community outreach sessions, with the goal of introducing concepts in sense-making and data literacy to the general public.
"I'm excited to do this work," said Munson. "Technology has greatly increased our ability to collect and track data so much over the last several years, but the tools to help people make sense out of their own data and to act on it have not kept pace. This is a great opportunity to develop techniques to support that sensemaking and reflection process, and I'm grateful for NSF's support."
The CAREER program supports junior faculty who model the role of teacher-scholar through outstanding research, excellent education, and the integration of education and research. Munson is the seventh HCDE faculty member to receive the award. Past HCDE faculty recipients are Professors Daniela Rosner (2015), Gary Hsieh (2013), Julie Kientz (2010), Charlotte Lee (2010), Cecilia Aragon (2008), and Jennifer Turns (2002).