May 4, 2020
The University of Washington announced the recipients of the 2020 Husky 100 awards, a distinguished list that includes four students from the Department of Human Centered Design & Engineering.
The Husky 100 recognizes 100 students from across UW's three campuses in all areas of study who are making the most of their time at UW. Students are selected based on their experience connecting what happens inside and outside of the classroom and applying what they learn to make a difference on campus, in their communities and for the future.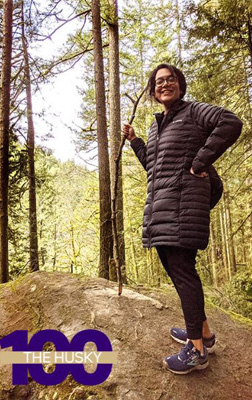 Arpita B


Hometown: Navi Mumbai, India
PhD, Human Centered Design & Engineering

Education has helped me become independent and find meaning amid adversities. With support from amazing mentors at UW, I learned to balance my passion for designing technologies for mental health with teaching, outreach and good health practices. I strive to create a safe place for our students and facilitate peer-mentorship by recognizing the strength and diversity in their lived experiences. I want to work sustainably towards integrating mentorship and mental health support in the community.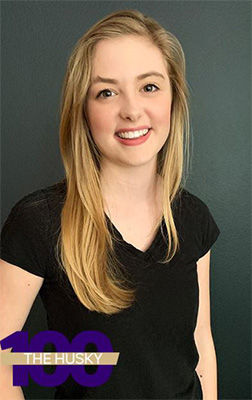 Ashley Boone


Hometown: Portland, OR
BS, Human Centered Design & Engineering, Architecture

Over the past four years at the UW, I have grown as a designer and developed a strong capacity for leadership. From designing tools to support academic planning to mentoring young girls in STEM, I am passionate about using a thoughtful design approach to contribute to meaningful projects with a positive impact.
Saralyn Hormachuelos Santos


Hometown: Quezon City, Philippines
MS, Human Centered Design and Engineering; BS, Informatics

Kumusta! Ako si Saralyn Hormachuelos Santos. I am a Filipino American UX designer who aims to work with underserved and marginalized communities to co-design and build accessible and sustainable solutions. Throughout my six years at the University of Washington, I've learned that no one accomplishes anything in isolation; I stand here today because of the communities that have supported and uplifted me. Maraming, maraming salamat sa inyong lahat.
Catherine Zeng


Hometown: Shenzhen, China
BS, Human Centered Design & Engineering

I am an equity-driven designer. I am a human-centered creator. At UW, I make impact by "doing" than "being," and I connect people to inspire each other and to grow together. I use design to help my audience advocate for their personal identifiers and transform these identifiers in life from gloom to glory. While continuing to explore, learn, and grow as a bold Husky, I find my own values and visions, and the steps I need to take to make my fullest life.
These four students join the following previous HCDE Husky 100 recipients: Oorja Chowdhary (2019); Samantha Gil Vargas, Sharon Heung, Melissa Medsker, Tsewone Melaku, and Burren Peil (2018); and Amy Wang (2016).