Dear HCDE alumni and friends,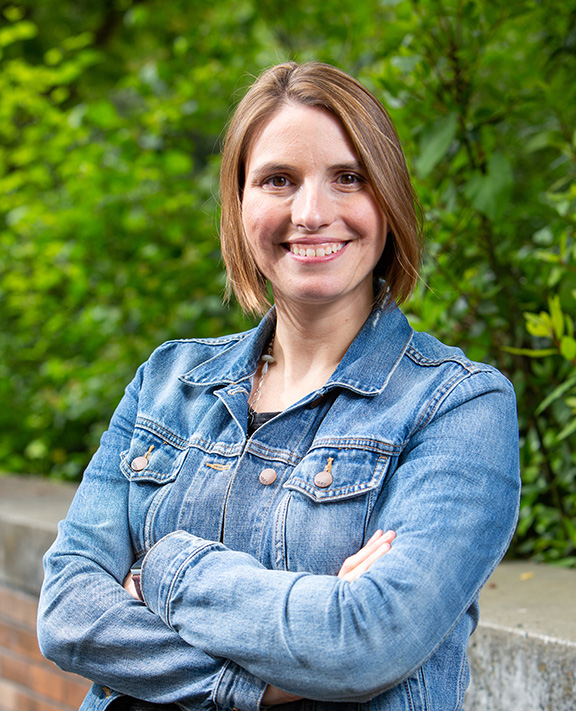 Dr. Julie Kientz
Welcome to our annual Designing Up publication, where we highlight activities and accomplishments of students, alumni, faculty, and researchers from the University of Washington's Department of Human Centered Design & Engineering.
The last year's shift in how we conduct nearly every part of our department's mission has been a challenge like we have never known. At the same time, our department's focus on prioritizing the human experience in our teaching, learning, research, and work, has helped us find opportunities for innovation and adapt to the transitions of the pandemic.
HCDE instructors revised curriculum to accommodate remote learning, designing new experiences to meet our course objectives. As an example, on page 5, read about how Assistant Professor Nadya Peek adapted a hands-on digital fabrication course, reaching students at their homes as they learned computer-aided design and 3D printing.
Responding to the pandemic also opened new avenues for HCDE students and researchers to apply our unique expertise in understanding people and technology. On page 24, read about how a team of HCDE graduate students studied the design of a statewide COVID-19 exposure app, and on page 18 get an overview of five pandemic-responsive research projects supported by the National Science Foundation that include HCDE researchers.
The online spread of misinformation and disinformation continued this year at a greater pace than ever before, bringing forth a pandemic of another nature. Associate Professor Kate Starbird's research in this area catapulted her to the national stage as one of the world's leading experts on the phenomenon. On page 20, read about a project from Kate's course on trustworthy systems design, where a team of students explored what happens when misinformation is targeted to immigrant communities.
Although we were all physically distant from one another this year, HCDE students, faculty, and staff have made important strides to build a community that prioritizes diversity, equity, and inclusion. As you may have read in my public letter last year, HCDE is committed to becoming an anti-racist community. To meet this goal, our department leadership has been listening to the community, empowering students who want to create new opportunities, and revising policies and practices to become a more equitable department. You can read about specific initiatives we launched this year on page 10.
As I reflect on the past year, I am so inspired by significant and continuous empathy and ingenuity that HCDE students, faculty, staff, and alumni have demonstrated. From student-led communitybuilding initiatives (page 26); continuing education events organized by our Alumni Leadership Board (back cover); industry support in sponsoring research and student projects (page 12); and alumni support in establishing scholarships for HCDE students (page 16) it is clear that the strength of the HCDE community was critical in making this another exceptional year in the department.
Thank you for your support of HCDE.
Sincerely,
Julie Kientz
Professor & Chair Human Centered Design & Engineering