Jill DeMarco (MS '96) and Dr. Rod Wentworth are establishing an endowed fellowship for HCDE.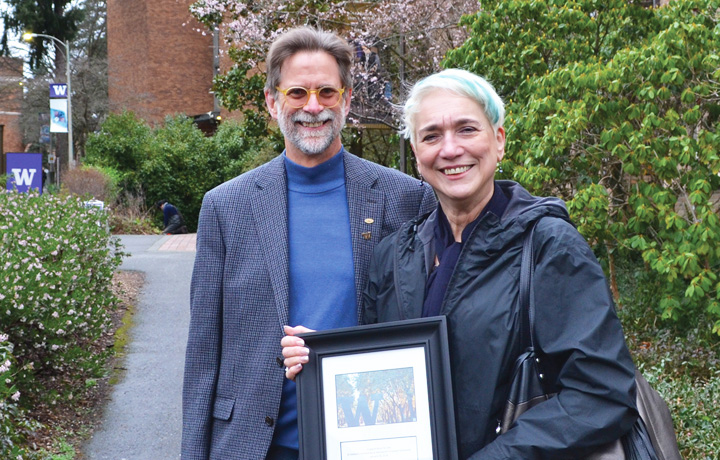 The Department of Human Centered Design & Engineering is receiving its largest estate commitment to date from alumna Jill DeMarco (MS '96) and her husband Dr. Rod Wentworth. Through their estate plans, Demarco and Wentworth are establishing an endowed fellowship to provide financial support to HCDE undergraduate and graduate students. Their gift will equally support the UW school of dentistry, of which Dr. Wentworth is an alumnus (DDS '81).
Now happily retired, Jill DeMarco had a successful career working in technical communications for the Federal Aviation Administration (FAA) and then at Boeing. The FAA funded her master's degree from the department (then called Technical Communication) while she was working there writing airline regulations, and DeMarco wants to pay it forward.
After graduating with her MS in Technical Communications, DeMarco continued her career in airline regulations, this time from the industry side as a Program Manager at Boeing — working to implement the very regulations that she wrote at the FAA. DeMarco credits much of her career success to instructors she had in the department who taught her to look at problems holistically.
DeMarco has fond memories of several of her instructors from the department, particularly Professors Judy Ramey and Mary Coney. "In Professor Mary Coney's class, she really helped us to understand communication from a complete meta view. She helped us see that we can get a lot more by stepping back, looking at the whole picture, and connecting the dots accordingly," she described. "What Professor Coney taught me has really helped me many times throughout my life — it has encouraged me to pause and reflect, and see where everything fits in. Professor Judy Ramey was really skilled at doing the same thing, on a technical level."
DeMarco wants future HCDE students to have the same good fortune she did when she went through school.
"I was very lucky as an undergraduate student that my parents worked hard and were able to put their four kids through college. And, I was lucky again working for the FAA, where if you were accepted to a graduate program they would reimburse you for tuition. I understand how hard the burden of student loans can be, and that's why I asked that my gift be directed toward students who are in need of tuition funds. I want to help alleviate some of the stress that comes from being in debt."
Today, DeMarco is enjoying her retirement, and finding time for exercising, reading, taking classes in languages, and traveling. Dr. Wentworth teaches courses for the Department of Oral Medicine.