September 16, 2019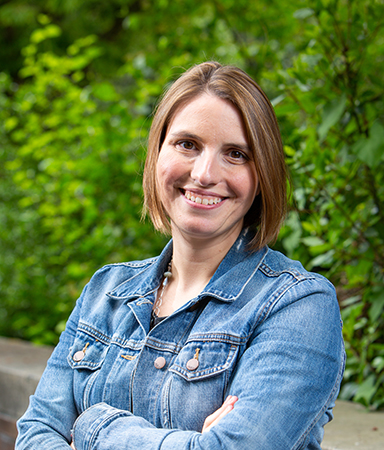 Julie Kientz
The Department of Human Centered Design & Engineering is pleased to announce that Dr. Julie Kientz is stepping into the role of Department Interim Chair, effective September 16, 2019.
Dr. Kientz, a Professor in HCDE, is succeeding Dr. David McDonald, who has completed his 5-year term as Chair and is returning to the faculty as a Professor.
Kientz has been a member of the HCDE faculty for over a decade. With her students in the Computing for Healthy Living and Learning Lab, she focuses on understanding and reducing the user burdens of interactive technologies for health and education through the design of new applications. Kientz has designed, developed, and evaluated mobile, sensor, and social applications for helping individuals with sleep problems, parents of young children tracking developmental progress, individuals with visual impairments, people who want to quit smoking, and special education teachers working with children with autism. She holds adjunct appointments in The Information School and the Allen School for Computer Science & Engineering, and is an active member of the UW interdisciplinary Design, Use, Build (dub) group.
Kientz received her PhD in Computer Science from the Georgia Institute of Technology in 2008. She was awarded a National Science Foundation CAREER Award in 2009; named an MIT Technology Review Innovator Under 35 in 2013; and was given awards from the UW College of Engineering for excellence in research (2014) and in teaching (2019).
Over the past year, Kientz served as Chair of the HCDE PhD program, and as Co-Chair of a committee of faculty and staff in the development of a new strategic plan, set to launch with the 2019-2020 academic year.
HCDE thanks Dr. McDonald for his five years of service as Department Chair. Under his leadership, HCDE hired eight new faculty members; grew industry partnerships under the Corporate Affiliates Program (CAP); remodeled lab and community spaces in HCDE's home building Sieg Hall; raised funds to launch new endowments for student support; and expanded the HCDE K-12 outreach program, which has now reached over 1,000 young learners across Washington State. During McDonald's five-year tenure, HCDE awarded degrees to over 700 students across the bachelor's, master's, and PhD programs; launched an Alternative Spring Break program and a London study abroad program; and developed new curriculum in topics such as inclusive design, qualitative research methods, physical computing, UX prototyping, and a general education course in human-centered design open to all undergraduates at UW.
Please join us in welcoming Julie Kientz to her new role. A permanent Chair will be appointed after the incoming Dean of the College of Engineering, Dr. Nancy Allbritton, joins the College and can appoint a search committee.