June 17, 2021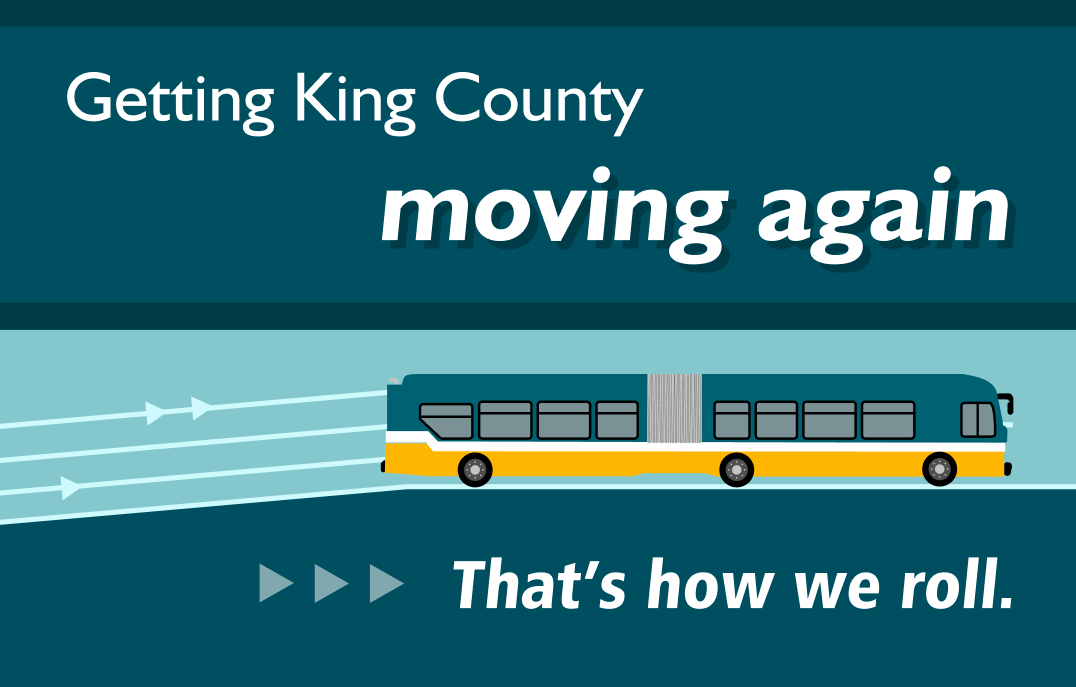 Industry audit, customer research, and consultation with transit execs informed the HCDE students' approach.
Since the beginning of the COVID-19 pandemic in King County, Washington, King County Metro has faced a 70% drop in weekday ridership on its buses. As the county emerges from the pandemic, safety and reliability concerns could mean public transportation lags behind.
Sustained lower transit ridership has negative implications for the climate, road congestion, as well as disabled, elderly, and lower-income passengers who rely on transit. That was the challenge taken on by Kari Bergstedt, Lexi Rohrer, Lena Tran, and Theresa Tran, undergraduate members of a capstone team from the University of Washington's Human Centered Design & Engineering program.
To determine how to get people back on transit, the team conducted a marketing audit across industries, performed primary customer research, and held weekly meetings with communications leaders at King County Metro, the leading transit agency for the Puget Sound region. This work culminated in a landscape analysis report to help transit agencies better understand customer mindsets and a campaign strategy that appeals to the motivations that will encourage riders to return.
Insights from research and stakeholders informed the development of three campaign concepts. The themes of each concept are also applicable to other communities struggling with similar post-pandemic declines in ridership. The campaigns were centered around different user needs:
"That's how we roll" centered on the ideas of mobility and building rider confidence
"Reconnect" focused on an emotional appeal to community and social connection
"Welcome back" aimed to cultivate excitement about reopenings
Each concept was tested with lapsed riders to gauge appeal and usefulness of information, and "That's how we roll" emerged as the proven winner.
This campaign's tested success stems from its roots in the following principles, which research indicated were of primary concern for riders in reforming transportation habits:
Theme 1: Reducing friction and uncertainty
From early interviews, a subgroup of lapsed riders were still hesitant about health and safety concerns while riding transit. Essentially, riders have different comfort levels when it comes to returning to transit and other activities. Some riders are ready to return to transit as soon as more destinations reopen and are simply waiting for sporting events, indoor high capacity dining, or other places to go. Other riders think they'll need time to readjust from their pandemic lifestyle and will ease back into these reopened places, and transit as well. Those who felt a need to readjust found that the direct nature of "That's how we roll" helped them feel confident in Metro's actions and comfortable returning to transit sooner.
Rider reacting to "That's how we roll": "I like it. I want to know why I should take the bus - how is it going to be safe - and why should I take it? And this answers those questions for me."
Theme 2: Cultivating excitement about a return to "normal life"
Some riders were ready to jump back into transit as soon as destinations reopen - 40% of survey respondents reported that their riding habits were influenced by a lack of recreational or entertainment activities. While some of these riders are ready to jump back into transit when activities reopen, others are more stringent about requiring high rates of community vaccination and other safety factors to convince them to return. For both groups, cultivating excitement about a return to "normal life" will guide them toward re-establishing routines that involve Metro.
Interviewee on returning to "normal life": "seeing my main friend group as a group, that'll be a big one. I really want to go to concerts, too. I miss concerts....I also want to fly, I want to see my friends."
Theme 3: Building a sense of community
Many riders who have access to other transportation options, such as driving a car, are a key user group as they may make the choice to not return to transit. When interviewed, many of these riders noted that if they do return to transit, it will be because of the benefits of avoiding driving-related stressors and enjoying a communal transportation system. For example, a transit commute means leisure or work time gained that would have otherwise been wasted behind the wheel or in traffic. These riders also mentioned enjoyment of the bus experience, particularly watching scenery and sharing their travel time with a community. Based on this input, the students refined "That's how we roll" to foster a sense of community and emphasize the lifestyle benefits of returning to transit.
Interviewed rider on the topic of leisure time: "For me, I think it was mostly time, like I don't love driving personally, so if I could have the opportunity to have somebody else drive for a change, that was a really big motivator."
On June 7, 2021, the UW HCDE capstone team presented a campaign pitch detailing the "That's how we roll" campaign to an audience of transportation management professionals from King County Metro, Sound Transit, Seattle Department of Transportation, the City of Bellevue, and the Washington State Department of Transportation. Their pitch included research and visual assets, and a strategy to implement the campaign through multiple communication channels. The research findings and recommended strategic, creative , and marketing approaches are intended to be helpful for all transit agencies, as well as for other businesses and organizations looking to instill confidence as they welcome customers back.
At the HCDE Capstone Showcase event, held June 7-8, 2021, a panel of judges awarded the "That's how we roll" project with the outstanding undergraduate award for communication.
View the team's project video below:

About King County Metro: King County Metro is the Puget Sound region's largest public transportation agency. Metro provides bus, paratransit, vanpool, and water taxi services, and operates Seattle Streetcar, Sound Transit Link light rail, and Sound Transit Express bus service. Metro is committed to providing safe, equitable, and sustainable mobility, and prioritizing service where needs are greatest.
About the Capstone Team: The University of Washington Capstone team driving this project is made up of four Human Centered Design & Engineering Students. Human Centered Design & Engineering is an interdisciplinary major focused on making technology more usable, accessible and equitable. The team's specialty in researched backed design and focus on users was crucial in the development of this campaign. Kari Bergstedt and Lena Tran acted as primary graphics and UX designers for this project, Theresa Tran was the team's primary UX researcher, and Lexi Rohrer acted as the main project manager.
About the Mobility Innovation Center: A partnership between Challenge Seattle and the University of Washington, the Mobility Innovation Center tackles specific transportation challenges affecting the Puget Sound region, using applied research and experimentation. Housed at CoMotion, UW's collaborative innovation hub, the multi-disciplinary center brings together the region's leading expertise from the business, government, and academic sectors to use technology and innovation to find transportation solutions. Challenge Seattle is a CEO-led, private-sector initiative working to address issues that will determine the future of our region.
Contacts:
Gaia Borgias
Mobility Innovation Center
p: 206.685.9972
e: gaiab@uw.edu
Lexi Rohrer
Student Capstone Team Project Manager
UW Human Centered Design & Engineering
p: 831.917.3866
e: lrohrer@uw.edu
Jim Bennett
King County Metro
p:  206-263-3581
e: jambennett@kingcounty.gov