April 24, 2018
Kaitlyn Zhou, a senior in the department of Human Centered Design & Engineering and Computer Science & Engineering, has been selected to receive the 2018 Dean's Medal for Academic Excellence from the UW College of Engineering. Zhou has the distinction of being the first student studying Human Centered Design & Engineering to receive this honor.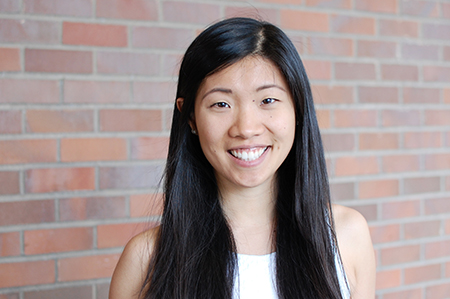 Kaitlyn Zhou
The Dean's Medal is awarded annually to two exceptional students in the College of Engineering. Students are nominated by department faculty, and are selected based on demonstrating academic excellence, research and industry experience, campus and community involvement, and leadership.
Since her freshman year, Zhou has been involved with HCDE research, frequently collaborating with Assistant Professor Kate Starbird on investigations into the online spread of misinformation in the wake of disaster events. Zhou co-authored two papers on this work that were published at the annual ACM CHI conference on human-computer interaction — Could This Be True? I Think So! Expressed Uncertainty in Online Rumoring (CHI 2016), and Centralized, Parallel, and Distributed Information Processing during Collective Sensemaking (CHI 2017). "Kaitlyn is a brilliant, engaged student who is already making research contributions in our field," Dr. Starbird said. "She has a diverse skill set that is valuable for our mixed-method analytical process—including computer programming, data science techniques, and qualitative analysis—but where she truly excels at is some of the more complex aspects of the research, such as conceptualizing complex research questions and research design approaches, and generating visualizations for understanding and communicating our findings."
"I have also had the pleasure of having Kaitlyn as a student in my class," Starbird said. "In my undergraduate HCI class last year, Kaitlyn was always ready with an insightful question or comment about the mostly graduate-level readings that we digested in that course." Zhou has had teaching experience as well, serving as a teaching assistant for computer science courses on data visualization and foundations of computing.
Outside of the classroom, Zhou has been heavily involved with several student groups and initiatives. She is the Founder and Chair of the CSE Student Advisory Council, a group that focuses on efforts such as diversity, social good, and student wellness, and she was the Director of University Affairs for the Associated Students of the UW in 2016–2017, a position that is the primary student representative in faculty and administrative decisions on academics, admissions, and tuition. In her sophomore year, Zhou served as the curator for TEDxUofW, a student-led conference held on campus with over 700 attendees.
In 2017, Zhou completed an internship as a software engineer at Bloomberg L.P. in New York City, where she designed and developed a user interface and backend software to make security recommendations to Bloomberg terminal users.
After an upcoming internship doing data science at Twitter in San Francisco this summer, Zhou looks forward to returning to UW as a Master's student in the Paul G. Allen School of Computer Science & Engineering.