April 6, 2020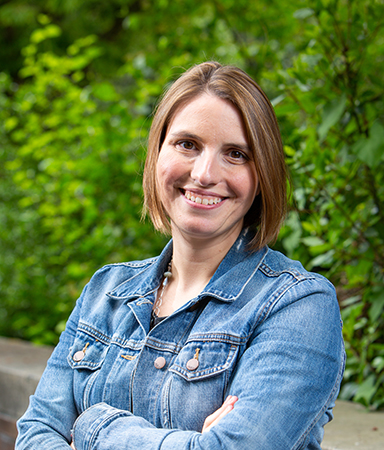 HCDE Professor and Chair Julie A. Kientz
Julie A. Kientz, Professor of Human Centered Design & Engineering, has been named the next Department Chair by Nancy Allbritton, Dean of the College of Engineering, through March 2025.
Dr. Kientz has served as the Department Interim Chair since September 2019. In this role, Kientz led the Department in launching its five-year strategic plan and tasked new and existing committees with addressing the strategic goals. She is overseeing the Department's expansion into the third floor of Sieg Hall and hopes to begin raising funds to improve the new spaces to better suit classrooms, research labs, and offices. She also formed a student advisory board in which student representatives from each of HCDE's programs have an avenue to share feedback directly with the Chair.
In addition to the strategic plan, Kientz has several goals she is eager to focus on, including expanding HCDE's role as a bridge between many Engineering departments. "Our unique position in the College of Engineering allows us to think about how we can help students become engineers that think across different engineering disciplines to be more problem-focused and human-centered," she said. "While HCDE is world-class in applying human-centered methods to computing systems, there are many other aspects of Engineering that can benefit from our pedagogy and research methods."
Another priority for Kientz is to advocate for a transparent, collaborative, and equitable practice of leadership across the Department, including expanding advisory boards and opening new channels for feedback to departmental leadership for students, alumni, and other stakeholders. "I am interested in working with faculty, staff, and students to generate new ideas coming up from the bottom, rather than imposing a lot of top-down decisions," she said.
Kientz has been a member of the HCDE faculty for 12 years. With her students in the Computing for Healthy Living and Learning Lab, her research focuses on understanding and reducing the user burdens of interactive technologies for health and education through the design of new applications. She holds adjunct appointments in The Information School and the Allen School for Computer Science & Engineering, and is an active member of the UW's interdisciplinary Design, Use, Build (dub) group.
"I am excited for the opportunity to lead such an innovative department full of great students, faculty, and staff further down the path of excellence and impact," Kientz said. "Not only is HCDE a one-of-a-kind department, but we are breaking new ground in methods for bridging strong technical innovation with advancing human needs and working toward a more just society."
Kientz holds a PhD in Computer Science from the Georgia Institute of Technology. She was awarded a National Science Foundation CAREER Award in 2009; named an MIT Technology Review Innovator Under 35 in 2013; and was honored with awards from the UW College of Engineering for excellence in research (2014) and in teaching (2019).