August 1, 2018
The Department of Human Centered Design & Engineering welcomes Pernille Bjørn, Professor of Human Centered Computing in the Department of Computer Science at the University of Copenhagen in Denmark.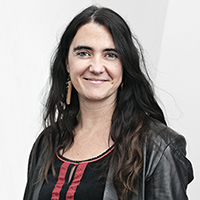 Professor Bjørn is the recipient of a Fulbright Award to support her research on makerspace methodologies. She will join the department as a visiting professor in the 2018–2019 academic year.
Bjørn's research is aimed at exploring diversity in Computer Science through technology, design and craft. Her research asks the question, "How can we design, create, and build critical design artifacts, which challenge existing assumptions while proposing alternative narratives on computer science education?" As part of this research, Bjørn's activities will include adapting existing makerspace initiatives from Denmark to the US, developing new critical design artifacts utilizing 'design as inquiry' and 'digital fabrication,' and creating the theoretical grounding for Makerspace Methodologies as a research method significantly impacting Human Computer Interaction research. Find additional information about Bjørn's research on the University of Copenhagen website.
The Fulbright Program is a prestigious international educational exchange program for students, researchers, and educators. It is designed to increase mutual understanding between people from the United States and people from other countries. In Denmark, the Fulbright program is carried out by the Danish-American Fulbright Commission. HCDE has two faculty members who have been visiting professors on Fulbright awards: Cecilia Aragon went to the Universidad Técnica Federico Santa María in Valparaiso, Chile, in 2018, and Beth Kolko was at the University of World Economy and Diplomacy in Tashkent, Uzbekistan, in 2000.
Pernille Bjørn will join the department beginning August 20, 2018.