Leah Pistorius
August 30, 2019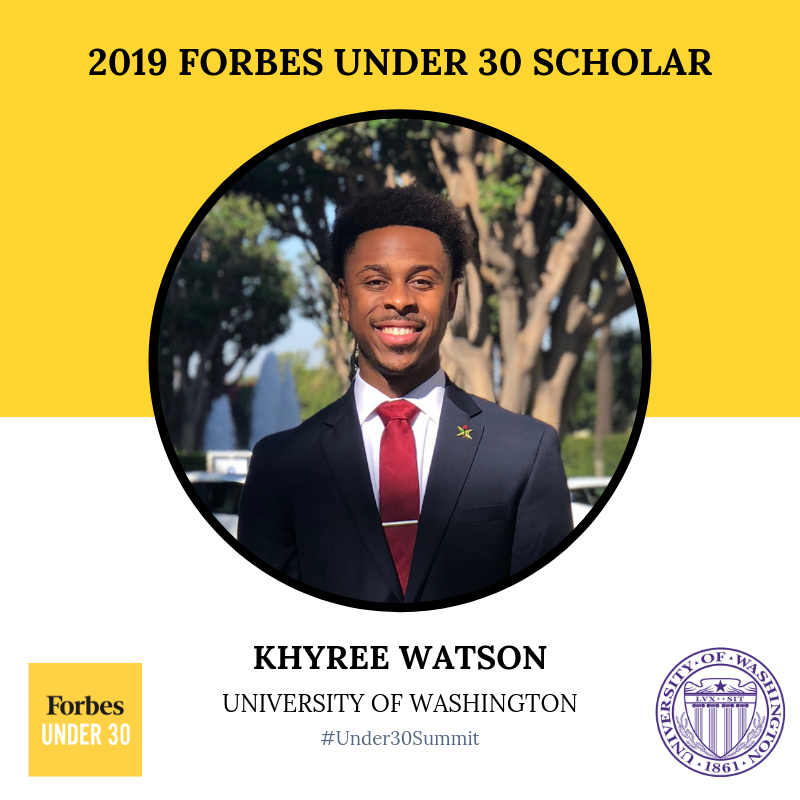 Khyree Watson, an undergraduate student in HCDE, has been named to the 2019 Forbes Under 30 Scholars program.
Watson is among 1,000 students across the country selected by Forbes in recognition of his academic work and leadership experience. As part of the award, he will travel to the Under 30 Summit in Detroit, MI, from October 27-30, 2019. The Summit features industry networking sessions, presentations from A-list speakers, investor speed-pitching, industry-focused field trips, a music festival, and a day of community service.
"I am extremely excited and humbled for this opportunity to represent UW and HCDE at the Forbes Under 30 Summit," Watson said. "For my family, my community, and all that I stand for, this is monumental."
Watson, who was born and raised in Tacoma, WA, is a rising senior pursuing dual degrees in HCDE and Education, Communities, and Organizations from the College of Education. Since his sophomore year, he has served as an Office of Minority Affairs & Diversity Student Ambassador and as a mentor for the Foster School of Business's Young Executives of Color program. He is also the president of the Gamma Eta Chapter of Kappa Alpha Psi Fraternity, within the National Pan-Hellenic Council.
As an HCDE student, Watson has participated in a few notable community-focused projects. In HCDE's Introduction to User Centered Design course, Watson worked with a group to design and develop a high-fidelity mock-up for an application that connects local Seattle artists with gallery owners and curators. He also participated in a Directed Research Group facilitated by HCDE Professor Daniela Rosner and designer Azzurra Cox focused on amplifying the public imagination of Seattle's Central Area. "We collaborated with Wyking Garrett, President of the Africatown Community Land Trust, and his team on connecting technology and VR/AR with Africatown and the beautiful Black culture in which the Central District has," Watson described.
The Forbes Under 30 Scholars Program was launched in 2017 to offer select students free access to the Under 30 Summit as well as accelerated networking opportunities with business leaders.
Watson said he was encouraged to apply for the Under 30 program through a connection he made at a fraternity leadership conference. He knew it was a competitive program but knew it would mean a lot to his family if he won, so he took a chance and applied.
"What inspired me to apply was the impact it could do for the younger children within my family," Watson said. "A lot of the accomplishments I achieve I share with my younger sister, Godbrother, and cousins to motivate them to strive to be greater than me. And one of my main goals in life is to continually make my parents proud of me."
"One thing I am extremely excited for when attending the summit is networking and building relationships with the future leaders of this generation, the day of service in the Detroit, and the music festival they have planned for us," Watson said. "Also, one of the keynote speakers is Serena Williams, so I know I have to try to get a picture with her for my mom."
Learn more about the Under 30 Summit, here.