HCDE at CHI 2021

March 25, 2021
Faculty and students from the University of Washington's Department of Human Centered Design & Engineering continue to have a strong presence at the Conference on Human Factors in Computing Systems (CHI), the premier international conference on Human-Computer Interaction.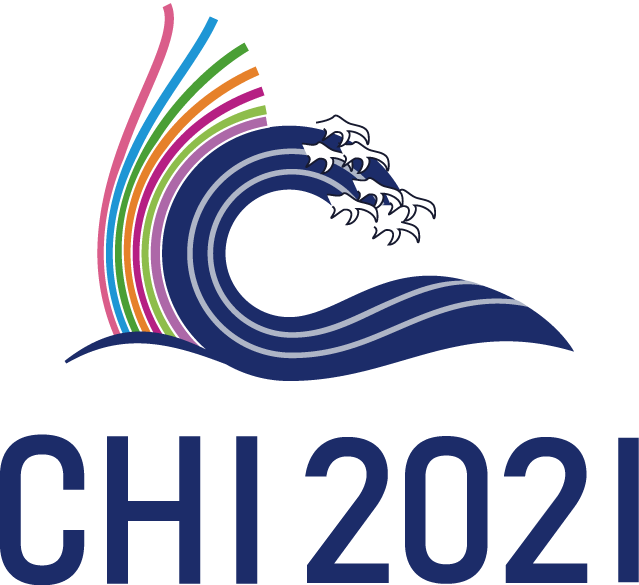 HCDE researchers are contributing 10 papers to be published at the 2021 CHI conference, including two selected for the Best Paper Award recognition (given to the top 1% of submissions) and two selected for Best Paper Honorable Mention recognition (given to the top 5% of submissions).
In addition to the paper publications, HCDE researchers will present research through other avenues, including a panel discussion, a case study presentation, a special interest group discussion, a workshop for conference attendees, and poster presentations of "late breaking work."
CHI 2021 will be held May 8–13 as an online virtual conference. Find information about contributions of HCDE researchers below. Names of HCDE students and faculty are in bold.
PAPER PUBLICATIONS
CHI BEST PAPER AWARD
Heuristic Evaluation of Conversational Agents
Raina Langevin, UW Human Centered Design & Engineering; Ross J Lordon, Microsoft; Thi Avrahami, Rulai; Benjamin R Cowan, University College Dublin; Tad Hirsch, Northeastern University; Gary Hsieh, UW Human Centered Design & Engineering
ABSTRACT
Conversational interfaces have risen in popularity as businesses and users adopt a range of conversational agents, including chatbots and voice assistants. Although guidelines have been proposed, there is not yet an established set of usability heuristics to guide and evaluate conversational agent design. In this paper, we propose a set of heuristics for conversational agents adapted from Nielsen's heuristics and based on expert feedback. We validate the heuristics through two rounds of evaluations conducted by participants on two conversational agents, one chatbot and one voice-based personal assistant. We find that, when using our heuristics to evaluate both interfaces, evaluators were able to identify more usability issues than when using Nielsen's heuristics. We propose that our heuristics successfully identify issues related to dialogue content, interaction design, help and guidance, human-like characteristics, and data privacy.
CHI BEST PAPER AWARD
The Show Must Go On: A conceptual model of conducting synchronous participatory design with children online
Kung Jin Lee, UW Information School; Wendy Roldan, UW Human Centered Design & Engineering; Tian Qi Zhu, UW Human Centered Design & Engineering; Harkiran Kaur Saluja, UW Information School; Sungmin Na, UW Sociology; Britnie Chin, UW Human Centered Design & Engineering; Yilin Zeng, UW Human Centered Design & Engineering; Jin Ha Lee, UW Information School; Jason Yip, UW Information School
ABSTRACT
Co-designing with children in an online environment is increasingly important due to external factors, such as the COVID-19 pandemic, and the diversification and inclusion of youth participants. Many prior studies about co-design with youth focus on co-located or asynchronous online sessions. However, conducting synchronous online co-design sessions adds layers of complexity and uncertainty to collaboration. This paper introduces a model explicating factors to consider when co-designing with children synchronously in an online space. We examined ten consecutive intergenerational participatory design sessions online where children (ages 7-11) and adults designed new technologies. Along with highlighting unexpected moments and interactions, we use theories of improvisation to guide our understanding of dynamic situations that are out of the control of researchers. This work contributes to improving theoretical understanding of improvisation as a method of inquiry for co-designing with youth, and offers practical suggestions for suitable online co-design techniques and implementation.
CHI BEST PAPER HONORABLE MENTION
Remote Learners, Home Makers: How Digital Fabrication Was Taught Online During a Pandemic
Gabrielle Benabdallah, UW Human Centered Design & Engineering; Sam Bourgault, University of California Santa Barbara; Nadya Peek, UW Human Centered Design & Engineering; Jennifer Jacobs, University of California Santa Barbara
ABSTRACT
Digital fabrication courses that relied on physical makerspaces were severely disrupted by COVID-19. As universities shut down in Spring 2020, instructors developed new models for digital fabrication at a distance. Through interviews with faculty and students and examination of course materials, we recount the experiences of eight remote digital fabrication courses. We found that learning with hobbyist equipment and online social networks could emulate using industrial equipment in shared workshops. Furthermore, at-home digital fabrication offered unique learning opportunities including more iteration, machine tuning, and maintenance. These opportunities depended on new forms of labor and varied based on student living situations. Our findings have implications for remote and in-person digital fabrication instruction. They indicate how access to tools was important, but not as critical as providing opportunities for iteration; they show how remote fabrication exacerbated student inequities; and they suggest strategies for evaluating trade-offs in remote fabrication models with respect to learning objectives.
CHI BEST PAPER HONORABLE MENTION
What Do We Mean by "Accessibility Research"? A Systematic Review of Accessibility Papers in CHI and ASSETS from 1994 to 2019
Kelly Mack, UW Computer Science & Engineering; Emma J McDonnell, UW Human Centered Design & Engineering; Dhruv Jain, UW Computer Science & Engineering; Lucy Lu Wang, Allen Institute for Artificial Intelligence; Jon E Froehlich, UW Computer Science & Engineering; Leah Findlater, UW Human Centered Design & Engineering
ABSTRACT
Accessibility research has grown substantially in the past few decades, yet there has been no literature review of the field. To understand current and historical trends, we created and analyzed a dataset of accessibility papers appearing at CHI and ASSETS since ASSETS' founding in 1994. We qualitatively coded areas of focus and methodological decisions for the past 10 years (2010-2019, N=506 papers), and analyzed paper counts and keywords over the full 26 years (N=836 papers). Our findings highlight areas that have received disproportionate attention and those that are underserved--for example, over 43% of papers in the past 10 years are on accessibility for blind and low vision people. We also capture common study characteristics, such as the roles of disabled and nondisabled participants as well as sample sizes (e.g., a median of 13 for participant groups with disabilities and older adults). We close by critically reflecting on gaps in the literature and offering guidance for future work in the field.
Understanding Analytics Needs of Video Game Streamers
Keri Mallari, Spencer Williams, Gary Hsieh, UW Human Centered Design & Engineering
ABSTRACT
Live streaming is a rapidly growing industry, with millions of content creators using platforms like Twitch to share games, art, and other activities. However, with this rise in popularity, most streamers often fail to attract viewers and grow their platforms. Analytic tools—which have shown success in other business and learning contexts—may be one potential solution, but their use in streaming settings remains unexplored. In this study, we focused on game streaming and interviewed 18 game streamers on Twitch and Mixer about their information needs and current use of tools, supplemented by explorations into their Discord communities. We find that streamers have a range of content, marketing, and community information needs, many of which are not being met by available tools. We conclude with design implications for developing more streamer-centered analytics for video game streamers.
Beyond Kant and Bentham: How Ethical Theories are being used in Artificial Moral Agents
John Zoshak, Kristin Dew, UW Human Centered Design & Engineering
ABSTRACT
From robots to autonomous vehicles, the design of artificial moral agents (AMAs) is an area of growing interest to HCI, and rising concern for the implications of deploying moral machines raises questions about which ethical frameworks are being used in AMAs. We performed a literature review to identify and synthesize key themes in how ethical theories have been applied to AMAs. We reviewed 53 papers and performed a thematic analysis to describe and synthesize the current conversation across HCI. We found many describe the value of ethical theories and implement them as technical contributions, but very few conduct empirical studies in real settings. Furthermore, we found AMA development is dominated by two ethical theories: deontology and consequentialism. We argue that the focus on deontology and consequentialism risks creating AMAs based on a narrow set of Western ethical values and concepts at the expense of other forms of moral reasoning.
Tools, Tricks, and Hacks: Exploring Novel Digital Fabrication Workflows on #PlotterTwitter
Hannah Rose Twigg-Smith, UW Human Centered Design & Engineering; Jasper Tran O'Leary, UW Computer Science & Engineering; Nadya Peek, UW Human Centered Design & Engineering
ABSTRACT
As digital fabrication machines become widespread, online communities have provided space for diverse practitioners to share their work, troubleshoot, and socialize. These communities pioneer increasingly novel fabrication workflows, and it is critical that we understand and conceptualize these workflows beyond traditional manufacturing models. To this end, we conduct a qualitative study of #PlotterTwitter, an online community developing custom hardware and software tools to create artwork with computer-controlled drawing machines known as plotters. We documented and analyzed emergent themes where the traditional interpretation of digital fabrication workflows fails to capture important nuances and nascent directions. We find that #PlotterTwitter makers champion creative exploration of interwoven digital and physical materials over a predictable series of steps. We discuss how this challenges longrunning views of digital fabrication and propose design implications for future frameworks and toolkits to account for this breadth of practice.
How the Design of YouTube Influences User Sense of Agency
Kai Lukoff, UW Human Centered Design & Engineering; Ulrik Lyngs, University of Oxford; Himanshu Zade, UW Human Centered Design & Engineering; J Vera Liao, UW Communication / UW Psychology; James Choi, UW Human Centered Design & Engineering; Kaiyue Fan, UW Human Centered Design & Engineering; Sean A Munson, UW Human Centered Design & Engineering; Alexis Hiniker, UW Information School
ABSTRACT
In the attention economy, video apps employ design mechanisms like autoplay that exploit psychological vulnerabilities to maximize watch time. Consequently, many people feel a lack of agency over their app use, which is linked to negative life effects such as loss of sleep. Prior design research has innovated external mechanisms that police multiple apps, such as lockout timers. In this work, we shift the focus to how the internal mechanisms of an app can support user agency, taking the popular YouTube mobile app as a test case. From a survey of 120 U.S. users, we find that autoplay and recommendations primarily undermine sense of agency, while playlists and search support it. From 13 co-design sessions, we find that when users have a specific intention for how they want to use YouTube they prefer interfaces that support greater agency. We discuss implications for how designers can help users reclaim a sense of agency over their media use.
"They don't always think about that": Translational Needs in the Design of Personal Health Informatics Applications
Susanne Kirchner, UW Human Centered Design & Engineering; Jessica Schroeder, UW Computer Science & Engineering; James Fogarty, UW Computer Science & Engineering; Sean A Munson, UW Human Centered Design & Engineering
ABSTRACT
Personal health informatics continues to grow in both research and practice, revealing many challenges of designing applications that address people's needs in their health, everyday lives, and collaborations with clinicians. Research suggests strategies to address such challenges, but has struggled to translate these strategies into design practice. This study examines translation of insights from personal health informatics research into resources to support designers. Informed by a review of relevant literature, we present our development of a prototype set of design cards intended to support designers in re\=/thinking potential assumptions about personal health informatics. We examined our design cards in semi\=/structured interviews, first with 12 student designers and then with 12 health\=/focused professional designers and researchers. Our results and discussion reveal tensions and barriers designers encounter, the potential for translational resources to inform the design of health\=/related technologies, and a need to support designers in addressing challenges of knowledge, advocacy, and evidence in designing for health.
Designing Telepresence Drones to Support Synchronous, Mid-air, Remote Collaboration: An Exploratory Study
Mehrnaz Sabet, Cornell University; Mania Orand, UW Human Centered Design & Engineering; David W McDonald, UW Human Centered Design & Engineering
ABSTRACT
Drones are increasingly used to support humanitarian crises and events that involve dangerous or costly tasks. While drones have great potential for remote collaborative work and aerial telepresence, existing drone technology is limited in its support for synchronous collaboration among multiple remote users. Through three design iterations and evaluations, we prototyped Squadrone, a novel aerial telepresence platform that supports synchronous mid-air collaboration among multiple remote users. We present our design and report results from evaluating our iterations with 13 participants in 3 different collaboration configurations. Our first design iteration validates the basic functionality of the platform. Then, we establish the effectiveness of collaboration using a 360-degree shared aerial display. Finally, we simulate a type of search task in an open environment to see if collaborative telepresence impacts members' participation. The results validate some initial goals for Squadrone and are used to reflect back on a recent telepresence design framework.
PANEL DISCUSSION
Making at a Distance: Teaching Hands-on Courses During the Pandemic
Nadya Peek, UW Human Centered Design & Engineering; Jennifer Jacobs, University of California Santa Barbara; Wendy Ju, Cornell Tech; Neil Gershenfeld, Massachusetts Institute of Technology; Tom Igoe, New York University
ABSTRACT
Classes involving physical making were severely disrupted by COVID-19. As workshops, makerspaces, and fab labs shut down in Spring 2020, instructors developed new models for teaching physical prototyping, electronics production, and digital fabrication at a distance. Instructors shipped materials and equipment directly to students, converted makerspaces to job-shops, and substituted low-tech construction methods and hobbyist equipment for industrial tools. The experiences of students and instructors during the pandemic highlighted new learning opportunities when making outside the makerspace. Simultaneously, the shutdown raised new questions on the limits of remote learning for digital fabrication, electronics, and manual craft. This panel brings together experts in making to discuss their experiences teaching physical production in art, design, and engineering during the pandemic. Panelists will discuss their teaching strategies, describe what worked and what did not, and argue for how we can best support students learning hands-on skills going forward.
CASE STUDY
Towards Responsible Data Practices in Digital Health: A case study of an open source community's journey
Elizabeth L Dunbar, UW Human Centered Design & Engineering; Helen Elizabeth Olsen, Medic Mobile; Erika Salomom, Medic Mobile; Shreya Bhatt, Medic Mobile; Regina Mutuku, Medic Mobile; Beatrice Wasunna, Medic Mobile; Jacqueline Edwards, Medic Mobile; Beth Kolko, UW Human Centered Design & Engineering; Isaac Holeman, University of Washington, Medic Mobile
ABSTRACT
In recent years, privacy and data rights have garnered growing attention in public discourse, policy making, and scholarly research. New data protection laws are being rolled out globally to codify data rights and ensure individual control over how personal data is shared and used. This evolving landscape presents several opportunities and challenges for healthcare. In this case study, we outline a design research agenda that emerged from the practical needs of an open source community focused on digital health software for community health in low- and middle-income countries. We situate this case study in the global landscape of data regulations, and the call for responsible data practices that go above and beyond regulatory compliance. We share findings from the formative stages of our multi-stage design process, which include a scoping literature review and a reframing of institutional policies and procedures. A primary contribution of our case study is that it offers an example of the institutional 'pre-work' necessary to make sense of the complex data protection landscape, and to chart a path forward for designing software that better supports responsible data practices. This case study also articulates the important role for digital health designers and implementers in operationalizing patient data rights.
WORKSHOP
What Can CHI Do About Dark Patterns?
Kai Lukoff, UW Human Centered Design & Engineering; Alexis Hiniker, UW Information School; Colin M. Gray, Purdue University; Arunesh Mathur, Princeton University; Shruthi Sai Chivukula, Purdue University
ABSTRACT
Imagine buying flowers for a loved one. After selecting a bouquet, at checkout you discover that the site sneaked a paid greeting card into your shopping cart. This is an example of a dark pattern, an interface designed to manipulate a user into behavior that goes against their best interests. The notion of dark patterns has fostered a growing critical discussion about which interfaces go too far in exploiting the user. The first aim of this workshop at CHI 2021 is to bring together a transdisciplinary group of design practitioners and researchers to discuss dark patterns across domains. The second aim is to identify actions to address dark patterns from within the design community, which might include e.g., setting industry norms, articulating values during the design process, or incorporating dark patterns into design education curricula. The third aim is to look beyond the design community and consider what changes designers might advocate for via interactions with e.g., consumers, media, and policymakers.
SPECIAL INTEREST GROUP
Queer in HCI: Strengthening the Community of LGBTQIA+ Researchers and Research
Michael Ann DeVito, University of Colorado Boulder; Caitlin Lustig, UW Human Centered Design & Engineering; Ellen Simpson, Syracuse University; Kimberley R Allison, Macquarie University; Tya Chuanromanee, University of Notre Dame; Katta Spiel, TU Wien; Amy J Ko, UW Information School; Jennifer Rode, University College London; Brianna Dym, University of Colorado Boulder; Michael Muller, IBM Research; Morgan Klaus Scheuerman, University of Colorado Boulder; Ashley Marie Walker, Northwestern University; Jed R. Brubaker, University of Colorado Boulder; Alex A. Ahmed, Carnegie Mellon University
ABSTRACT
As Queer Human-Computer Interaction (HCI) becomes an established part of the larger field, both in terms of research on and with queer populations and in terms of employing queering theories and methods, the role of queer researchers has become a timely topic of discussion. However, these discussions have largely centered around member-researcher status and positionality when working with queer populations. Based on insights gathered at multiple ACM events over the past two years, we identified two pressing issues: (1) we need to better support queer people doing HCI research not specific to queer populations, and (2) we need to identify how to best support member-researchers in leading Queer HCI while including collaborators beyond the queer community. This Special Interest Group (SIG) aims to directly address these challenges by convening a broad community of queer researchers and allies, working not only on explicitly-queer topics but across a broad range of HCI topics.
POSTER PRESENTATIONS / LATE-BREAKING WORK
A Grammar of Digital Fabrication Machines
Jasper Tran O'Leary, UW Computer Science & Engineering; Khang Lee, UW Human Centered Design & Engineering; Nadya Peek, UW Human Centered Design & Engineering
ABSTRACT
Digital fabrication tools for makers have increased access to manufacturing processes such as 3D printing and computer-controlled laser cutting or milling. Despite research advances in novel hardware and software tools for fabrication tasks, there is no formal way to reason about the fabrication machine itself. There is no standard format for representing the high-level features of machines and trade-offs between them; instead, this important information is relegated to folk knowledge. To make machine information explicit, we present Taxon, a machine specification language broad enough to represent many machines, while also allowing for enough expressivity to meaningfully compare and infer performance. We describe and detail the motivation behind the design of Taxon, as well as how Taxon programs compile to a simulation of physical machines. We discuss opportunities for future work in digital fabrication that requires a standard, formalized representation of machines.
A Bibliometric Analysis of Citation Diversity in Accessibility and HCI Research
Lucy Lu Wang, Allen Institute for Artificial Intelligence; Kelly Mack, UW Computer Science & Engineering; Emma J McDonnell, UW Human Centered Design & Engineering; Dhruv Jain, UW Computer Science & Engineering; Leah Findlater, UW Human Centered Design & Engineering; Jon E Froehlich, UW Computer Science & Engineering
ABSTRACT
Accessibility research sits at the junction of several disciplines, drawing influence from HCI, disability studies, psychology, education, and more. To characterize the influences and extensions of accessibility research, we undertake a study of citation trends for accessibility and related HCI communities. We assess the diversity of venues and fields of study represented among the referenced and citing papers of 836 accessibility research papers from ASSETS and CHI, finding that though publications in computer science dominate these citation relationships, the relative proportion of citations from papers on psychology and medicine has grown over time. Though ASSETS is a more niche venue than CHI in terms of citational diversity, both conferences display standard levels of diversity among their incoming and outgoing citations when analyzed in the context of 53K papers from 13 accessibility and HCI conference venues.
Integrating a Voice User Interface into a Virtual Therapy Platform
Yun Liu, University of Washington; Lu Wang, University of Washington; William R. Kearns, University of Washington; Linda E Wagner, UW Human Centered Design & Engineering; John Raiti, University of Washington; Yuntao Wang, Tsinghua University, University of Washington; Weichao Yuwen, University of Washington
ABSTRACT
More than 1 in 5 adults in the U.S. serving as family caregivers are the backbones of the healthcare system. Caregiving activities significantly affect their physical and mental health, sleep, work, and family relationships over extended periods. Many caregivers tend to downplay their own health needs and have difficulty accessing support. Failure to maintain their own health leads to diminished ability in providing high-quality care to their loved ones. Voice user interfaces (VUIs) hold promise in providing tailored support family caregivers need in maintaining their own health, such as flexible access and handsfree interactions. This work is the integration of VUIs into a virtual therapy platform to promote user engagement in self-care practices. We conducted user research with family caregivers and subject matter experts, and designed multiple prototypes with user evaluations. Advantages, limitations, and design considerations for integrating VUIs into virtual therapy are discussed.
Designing a Smart Helmet for Wildland Firefighters to Avoid Dehydration by Monitoring Bio-signals
Jiali Zhang, Global Innovation Exchange; He Feng, Global Innovation Exchange; Chee Jen Ngeh, University of Washington; John Raiti, Global Innovation Exchange; Yuntao Wang, Tsinghua University; Linda E Wagner, UW Human Centered Design & Engineering; Paulo Goncalves, Global Innovation Exchange; Gulnara Sarymbekova, University of Washington; Jenna James, Vulcan Inc.; Paul Albee, Vulcan Inc.; Jay Thiagarajan, Vulcan Inc.
ABSTRACT
Smart Helmet is a new wearable device to monitor wildland firefighters' real-time bio-signal data and alert potential health issues, i.e., dehydration. In this paper, we applied the human-centered design method to develop Smart Helmet for firefighters. We initially conducted multiple rounds of primary research to collect user needs and the deployment constraints by interviewing 80 firefighters. Targeted on dehydration caused by heat exhaustion and overexertion, we developed a smart helmet prototype, named FireWorks, with an array of sensors collecting the firefighter's bio-signals, including body temperature, heart rate, and motions. When abnormal bio-signal levels are detected, the alert system will notify the firefighter and their supervisor. The notification is achieved by an on-device algorithm that predicts imminent health risks. Further, we designed a mobile application to display real-time and historical bio-signal data as well as alert users about potential dehydration issues. In the end, we ran user evaluation studies and iterated the prototype based on user feedback, and we ran the functional evaluation to make sure all the implemented functions work properly.
Researchers from the UW DUB community will have a large presence at CHI 2021, contributing to 50 papers, including 4 selected for Best Paper Award recognition and 11 selected for Best Paper Honorable Mention recognition. These publications pull from more than 10 different UW departments and programs, demonstrating the exceptional power of interdisciplinary research that is at the heart of the UW DUB community. Read the full list of UW contributions on the DUB website.