Photos courtesy of Junchao Yang
The Department of Human Centered Design & Engineering (HCDE) held its 2022 Graduation & Awards Ceremony on the morning of Wednesday, June 8, in the Husky Union Building Ballroom.
In 2022, the Department awarded 92 students Bachelor of Science degrees, 137 with Master of Science degrees, and 7 with doctoral degrees.
Graduation Addresses
Dr. Dimeji Onafuwa
The 2022 Graduation speaker was guest Dr. Dimeji Onafuwa. Dr. Onafuwa is a Nigerian-American designer, researcher, artist, and educator with combined experience in UX design and research, transition design, service design, and social design. He has worked in various capacities — from UX consultant to researcher and design leader. He currently leads a UX research team at Microsoft. Dr. Onafuwa also co-founded Common Cause Collective, an interdisciplinary group of designers exploring transition design methodologies for social impact in the Pacific Northwest. Read the full text of Dr. Onafuwa's graduation address.
Awards of Excellence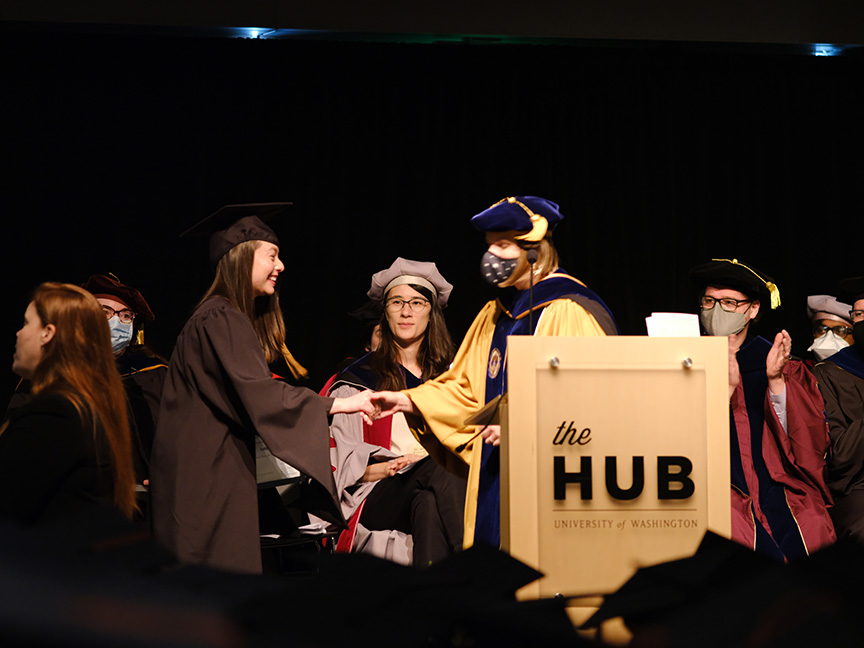 Kathlyne Taylor receiving a 2022 Award of Excellence
The faculty in the Department of Human Centered Design & Engineering annually recognize outstanding students with Awards of Excellence. These awards honor students who have distinguished themselves by demonstrating greatness in Academic Excellence, Leadership and Engagement, Innovation, and - new in 2022 - Diversity, Equity, and Inclusion. The 2022 recipients are graduating students Alissa Acheson, Xuny Haley, Sam Kolovson, Richard Lei, Edgar Lopez, Kai Lukoff, Ed Paradis, Kunlanit Pao Pongsala, Wendy Roldan, Dena Sabha, Kathlyne Taylor, Jessie Zhang, and the project team of Quilla Valdez Graves, Sean Horita, Honson Ling, and Brayan Zavala. Find photos of the 2022 Awards of Excellence recipients here.
Mikey Award
Gail Thynes
Each year, the HCDE faculty select a recipient of the Myron L. White (aka "The Mikey") Award. The Mikey Award, named after a founder of the department, is given to a leader in the field and a dedicated friend of HCDE. The HCDE faculty unanimously voted to award Gail Thynes the 2022 Mikey Award, thanking her for her years of support of the Department. Thynes a 2015 graduate of HCDE's Bachelor's program, and has been a dedicated supporter of HCDE students ever since. Read more about the 2022 Mikey Award recipient Gail Thynes here.
Congratulations to the HCDE Class of 2022! View the two hour ceremony on YouTube below:
Originally published June 10, 2022