Shobe Prize Winners
The Shobe Prize was an annual competition for dub students generously sponsored by HCDE alumnus and startup entrepreneur, Matt Shobe, from 2011-2015. Here are the winning projects.
2015 Winning Team
Shamrock's Air-Lift Hand-Truck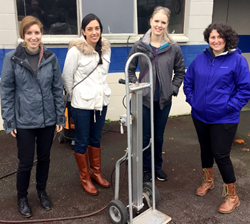 Ariel Duncan, Gina Donlin, Letty Limbach, and Gabby Mehlman
2014 Winning Teams
Disco App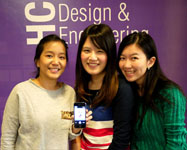 Phannipha Arunyaangkul (HCDE MS), Yi-Chun Lin (HCDE MS), and Chia-Chen Kuo (HCDE MS).

Katelyn Edwards (iSchool BS), Carlo Valentin (iSchool BS), Kartik Rishi (iSchool BS), Kendall Morgan (iSchool BS), and Phill Pasqual (iSchool BS).
2013 Winning Teams
Go Go Games Studios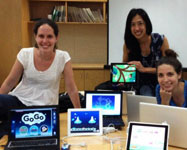 Alexis Hiniker (HCDE PhD), Joy Wong Daniels (Stanford University Graduate School of Education alumni), Heidi Williamson (Stanford University Graduate School of Education alumni)

Katie Kuksenok (CSE PhD) & Michael Brooks (HCDE PhD)
2012 Winning Team
Conversationalist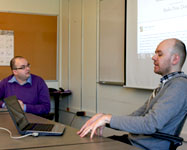 Mike Bulajewski (HCDE MS), Allan Bathurst (HCDE MS), Robert Wlodarczyk (HCDE MS)
2011 Winning Team
.calm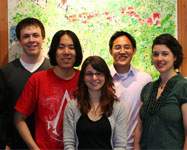 Alexis Hope (HCDE), Kate MacCorkle (HCDE), Wayne Gerard (CSE), Brian Le (CSE alumni), Clint Tseng (CSE alumni), Megan Langley (CSE alumni)