The first annual Shobe Prize competition took place this spring. Student teams submitted competing proposals for a tech-focused or software-based design project to a panel of judges in spring quarter 2011. The panel consisted of four judges: James Fogarty, Assistant Professor, Computer Science & Engineering; Andy Sack, Executive Director, TechStars Seattle; Managing Partner, Founder's Co-op; Matt Shobe, Chief Design Officer, BigDoor.com; and Jennifer Turns, Associate Professor, Human Centered Design & Engineering.
The winning student team designed an iPhone application call .calm. Team members included HCDE students Alexis Hope and Kate MacCorkle, Computer Science & Engineering (CSE) student Wayne Gerard, and CSE alumni Brian Le, Clint Tseng, and Megan Langley. The project grew out of a class assignment in a CSE class this past year.
The website for .calm, mydotcalm.com, explains the goal of the application: "Anxiety disorders are among the most common mental health disorders in the United States. They can be chronic, debilitating, and incapacitating for those who suffer from them. .calm aims to support those living with anxiety by encouraging self-awareness through the use of cognitive behavioral therapy."
Judges selected the winning student team from a group of competitive project ideas. Shobe Prize founder and judge Matt Shobe commented on what made the .calm project stand out: The judges and I were thoroughly impressed with the passion, enthusiasm, and presentation creativity of all of this year's applicants for the Prize. In the end, we chose the .calm team because of the quality of the application's existing design, its potential commercial impact and appeal, and the concreteness of the team's plan to make a product launch happen this summer. I really look forward to working with the team then."
As part of their award, the team is receiving $10,000, office space, and one-on-one mentorship over the summer, in order to develop their project into a prototype and a sales pitch. At the end of the summer, they will have the opportunity to pitch their idea to a judging panel of professors and industry representatives. The team will receive guidance and mentoring, get professional feedback on their final presentation, and have the opportunity to take their idea to the next step toward realization as a product.
Applications came from student teams representing all departments active in dub. Given the interdisciplinary nature of the competing teams, the relationship of some projects to classes in dub departments, and the interdisciplinary judging team, the Shobe Prize truly captured the spirit of dub.
For more information about the Shobe Prize, visit hcde.uw.edu/shobe. For more information about .calm, visit mydotcalm.com.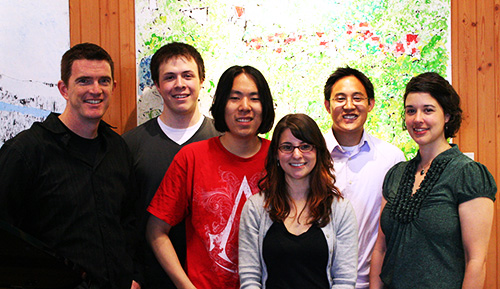 Matt Shobe (far left) with the 2011 Shobe Prize winning team (from left): Wayne Gerard, Clint Tseng, Alexis Hope, Brian Le, and Kate MacCorkle.