By Nat Mengist
October 2022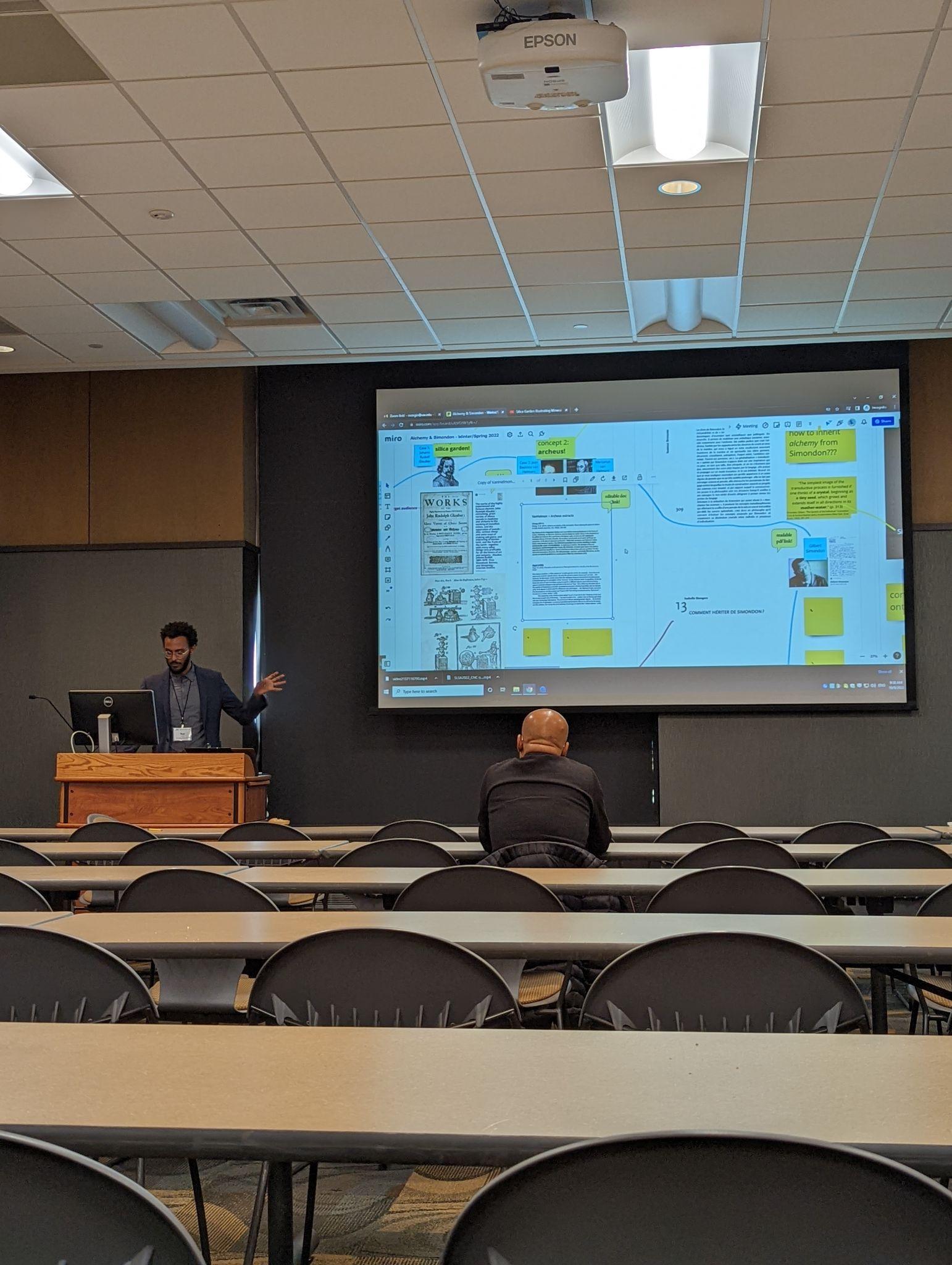 Nat Mengist presenting the Miro board that introduces the prototype to later be built out in Scalar
This year's Society for Literature, Science, and the Arts (SLSA) annual meeting was held October 6–9 at Purdue University in West Lafayette, Indiana. I've gone to SLSA every year since 2017, and this was by far the most intimate and energizing of my experiences so far. The conference theme was "Reading Minds: Artificial Intelligence, Neural Networks, and the Reading Human."
For my part, I organized and moderated a panel where I presented work that is a collaboration with fellow HCDE student Gabrielle Benhabdalah. Gabrielle also independently presented her work on CNC Ontologies on the panel, and Muindi Fanuel Muindi, a colleague also based at the University of Washington, presented work on Traditional Ecological Knowledge. Our panel was attended by about 15 people. Considering the low membership at the time of year's conference, which was down from about down from its peak at about 550 in 2018, over 100 participants dropping out the week before the conference or decided to present remotely due to unforeseen circumstances, this year's participation at the conference was probably between 150 and 200 people.
My presentation of the project blended art, philosophy, and history of technology to prototype a translation study that brings Gilbert Simondon's French lectures on alchemy to English readers. Gabrielle and I are currently preparing a proposal to fund completion of the project through the Digital Humanities Summer Research Fellowship, awarded by the UW's Simpson Center for the Humanities. This next phase of the project will experiment with a digital scholarship platform and an art installation.
Here are some of my experiences and the connections I made at SLSA 2022:
I attended the artist talks of multiple friends, where they shared experimental media utilizing Generative Adversarial Networks (GAN) to question technology's relationships with both the ecological world and cultural histories. I met graduate students who are also working in the intersection of arts, humanities, and HCI.
I reconnected with Irina Aristarkhova, who was a a central supporter of my media studies work on alchemical reproductive politics at SLSA 2021, has agreed to continue workshopping the project with me with a goal of publishing updated research in journals like Configurations, Catalyst, and Feminist Studies.
At a series of annually-recurring panels called "Artificial Ignorance", curated by Katherine Behar of Baruch College, I got to meet Simone Browne, based at the University of Texas Austin, who talked about toxic electronic-waste work in West Africa, as well as Joshua Scannell at The New School, who talked about his next book The Carceral Surround; both scholars in critical surveillance studies that are essential to our work with Inquilab. Simone asked to stay in touch, and I'm sending some of my writing to Joshua.
I met Laura Foster, a professor from University of Indiana Bloomington, who is doing very similar work to what Sucheta, Daniela, and I are proposing for an NSF Smart and Connected Communities grant but with South African farmers. We are staying in touch, and Laura may be another member of our advisory board.
I met David Cecchetto, who is currently the president of SLSA and has offered to connect Gabrielle and I with Dan Mellamphy: a primary inspiration for the digital humanities translation project.
I met Arielle Saiber at Johns Hopkins University, a Giordano Bruno scholar who agreed to give feedback on the paper Daniela and I submitted to the journal Design and Culture, titled "We Should Talk About Bruno: Counter-Appropriation and the Expansion of Multiversal and Pluriversal Design". Arielle is also introducing me to her colleague Lawrence Principe, whose groundbreaking historiography of alchemy has been foundational for me since my undergraduate thesis.
I met Gunalan Nadarajan from University of Michigan — similarly interested in alchemy and plants — has agreed to stay in touch about work he's doing with artists in Singapore who are advocating for farmers ancestral practices and empowerment in agribusiness.
Rua Williams, a professor at Purdue who is a friend of Os Keys, shared a work-in-progress with me on "All Robots Are Disabled", as well as other work at the intersection of autism and human-robot interaction.